Per a recent press release, Goons of Balatroon has announced the closing of its seed and private sale round marshaled by Jun Capital and Merit Circle. The fundraising will expressly go to developing an innovative and distinctive trading card game [TCG] as well as the creation of other top-secret products. Goons of Balatroon is poised to deliver a multiple-sided ecosystem that provides enough support to trading card games and is also capable of revolutionizing the NFT gaming market. 
The Goons of Balatroon team aims to create a compelling, imaginative, and exciting gaming experience that is rebellious, simple, adventurous, and doesn't take itself too seriously. With all of these fantastic features lined up, the primary goal, as revealed by the team, is the penetration of traditional gaming audiences. 
Changing the Focus from "Earn Function" to Gaming 
While the play-to-earn [P2E] gaming market has experienced an abrupt surge in popularity, partly due to the unprecedented influx of a variety of projects seeking to reward users, the problem is that most of these gaming platforms focus mainly on "earning". They pay too much attention to the earning function, neglecting the fundamental features of gaming—exciting, fun, wild, etc. Goon of Balatroons understands this and has put in the effort to deliver outstanding, imaginative, rugged, and truly immersive games for users. 
"With the recent surge in play-to-earn games, we see an increased focus on the 'earn' function, and while this is absolutely an aspect of our environment, we believe a focus on making the game fun to play, first, is of the utmost importance," Mark, co-founder of Goons of Balatroon. 
Goons of Balatroon has taken a giant step by integrating humor and meme culture into its games, further guaranteeing users of a sustainable P2E game that is also exciting, funny, and adventurous. There are currently over 250 playable card games, with more on the way. 
NFT Gaming 
As the NFT gaming market continues to grow, the scope and perplexity of the space continue to increase, creating an entry barrier for game developers. Goons of Balatroon, in a genuinely innovative fashion, has scaled its personnel aggressively. The team comprises a set of professionals with decades of experience in the game development industry. 
While TCG is the Goons of Balatroon's primary focus, it is not the end of the road. More projects are underway—an NFT land, expansion card sets, increased levels of customization, unique gameplay, and ecosystem mechanics for landowners. 
Built on the principles of sustainability and longevity, holders of the Goons of Balatroon NFTs, via staking, will earn the project's native token—-$GOB.  The team takes things up a notch by giving the staking mechanism a two-year runaway—an unheard level of commitment in the highly volatile crypto market.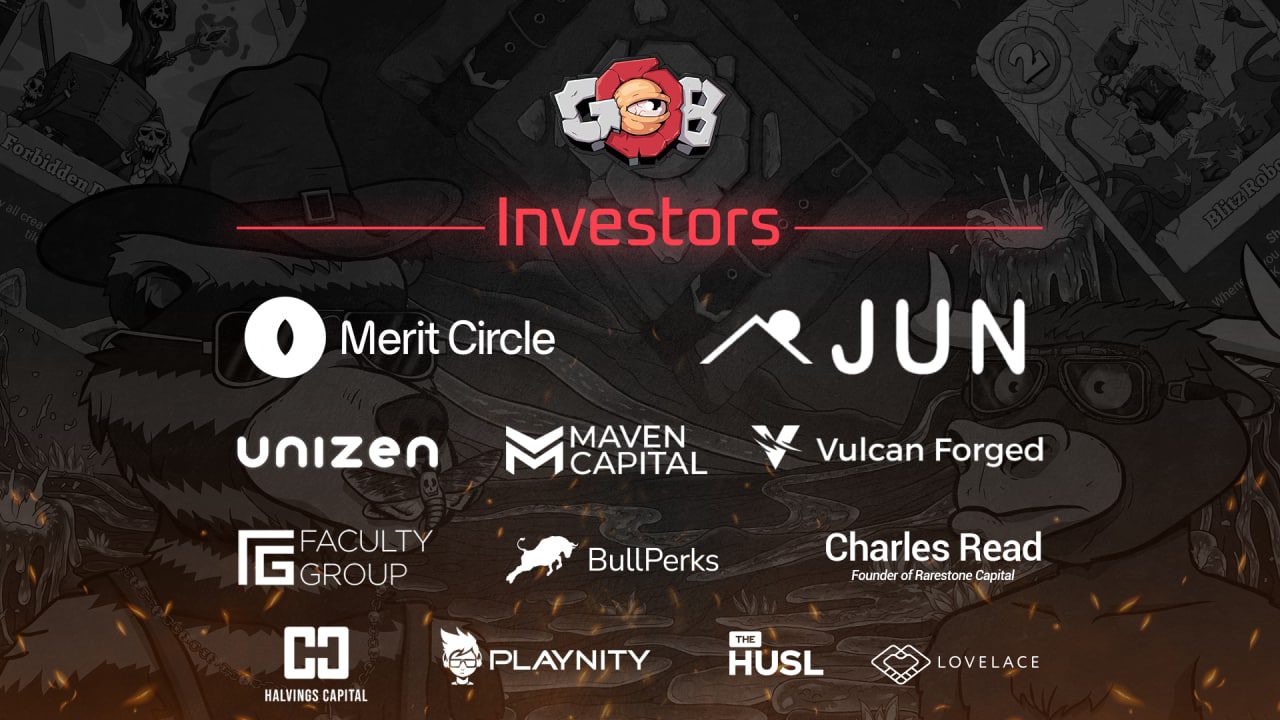 Seed Round and Partnerships 
Led by Jun Capital and Merit Circle, Goons of Balatroon raised $2.46 million in its recently concluded private seed round. Other supporters of this round include; Unizen, Bullperks, Faculty Group, Skyvision Capital, Vulcan Forged, and other renowned angel investors. 
Goons of Balatroon has partnered with Vulcan Forged, and this recent collaboration, per the source mentioned above, will open new windows of opportunities for future growth. With Vulcan Forged being a powerhouse in the blockchain gaming industry, the commingling of these distinct brands will supercharge and accelerate the future phases of Goons of Balatroon. 
Additionally, Vulcan Forged's state-of-the-art blockchain—Elysium— a superfast EVM-compatible chain, will allow $GOB to realize its potential in the long run. 
Goons of Balatroon is a revolutionary project that aims to shift the focus from earning function to offering users a plethora of new and exciting NFT trading card games.