Faby Gylgonyl, founder of Intseo Media, an SEO agency that provides international SEO services reveals that Google Business Profile (Google Business Profile formerly known as Google My Business) is a business profile from which local business owners will be able to manage how their business is displayed on Google products such as Google Maps and Search.
What's new with the new Google Business Profile?
With the name change, we also see a change of focus in the new way to claim the business profile. Now it can be done directly from Search Results and Google Maps.
Either by entering the name of our business or by typing 'my business in the Google search bar or in the Google Maps application we will have the option to verify the profile or resolve issues with an already claimed profile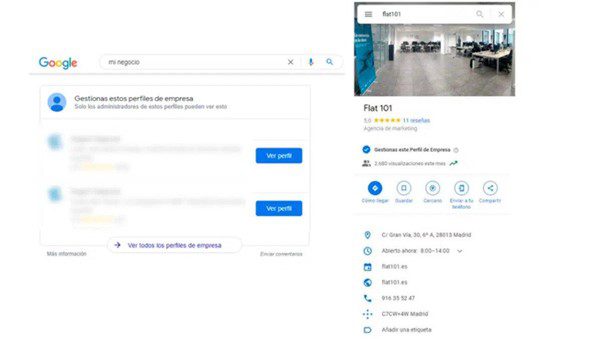 In addition, if we already have a claimed and verified business profile, we will be able to edit and/or complete the settings directly in Google Search Results and Maps.
If you already have your Google My Business profile claimed and verified you don't have to do anything else.
Google My Business will still be available to manage multiple profiles from the general dashboard. It will eventually change its name to 'Business Profile Manager'. Although if you wish, it will be possible to manage individual profiles in Search and Maps.
In 2022 the application will be retired so that users will migrate permanently to the new management experience.
For those professionals who use the Google My Business API will be able to continue to do so as this functionality will be retained and will continue to actively receive updates. In the future it will be renamed Business Profile API.
Benefits of Google Business Profile
These changes to Google's management and administration of business profiles respond to the need for local organizations to stand out on Google and connect with potential buyers, especially smaller local businesses that know the importance of their customers being able to find them online. All of this on the eve of holiday shopping. In summary, we have:
More facilities to claim and verify the business profile, doing it directly in Google Search Results or in the Google Maps application.

Possibility to edit the information of our company in a more agile way, such as address, opening hours, photos, etc.

We can send messages to customers directly from Google Search Results.

Improved inventory display with the new 'in stock' filter.

Easier to plan local campaign budgets with the Performance Planner to drive store-level business goals

Call history management [only available for US and Canada].
Why you should use Google Business Profile for Local SEO?
A presence in these media for a business that serves customers in a particular location or within a specific service area is critical.
A local business profile has many and varied benefits:
It is the best way to help customers discover the products and services you provide.

You can keep accurate information about your business. We are talking about very relevant data such as telephone, location, opening hours, among others.

It boosts communication. You can interact with your customers by sharing photos of the business or of the products and services or by collecting customer opinions.

Improves the reputation of the organization

Gives credibility to the company

Attract new customers ready to buy in your area of activity.
Impact of Covid-19 on Local Businesses
In the aftermath of the Coronavirus pandemic, local SEO became critically important in keeping local businesses, both large and small, alive. We saw the digital growth of local commerce which played a key role in the survival of many people during the severe health situation in 2020.
In addition, the pandemic has changed the mindset and behavior of consumers. Find more information in the interesting article my colleague Elena did on local SEO in the post-Covid-19 era and in our study on the Impact of Covid-19 on digital businesses.
After the lifting of the vast majority of restrictions, local businesses are experiencing a new boom time. There is a surge of consumer interest, for example, around nightlife, bars, restaurants, etc. 
And, so far, Google My Business is the star tool for companies and professionals to work with to make customer acquisition strategies based on location.
Some of the trends for this Christmas and which make us reflect on the importance of working on a Local SEO strategy, mainly in the new context marked by the Coronavirus, are:
Need to be more competitive. Shopping has started much earlier, users require more effort on issues such as 'thinking better where to buy something and how to do it'. This increases competition among stores and companies have to start their campaigns earlier.

Need to anticipate shortages and show local inventory. There are problems in the supply chain related to Covid-19 which causes stock shortages and delays in deliveries. This will make users tend to confirm online whether the items they want are available before going to buy them. Giving visibility to your products, confirming availability, stock replenishment, etc., through platforms such as Google Business Profile, among others, is essential.

Need to stand out. Campaigns to support local commerce have multiplied throughout the world after the pandemic and it is a situation that is here to stay. According to EMEA, "56% of holiday shoppers say they will shop more at small local businesses this holiday season." Promote your location(s) to nearby shoppers with local campaigns through Performance Planner. Google Ads can help generate more in-person traffic to physical locations.

Need to give greater visibility to offers, discounts, etc. The trend for conscious consumption continues to increase. Users are expected to be more selective when it comes to spending their money. The purchase of products and services is subject to the variety on offer and the real value proposition.

Need to create a seamless omnichannel experience. Importantly, traditional shopping is not finished. "More and more consumers want to have the option to shop online, in-store or hybrid," says Boris Humiyisev, experienced link-building expert at

hungarianseoagency.com

. Therefore, businesses must be consistent with the information they give their users to provide the best possible experience.
How to optimize Google Business Profile
Here are some general recommendations for optimizing a business profile.
1. Positioning factors
To understand Google's process, you need to know how it determines local positioning. The local results we see as users are mainly based on 3 things:
Relevance: Indicates the degree of coincidence of our local company profile with the terms that a user searches for.

Distance: Distance is the separation between each possible search result and the location term used in the search.

Prominence: Prominence refers to how well known a business is. Google tries to reflect in the local positioning of search results the data from the physical world. That is, the most locally recognized local businesses and famous sites are likely to rank high in local search results. Prominence is also based on the information about the business that Google gathers from the Web. Links, articles, etc. Especially if you are competing in the international arena, it is wise to hire an agency that provides international SEO services like the one

at this link

to increase your credibility and prominence in the eyes of search engines and end users.
2. Local Pack
When Google understands that a user is performing a search with local intent, on the results page, in addition to the relevant organic results, Google will display the Local Pack. In the Local Pack, Google shows local businesses, each of them accompanied by a series of attributes. Although the way in which these results are displayed has been changing in recent times, the information provided by these results is usually: business name, reviews, business category, address, telephone number and opening hours.
In addition, depending on the type of search performed, we can see a featured image of the business or the 'Website' and 'How to get there' buttons.
3. NAP Data
The NAP (Name, Address, Phone Number) of a business is key to local SEO. It is very important that the data we provide to Google is consistent and coherent. The NAP is an identifier of the business and has a great value when taking into account possible mentions. If we do not always use the same information in an exact way, Google could have difficulties to identify us and our valuation could be affected.
4. Location pages
Location pages are essential to give our Brand a local focus. The ideal is to have a separate page for locations, so that through each of these URLs we can give independent geolocation signals to Google.
5. Business name
The business name in the Google My Business listing is what appears in the header. In this field we should include the name of the company so that when our users see it they can easily identify the brand. 
One way to increase our visibility is to include one of our main keywords in the title of the listing.
6. Business Description
The description is the field where we can expand the information about the activity of our business. When users search for the brand name, our Google Business Profile will get a prominent place in the results page.
It is important to indicate any changes that the organization's activity has undergone due to the particular circumstances we live in or to highlight new lines of activity that are being followed.
It is advisable to make use of the full 750 character limit for the description since a complete description should include outstanding information about the key benefits of our products or services, as well as relevant keywords that will improve our positioning in Google.
7. Hours and service areas
Inform users of your situation. Currently, Google Business Profile offers great flexibility when it comes to setting hours for specific services. You will be able to anticipate the days on which the company will be closed, whether for regular holidays, vacation periods, local holidays, etc.
If your company offers services beyond the physical location with which it is associated, you will be able to indicate this in your listing. Google allows you to add several service areas in addition to the main location.
It is also very useful if your organization's opening hours have to change due to Covid-19 restrictions or if you have had to adapt them, inform your users of the new situation!
8. Categories, attributes and tags
Choose the main category to which you want to associate your business activity. Research your competitors and consider adding additional categories.  
As for attributes, add and edit the target attributes. Depending on the chosen business category, you will have access to some attributes or others.
In addition to the attributes, it is important to include tags related to your activity. It will help you to appear for searches beyond the brand.
9. Products and services
Publish the products and services you offer. This will help users to know better what they can find in your offer. The product fields allow you to add a lot of information that can make us relevant, both for Google and for the user who visits us.
Add an image, add a detailed description and define categories for your products. Use keywords for each description and don't forget to link to the page of the site corresponding to that product/service using the 'More information' button.
All this information will be displayed inside the product/service page in a prominent space, making our visibility in the SERPs increase significantly.
10. Publications
Another way to highlight relevant content is through publications. Publications can include: updates about Covid-19, offers, news, events and products.
Having this section always updated will not only give you more visibility in Google services in Web, Maps and Search, but it is also a way to generate new and frequent content in our listing, something that Google values very much. It is highly recommended to add a CTA to these publications to increase engagement and conversions.
11. Appointment request
Depending on the business model, it may be highly recommended to use a link to make an appointment. If instead of selling products you offer services, this can be a very interesting option. Google allows you to include an appointment link in your Google Business Profile.
Use appointment schedulers like Calendly or ScheduleOnce to let people make their own appointments or link directly to the contact page of your website. This will increase our leads and conversions.
12. Images and videos
Besides helping us to captivate the target audience, they help us to rank better in the SERPs. Tabs that include photos and virtual tours double their chances of attracting attention. It is important that the photos are updated frequently to keep our file nourished and help us to reinforce the trust and credibility of the organization.
13. Reviews in the Google Business Profile
The reviews section is one of the most valuable sections in the local listing. Users increasingly give more importance to the ratings and comments from other users before deciding to buy a product or hire a service.
Google has made reviews a key factor in its algorithm and, of course, a determining factor for appearing among the top 3 results in the Local Pack.
Reviews bring us many benefits
They help to assess the quality of a product or service.

Well collected, they help to improve the service, especially when the feedback is negative.

They give credibility to the company, especially when the number and score of the reviews is high.

They help local positioning, since they are taken into account by Google's algorithm.
An equally relevant point is that the reviews and comments from our users must be taken into account, whether they are positive or negative. This type of interaction is received by Google as a sign of interest in our users, something that the algorithm also values very positively. 
Encourage your customers to leave you reviews, not only by rating but also by explaining their experience with a text. Reviews accompanied by a long text are better valued by Google than a mere rating.
However, be cautious about collecting positive reviews! It is not optimal if Google identifies a spike in positive reviews, as it is unnatural and may be seen as a way to manipulate ranking results. 
I strongly discourage single responses. Each customer has a different review and therefore, we should offer a different response especially in the case of negative reviews.
Likewise, we should never try to remove a negative review unless we are certain that it is false in which case we can report it to Google.
The way we handle negative reviews is key when working on our digital reputation.
14. Questions and answers
Feed the interactions of your Google Business Profile through the Questions and Answers section. The advantage of this section is that the user who makes the query is anonymous, Google only shows the information of the person who responds, whether it is the company itself, a local guide or any other user.
15. Visitor tracking
It is also advisable to track the traffic we get through our cards.
I recommend using UTMs or tracking parameters in the URLs you are going to use. This way, you will be able to know which locations are getting more visits and through which elements: publications, products, etc.