Gold bulls have been consistent as Dollar weakness overshadows the market. The non-yielding asset is gaining attraction from the market with investors moving their cash from risk-off to risk-on.
The Dollar fell toward the end of last week with inflation data coming out at 6.5% which signals a cool-off in the rising prices. This was also confirmation that the Fed would potentially only hike 25 basis points at the next FOMC meeting.
We have seen CPI data soften consecutively for the past months with no mixed signals from the data. It's been quite persistent in presenting a slowdown in growth.
EUR/USD saw some gains but is now consolidating with indicators pointing to a retracement. Bitcoin is bullish and we are seeing upside moves in the entire crypto market. The digital asset hasn't signaled this much strength on technical indicators for over a year.
In today's DIFX Analytics, we're going to look into the following assets:
Bitcoin hits $21,000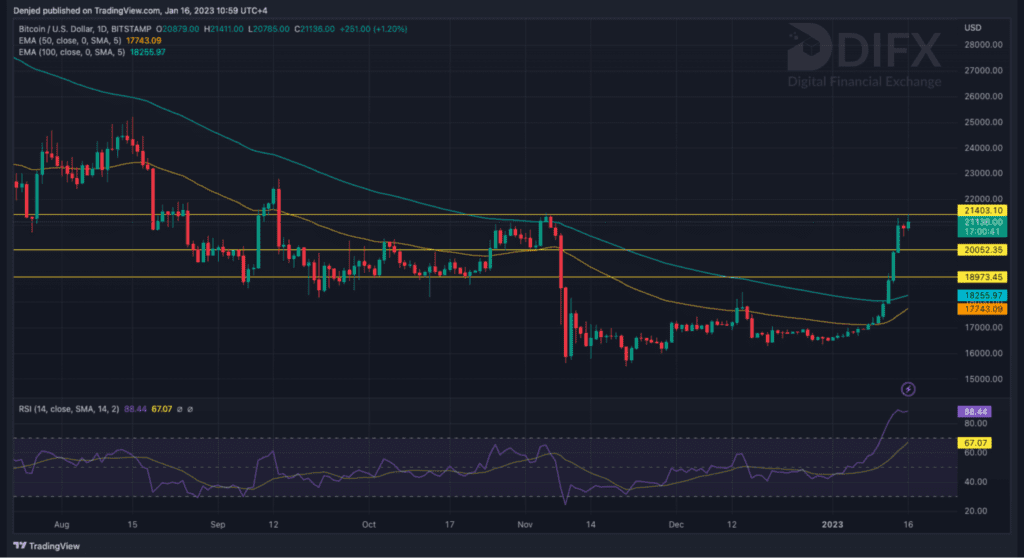 Bitcoin has seen massive bulls and has crossed through the $20k level. We saw some resistance at $21k over the weekend as traders may have taken some profits.
RSI is very strong hitting levels on the days that haven't been crossed for over a year.
Price action on the daily has broken the Exponential Moving Averages on the 50 and 100-day which confirms further positive moves for the asset.
DXY is sliding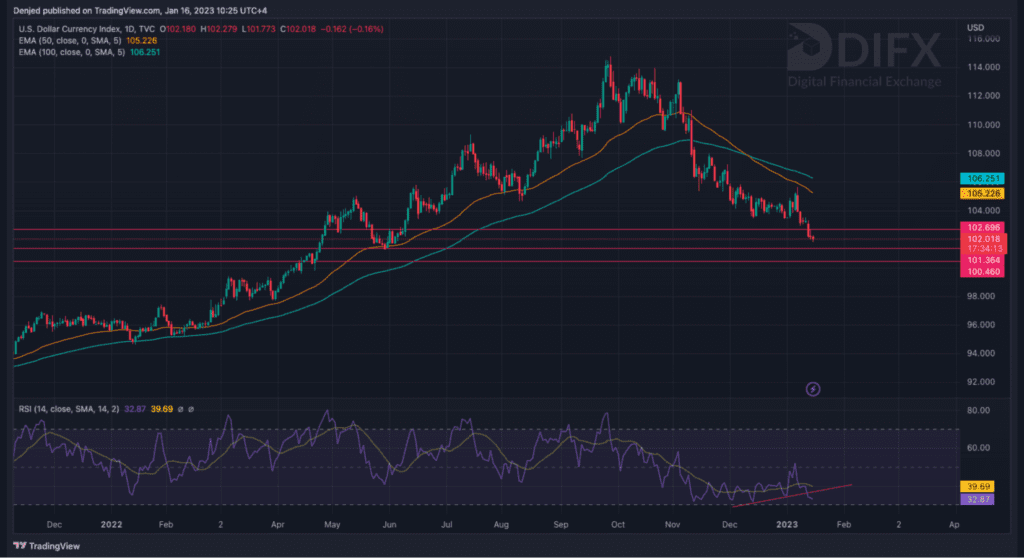 The Dollar is bearish with a slide to hit lows of $101.7. We are seeing negative price action after the inflation data confirmed inflation is cooling off.
We are also seeing bears due to a 25 basis point rate hike being priced in at 90% probability against a 10% chance of 50 basis points.
We can expect the Dollar Index to fall to these next support levels in the near term.
Euro triple topped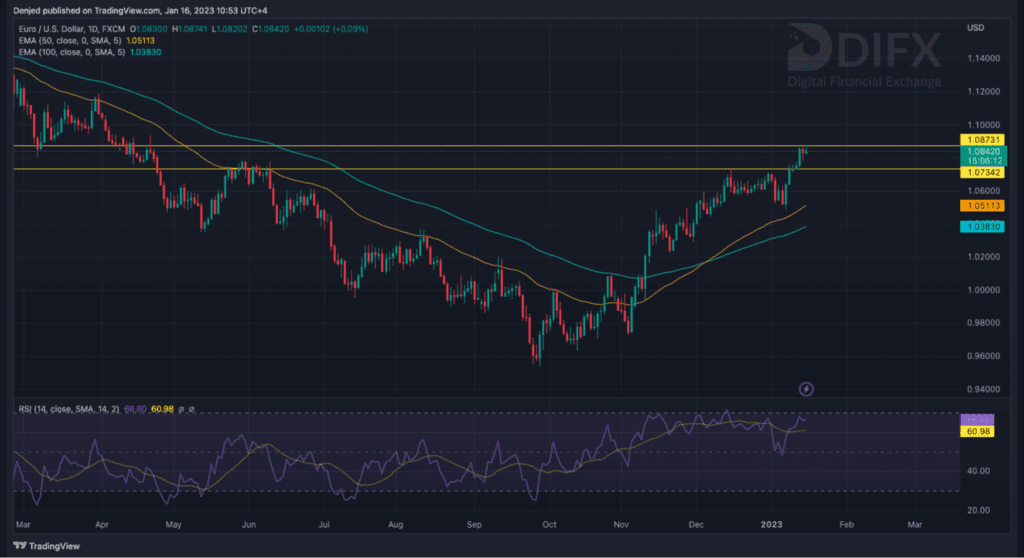 EUR/USD triple tops on the daily hitting a high of $1.0874. We are seeing a bearish divergence in the asset as the technicals signal downside momentum.
We are expecting a retracement down to $1.07342 in the short term. Traders should keep in mind that the Dollar is still weakening in the long term and after this retracement, we can see EUR/USD bulls returning.
Gold bullish past $1916 resistance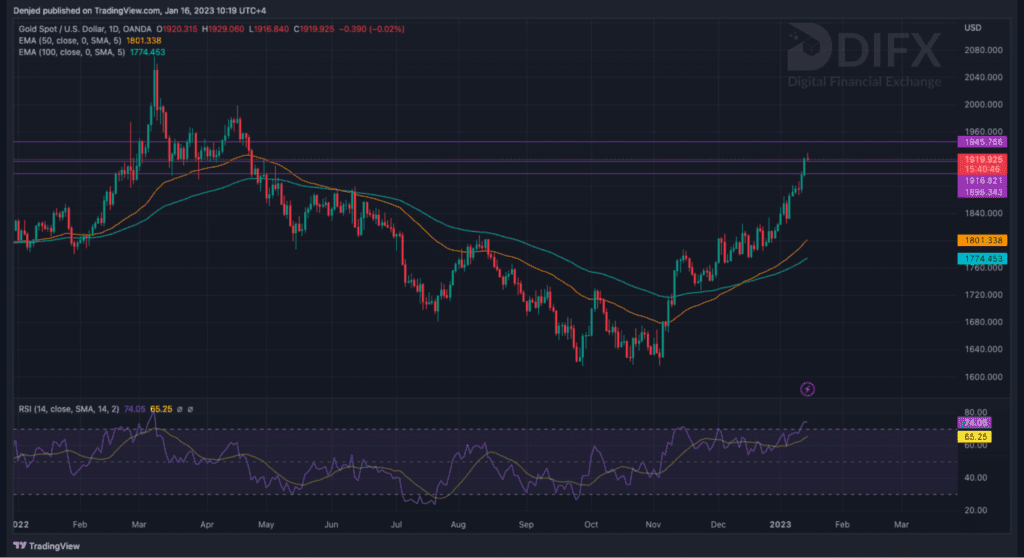 Gold is seeing more bulls as it crosses the resistance at $1916. CPI data showing a cool-off in inflation has spurred investors to move cash into the asset.
Fundamentally, we see Gold strengthening toward the next resistance at $1945. RSI has broken to the upside with confirmation of bulls from a technical view as well.
*****
To learn more about the markets and start your trading journey, sign up now on Digital Financial Exchange (DIFX) to create your diverse portfolio of assets.
About Digital Financial Exchange
Digital Financial Exchange (DIFX) is a centralized cross-asset crypto exchange that allows users to trade between multiple asset classes that include indices, forex, crypto, metals, and commodities, just to name a few. The DIFX fully-insured crypto wallet comes from a partnership with Fireblocks, one of the leading crypto custodians in the world.
To begin your journey with Endless Possibilities, download the app now from the iOS or Google Play Store, or visit us at difx.com
Trading Disclaimer
DIFX shall not be responsible for any loss arising from any investment based on any recommendation, forecast or other information herein contained. The contents of this publication should not be construed as an express or implied promise, guarantee, or implication by DIFX that the forecast information will eventuate, that clients will profit from the strategies herein or that losses in connection therewith can or will be limited. Trades in accordance with the recommendations in an analysis, especially leveraged investments such as foreign exchange trading and investment in derivatives, can be very speculative and may result in losses in particular if the conditions or assumptions used for the forecast or mentioned in the analysis do not eventuate as anticipated and the forecast is not realized.