Emre Bardan, also known as Glamhairartist, a talented hair stylist and social media sensation, has captured the hearts of millions with his exceptional hair styling skills and captivating Instagram presence. Following the viral success of one of his hair styling videos, Emre's influence has skyrocketed, amassing an impressive following of over 2 million dedicated fans.
Emre Bardan, a seasoned professional in the hair industry, has dedicated many years to perfecting the art of hair color and styling. From the age of 14, Emre discovered his innate passion for transforming hair into works of art, and his commitment to producing exceptional results has never wavered.
According to him:
With a firm belief in the magic that flows through his fingertips, Emre's touch has the power to turn ordinary strands into golden masterpieces.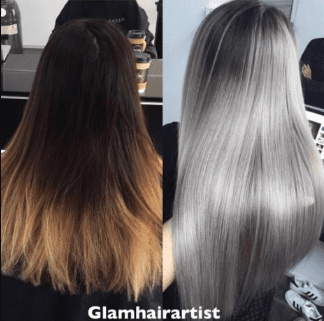 Furthermore, his unwavering dedication and talent have propelled him to become a trusted name among clients and industry peers. Emre Bardan's journey to stardom began when a video showcasing his unique approach to hair styling caught the attention of viewers worldwide. 
His innovative techniques and an undeniable passion for his craft quickly earned him a reputation as a trendsetter in the industry. As his popularity grew, so did his client base, including numerous celebrities who have entrusted their locks to his capable hands.
Emre Bardan's extraordinary ability to craft personalized and awe-inspiring hairstyles has garnered him widespread acclaim in the industry. His innovative approach, meticulous attention to detail, and unwavering passion for his craft have positioned him as a rising star and an influential force in the world of hairstyling. As Bardan continues to push boundaries and redefine the art of hairstyling, the industry eagerly awaits his next awe-inspiring creations.
Known for his precise attention to detail, Emre Bardan has transformed the art of hair styling into a captivating experience. With every brushstroke and every curl, he effortlessly creates hairstyles that leave a lasting impression. From red-carpet events to high-profile photoshoots, Emre's work has graced the heads of renowned personalities, enhancing their natural beauty and making him a sought-after stylist.
Emre's success extends far beyond his exceptional hairstyling skills. His social media platforms have become a hub for hair and beauty enthusiasts, where he generously shares his knowledge, tips, and tricks with his followers. Emre's engaging and charismatic personality has made him an influential figure, inspiring millions around the globe to experiment and embrace their unique styles.
In addition to his remarkable talent and growing influence, Emre Bardan remains committed to empowering others in the beauty industry. Through collaborations, workshops, and online tutorials, he aims to uplift aspiring hair stylists and foster community within the profession. Emre's dedication to sharing his expertise and passion has endeared him to his followers, who eagerly anticipate each new hair transformation and tutorial.
His impact is undeniable as Emre Bardan continues to make waves in the hair styling world. With an unwavering commitment to excellence and an unparalleled eye for style, he has firmly established himself as a leading celebrity influencer. Emre's ability to merge creativity, technique, and innovation has elevated hair styling and inspired a new generation of beauty enthusiasts.
The Art of Elegance: Mastering Sophistication and Glamour
Emre Bardan's unrivaled talent is creating hairstyles that exude elegance and sophistication. With careful attention to detail, Bardan carefully crafts each look, ensuring it perfectly complements the individual's features and personal style. 
From voluminous waves that cascade effortlessly down the shoulders to intricate updos adorned with delicate accessories, Bardan's creations capture the essence of timeless beauty, adding glamour to any occasion.
Redefining Boundaries: Pushing the Limits of Hairstyling
Emre Bardan is not afraid to push boundaries and challenge the norms of hairstyling. His innovative approach sets him apart, allowing him to create unique and eye-catching looks that defy convention. 
By blending modern and traditional elements, Bardan brings a fresh perspective to hairstyling, transforming the ordinary into the extraordinary. With his skilled hands and artistic vision, Bardan crafts hairstyles that leave a lasting impression and set new trends in the industry.
Confidence Unleashed: Embracing Individuality and Boldness
Emre Bardan believes that hairstyling is about creating beautiful looks and empowering individuals to embrace their unique personalities. Bardan's hairstyles are tailored to unleash confidence, allowing clients to express themselves authentically. 
Whether it's a unique asymmetrical haircut that defies societal norms or a vibrant and colorful style that showcases a client's daring spirit, Bardan's creations become a statement of individuality and boldness.
Effortless Allure: Enhancing Natural Beauty
One of Emre Bardan's signature skills is his ability to enhance natural beauty with effortless allure. He understands that sometimes less is more, and his hairstyling techniques aim to bring out the best in his clients' features without overpowering them. 
Bardan's touch results in effortless yet captivating hairstyles, enhancing each client's charm and radiance.
Collaborative Artistry: The Glamhairartist Experience
Collaborating with Emre Bardan is more than just a hairstyling session; it is an immersive experience that combines artistic vision with a personal connection. 
Bardan takes the time to understand his clients' desires and works closely with them to bring their dreams to life. His ability to translate their vision into reality, combined with his expertise and creativity, ensures that every collaboration with Bardan becomes a memorable journey of self-expression and transformation.
Inspiring the Next Generation: Emre Bardan's Influence
Emre Bardan's rise to prominence as a celebrity influencer has made him an inspiration to aspiring hairstylists and beauty enthusiasts worldwide. Through his social media presence and online tutorials, Bardan shares his knowledge, techniques, and passion for hairstyling, empowering others to explore their creativity and embrace the art of hair. His influence extends beyond the salon, making him a catalyst for innovation and artistic expression in the hairstyling community.
For media inquiries, collaborations, or interview requests, please contact:
Emre Bardan 
Instagram – @Glamhairartist
Email – glamhairartist@gmail.com
About Emre Bardan
Emre Bardan is a celebrity hairstylist and social media influencer passionate about transforming hair into works of art. With a growing following of over 2 million on Instagram, Emre's innovative techniques and captivating personality have made him a prominent figure in the beauty industry. His commitment to sharing knowledge and empowering others cemented his position as a leading influencer and trendsetter. Thanks for the Read, and remember to follow!