People of all ages donate to causes they care about. Those causes tend to vary across age groups. For example, a cause that's important to a baby boomer may not necessarily be top of the list for a Generation Z. The world in which these two generations grew up in are far different from each other and have no doubt influenced the causes they prioritize. A new infographic from global brokerage firm, Interactive Brokers, looks at giving across generations, focusing on the charity habits and preferences of baby boomers, Generation X, millennials, and Generation Z.
So, what do these respective generations care about? 
Baby boomers (born 1946-1964) sit at the top of the giving tree, representing 43 percent of total giving with an annual gift of $1212. While the donation recipients no doubt vary, first responder organizations receive more donations from baby boomers than any other generation. 
Generation X (born 1965-1976) is up next, making up 20 percent of total giving with an average annual gift of $732. They are top supporters of people, animals and the planet, with health services, animal rights & welfare, and environmental protection organizations among the main beneficiaries.
Just over half of millennials (born 1977-1995) donate to charitable organizations with an average annual gift of $481. Organizations that help people are top of mind for millennials, as they are top supporters of child development, victims of crime/abuse, and human rights and international development organizations.
Generation Z (born 1996 and later) is also putting its money behind a variety of causes. 44 percent donate an average annual gift of $341 to causes that promote sustainability, health, animal welfare, and worship & social services.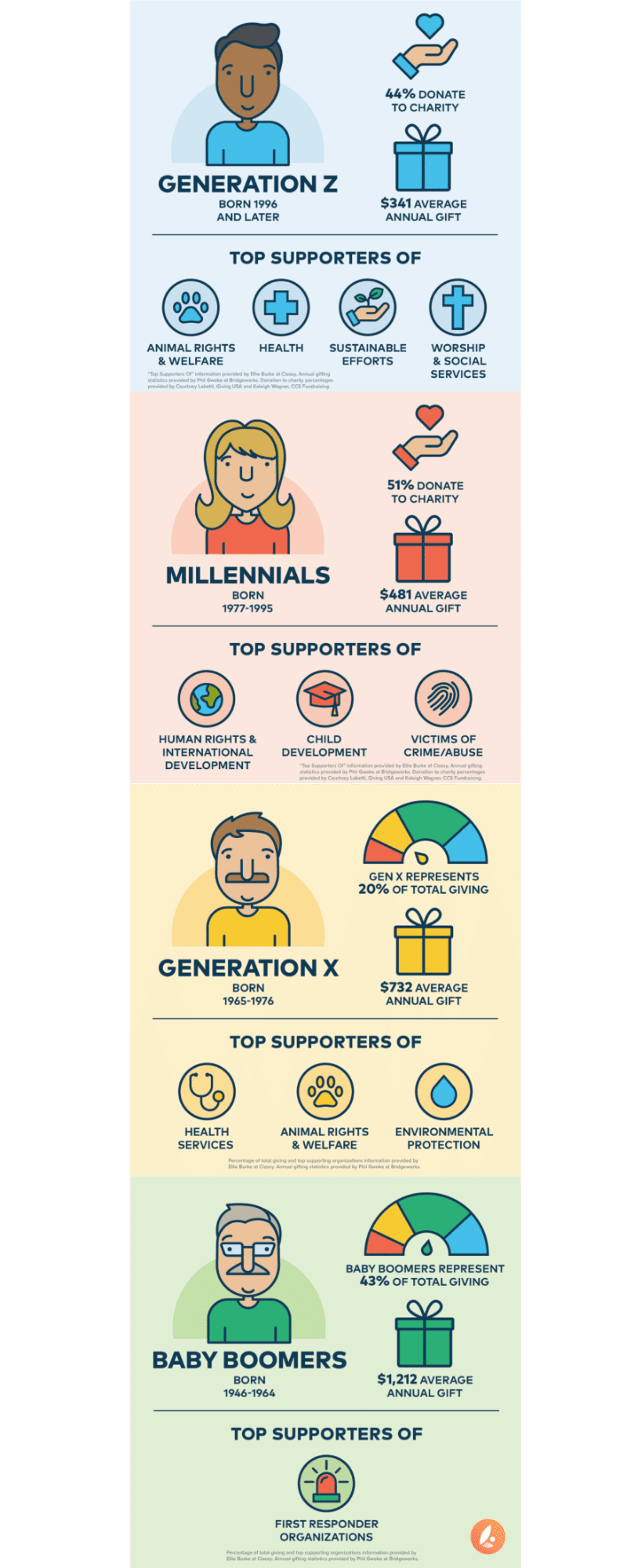 The passion that these generations have for their respective causes is not limited to donations alone. These generations are also leveraging their values into their investments and the companies they choose to do business with.
ESG (Environmental, Social, Governance) investing has become increasingly popular, particularly amongst the new generation of millennial and Gen Z investors. One of the major challenges faced by investors and donors across the globe is identifying companies that align with their preferences and values. Interactive Brokers has answered the call with the launch of IMPACT, a mobile trading platform for socially conscious investors. IMPACT by Interactive Brokers aims to help investors easily align their portfolios with their values and help shape the future they wish to see.
The IMPACT app connects investors with like-minded companies. Investors select their personal investment criteria from 13 impact values and principles across a variety of categories including environmental sustainability, racial, gender, LGBTQ, and sustainable business practices. Users can also exclude investments based on 10 categories including animal testing, corporate political spending and lobbying, and environmental pollution. Based on these selections, the IMPACT app provides impact scores on existing portfolios and holdings and identifies companies that align with investors' selected criteria. The user can then customize their portfolios to align with their values, resulting in a streamlined sustainable investing process.
Further, the IMPACT app has a "Charitable Giving" feature that allows U.S. users to make cash donations to nonprofits directly from the app to accelerate and continue the cycle of giving.
For more information about IMPACT by Interactive Brokers, and to be a part of the community of impactful investors and traders, visit  https://impact.ibkr.com/.