Yesterday Ukraine was considered a country on the periphery, but today everyone sees it as the country of the future. Although there is an all-out war in the country, and the aggressor is Europe's largest army, it already seems clear that Ukraine has a future. And these prospects are not only for Ukraine, but also for those who believe in this country and enter it with their investments.
By the way, there are plenty of opportunities for investment in Ukraine. There is green energy, the IT sector, logistics, and the agricultural sector. 
But besides the traditional sector of the economy, groundbreaking "products of the future" are extremely popular. These are the projects that may not even have infrastructure solutions now, but tomorrow it will be possible to implement them. The main feature of such projects is their relevance!
For example, the Givetime project (originally from Ukraine) is a medical project that uses blockchain technology in its work. And the project's goal is a prolonged human life.
Givetime combines several fundamental components:
The entire project is based solely on scientific research, evidence-based medicine
All processes are traceable. The project is protected from both external interference and internal fraud. The blockchain is responsible for the reliability of the system
Offline and online implementation
Projects that go to extremes are commonplace. We can observe both fully offline solutions and fully online ones. Both approaches have their advantages and disadvantages. Givetime decided to take the best of what's out there and combine it into one system
Unfortunately, due to the military conflict, development on the project was partially frozen. The team's immediate plans, according to WhitePaper, include:
Developing mobile devices to track health conditions at home

Launching a marketing campaign

Forming a knowledge base that will be available to everyone. The goal of such a base is to have access to reliable information that can help treat patients around the world
Of course, almost all of the project's goals will be realized offline – medical and scientific centers will be built for this purpose, and infrastructure will be prepared. 
The global goal of Givetime is to increase life expectancy, and this cannot be achieved by working exclusively online.
The process of implementing the offline stages has now been stalled. Most of the project was planned to be launched in Ukraine, because of its low cost and effectiveness from the legal point of view.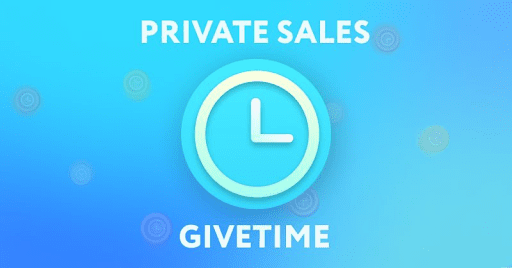 There is no doubt that the war in Ukraine will soon be over and the project will return to active implementation. By that time, investments in Ukraine will no longer be so promising – these investments will become reliable and their ROI will go down.
On the other hand, the reliability of investments may turn out to be a priority. In any case, it should be understood that investments in the project "at a low start" have a higher profitability.
The project is expected to return to active development and implementation in the next 6-12 months. At least, this is how Alexander Movchan, the founder of the project, says of Givetime's prospects:
"The project will return to active implementation next year. Perhaps earlier. 6-12 months, that's my assessment. So far it's difficult to estimate, we have a war going on and we have to fight hard to live to see tomorrow. Increasing life expectancy under these conditions… You don't even think about that anymore. We save people here and now. But Givetime is a project that we believe in. And we continue to work on it, even under such difficult conditions."
We also wondered what changes the project had undergone during the war, and how the team's plans had reformatted.
"We've been working on Givetime for several years, and last year we decided to announce the development publicly. At the time, the Coronavirus was raging in the world, and it became a real threat to people with related illnesses. For example, with heart disease, respiratory systems.
In addition, after talking to specialists and doctors at the world's leading clinics, we decided to turn our attention to mental illness. Now it is especially relevant, given that there is a war in Ukraine. Many people experience emotional exhaustion and suffer from PTSD. There may be other mental illnesses that will also affect longevity and quality of life. This also needs to be dealt with." – Alexander Movchan says.
We've already talked about Givetime being a revolution. Let's understand a little bit about how things are supposed to work, according to the White Paper:
The scientific infrastructure is research, in cooperation with scientists. At the same time, there is the development of the knowledge base, the evolution of the medical component of the project

The knowledge base is a huge "encyclopedia" that will be put into a blockchain. It will store all the developments, which in the future will be applied in practice

Medical infrastructure. Clinics, doctors, organizations that work in healthcare. Cooperation at this level is an opportunity to implement scientific solutions into reality. 
We already know the projects that began as crazy ideas and then completely turned reality upside down.
Personal computers are Steve Jobs' crazy idea.
The social network was Mark Zuckerberg's crazy idea.
Even the cell phone seemed like a crazy idea when it was launched.
Does the idea of Givetime with increased longevity seem crazy? Absolutely!
Does the team have a chance to realize its vision?
Givetime is expected to build its own medical center, as well as scientific laboratories. All of this requires a large investment, which is why a crypto aspect has been added to the project.
The team is actively promoting the narrative – "Crypto money for a good cause!"
The cryptocurrency market today is a big bubble with several more corrections ahead. Is human life and health subject to correction? We'll see!