Gift-giving season is right around the corner, and before you find yourself scrambling for gift guides and shopping at the last minute, consider taking advantage of Black Friday Deals. 
Gift-giving can be quite challenging, especially as you try to weigh what to get and how much to spend. However, it is not impossible. The best way to narrow down your search is first to figure out your first step.
What's the first step to gift-giving?
According to many reports, gift-giving starts with defining your budget, that is, if you're on a budget. However, if you have a free-range amount to spend, then you should start by analyzing the gift recipient and what they need.
Usually, figuring out how much you are willing to spend on a gift is difficult. This is because you might feel like the amount you spend determines the person's worth in your life. This is a common misconception. Gift-giving should be done out of the abundance of your heart; that doesn't mean emptying your pockets and taking out loans to impress people with expensive gifts. Instead, getting a thoughtful gift is much more important.
Is buying a gift on sale wrong?
Definitely not! Many people will never admit to buying a gift on sale. However, this should be celebrated. Look at it as getting to gift someone a valuable gift without draining your finances. If you find the item you want to gift someone on sale, it is perfectly alright to buy it. Therefore, Cyber Monday deals, Black Friday Deals, Flash Sales, and discounts are perfectly okay to use to buy gifts.
How to select the perfect gift
There is no distinct formula to selecting a gift. However, there are a few things that you should remember as you look for a gift.
Think about the recipient
Gift giving is never about the giver; it is about the person receiving the gift. Therefore, you should get them something they need and will appreciate. People make the mistake of buying gifts they like, or they think are great without considering the person they are gifting.
Admittedly, getting the perfect gift is difficult because you might not know what to get the person. However, gift-giving is not always a secret affair; therefore, you can have conversations around gifts (without giving away your gift idea). To do this, just probe subtly into what the person might need or employ your observation skills. If you're gifting an acquaintance or colleague, it is always good to go for a more general gift instead of a personal gift- this applies to people you don't know very well personally. It helps to think like the receiver. Put yourself in their shoes.
Gift-giving is not a tit-for-tat game.
Many people make the mistake of trying to match their gift to the gift they received from that person. On the other hand, some people buy a gift that is more expensive than what they received just to one-up the person. Good gift giving is heartfelt; it is not about competing. The best way to gift a perfect gift is to give it from your heart. Don't be swayed by what they give you, how much you spend or what people will say about your gift. Give gifts because you wholeheartedly want to.
Opt for a gift card if you can't decide
It might seem and feel like you didn't put enough thought into it, but rather than give a bad gift, you can gift the person gift cards. Essentially, gift cards mean you give someone an amount of cash to spend on themselves. You can get them gift cards to redeem at their favorite stores or activities.
Studies have shown that gift cards have become a very popular gift item among givers and receivers. However, it is not completely flawless since many of them go unredeemed every year.
Successful gift giving takes work and patience. However, if you put the recipient first, then you are well on your way to giving better gifts this year. And as the Black Friday craze draws closer, it is time to wipe away the guilt of buying gifts on sale. Think about saving money and still giving a great gift.
Best early Black Friday Gifts under $300
Now that you understand a bit more about gift-giving, it is time to show you a carefully put-together list of incredible gifts that you can get for under $300. The gifts in this list are ergonomic gifts, especially important for students, at home, and office workers.
1) AlcoveRiser standing desk converters M7L-42"
If you are looking for a new addition or revamp to your workstation, this desk converter is the perfect 42-inch addition. You don't even need to trade in your old desk for a new one; just get a converter to upgrade it. The AlcoveRiser features an extra workspace with a large surface. Therefore, you can use several monitors, spread out your paperwork, and still have leftover space for your keyboard and mouse.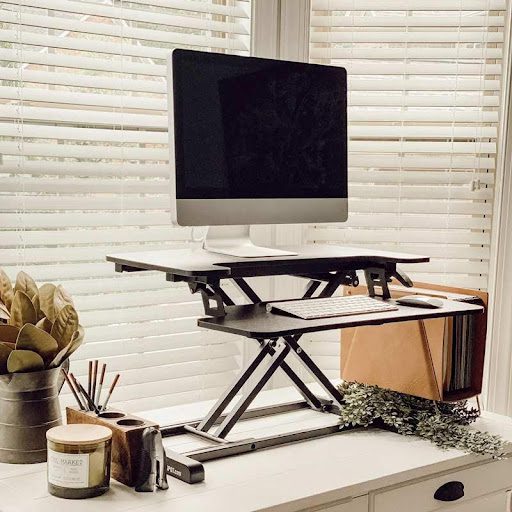 The AlcoverRiser desk converter is also height-adjustable, meaning you can use it at different height settings. The versatility of its height settings helps you use it at your preferred height. To adjust the height, the AlcoveRiser features a straight up and down movement, which saves you space. This also means that the desk converter remains stable during the adjustment. 
Depending on the machine you are using on your desk converter, you can either attach the keyboard tray or leave it. The removable keyboard tray takes less than a minute to attach and release. The desk converter is built to make your work easier and your workday more comfortable. And all these features come to you at less than $300. A very worthy investment.
2) Sit2Go 2-in-1 fitness chair
In case you haven't heard about the Sit2Go 2-in-1 fitness chair, it is time you did. The chair is built for comfort, functionality, and healthy living. The sitting experience on the sit2go chair is super comfortable, making it a worthy alternative to your office chair.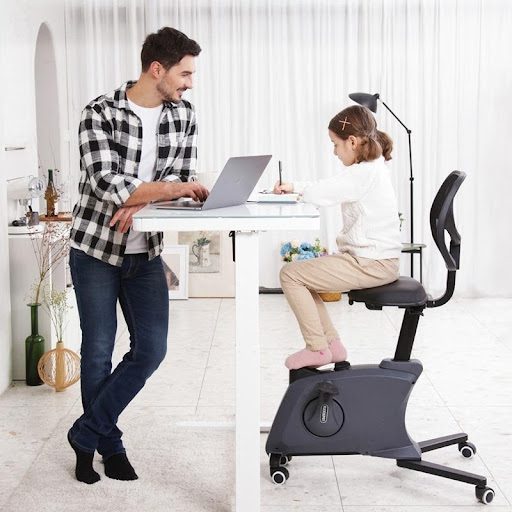 In addition to the sitting feature, the 2-in-1 fitness chair also features a bike at your feet. This means that you get to beat your deadlines and the sedentary lifestyle at the same time. With the sit2Go chair, you get to exercise while getting your work done. At an affordable rate, you can make this addition to your workstation to help you improve your performance, save you time (as you get to exercise and work at the same time) and help you stay healthy.
3) Seiffen laminated standing desk
This comes in two types, you have the Eco and the Pro. The Seiffen desk helps you get the most out of your desk. It is built to help you beat the sedentary life and adopt active living. This is without compromising your productivity at work. Built with an Eco Frame, the Seiffen laminated standing desk is designed to hold the weight of your work equipment and transition smoothly through various height settings.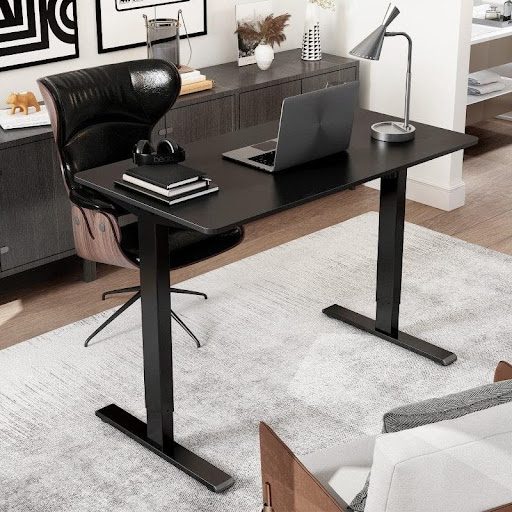 In addition to this, the Seiffen standing desk is also an environmentally friendly desk that features a one-inch-thick chipboard top, available in a variety of wood grains and solid colors. The table is also built to be stable and durable, ensuring you get the best standing desk experience at no extra cost. The Seiffen desk is also perfect for gamers and video conferences. During its transition, the motor quietly adjusts without knocking things over.
4) The Vici Duplex standing desk
This is another prime standing desk that is coming to you at an incredible deal. The Vici Duplex standing desk is a two-tier switch standing desk that allows you to switch between the desktop modes. Essentially, you have two desktops that you can adjust to different heights, making the desk ideal for use with family, friends, and kids. This unique feature makes the desk quite versatile.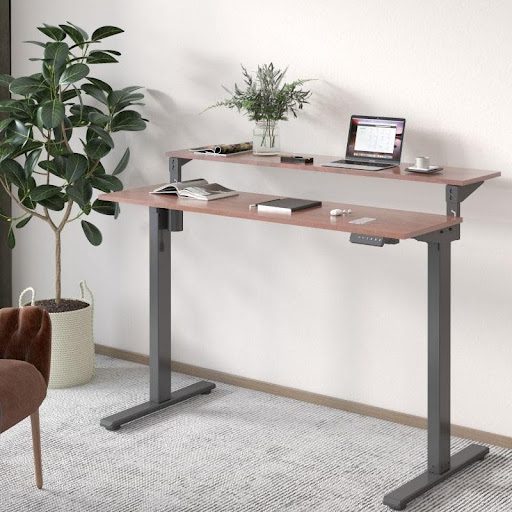 When in single-tier mode, the desk increases the surface to give way for more of your accessories and equipment. When in the two-tier switch mode, you can use one side for your work and the other for plants and other accessories or simply share it with someone else. The stability of the Vici Duplex standing desk is unquestionable. The programmable height panel enables you to save the sitting and standing heights that you prefer. You can save up to four height positions.
When the deals come around
Getting gifts on a budget is a great way to save money and keep from burning a hole in your pockets. Getting premium products at low prices is increasingly difficult, so don't waste the opportunity when a deal comes around.

The world of ergonomics is continuing to open up. Therefore, it is crucial to invest in the best equipment to ensure your productivity and spine health. One of the things that Flexispot is dedicated to is ensuring its clients have access to quality products at affordable prices. Check out their website for the latest deals, products, and what's coming, especially for the fast-approaching Black Friday Deals.