New Crypto Space, DID system purely on chain, the fair launch of domain names, and the token price rose more than 20 times in the airdrop round 1. Now airdrop2 and domain name registration have been launched, and are entering a positive rise period. Now, as long as one of the following conditions is met, you can have the priority of the N2 stage: claim airdrop + nearly free registration of the best domain names, and invite N friends to earn N times of airdrop (the invitees need to complete domain name registration).
– Interacted more than 20 times + purchased once on uniswap/pancakeswap before 1st March 2022 on BSC/ETH/Arbitrum.
The price of a 3-digit domain name with 600k addresses is more than 20k dollars, the transaction price of a four-digit domain name with only several thousand addresses is 2k USD on December 12th. .new suffix domain name with 1.2k addresses now will soon exceed 5000 addresses.
– Official Twitter :
– Domain Name Registration:
– Airdrop address :
New Crypto Space (CRYPTO):
Contract (Arbitrum): 0x9842989969687f7d249d01Cae1D2ff6b7b6b6D35
Let everyone have their own DID purely on chain free like water and air. In the L2 era, every individual needs a .new domain name.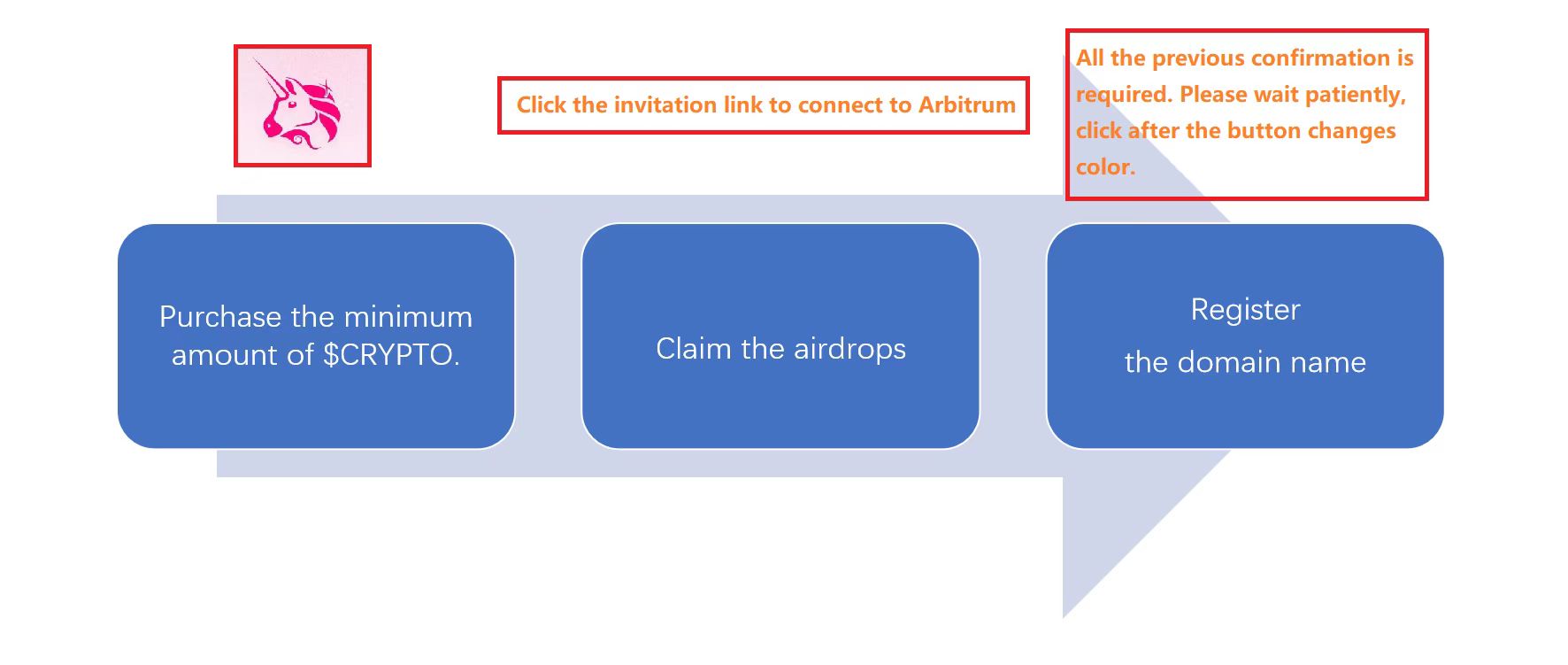 New Crypto Space will bring a new era of free domain names. The New Crypto Space domain name may be the world's first decentralized application for nearly free domain name registration. It hopes to be a blockchain domain name that everyone can afford, just like tap water and air. It is both affordable and necessary for everyone.
DID should be as easily accessible and indispensable as everyone can have water and air, and high-quality resources (such as the best domain names) should not be controlled by a few rich people or privileged classes. The best domain name means extremely high value. However, the best domain names are free to get, first come, first served, and one domain name for one airdrop address. This is a fair domain name registration mechanism.
The fairlaunch of the New Crypto Space domain name is a revolution in the domain names field.
It can be imagined that in the future, more than 100 million people should own domain names, and it is inevitable that hundreds of millions of people will own DID. The way to this possibility should be close to the free mode.
New dream, .new domain name