Haleh Emrani is the founder and CEO of SageDom, the creator of TennisPAL. Haleh will be telling us more about TennisPAL  in this interview.
What is TennisPAL?
TennisPAL is a mobile-app community designed for anyone and everyone with an interest in tennis. Our goal is to use technology to breakdown any barriers that prevent people from playing tennis. Players can connect and schedule matches, find coaches and nearby courts – all through the TennisPAL IOS and Android app. The TennisPAL app is free to users.
What is the market demand for an App like TennisPal and what unique features do you bring to the market?
The app itself was born out of two key unmet needs of tennis fans: access and convenience. It's hard to find other players (e.g., players, coaches, students, fans), courts and relevant tennis news and information. TennisPAL makes it possible all through the convenience of a mobile app.
There are about 20 million tennis player across the United States, yet the tennis community has not historically been catered to by tech-based solutions like other sports. TennisPAL caters to this niche market.
How does TennisPal help Business Owners and Coaches grow their business?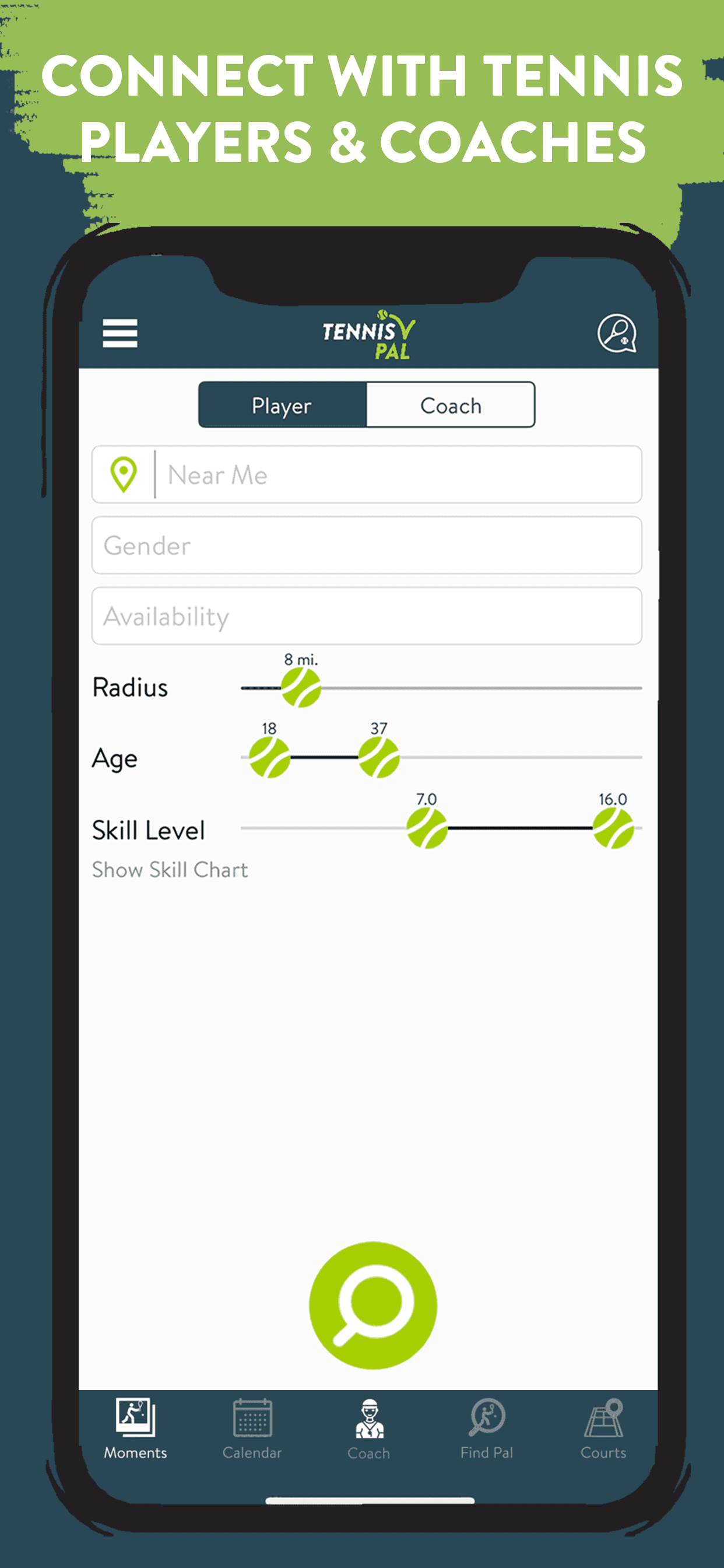 TennisPAL Coach enables tennis coaches to increase their revenue by offering lessons to anyone, anywhere. Coaches can offer remote coaching through new tools to analyze videos of players' strokes and train their students with a live chat feature. Not to mention, they gain access to TennisPAL's community of more than 31,000 members to promote their services, build their brand and grow their business by recruiting new students.
In turn, the app gives players of all skill levels access to certified coaches all over the world and the ability to search for coaches based on different criteria such as location, level coached or by name. The players can then easily connect with these coaches through the app and take advantage of video analysis and communication tools to improve their game from anywhere.
Also, as most tennis coaches would tell you, the biggest cost for coaches is court access. Coming soon, TennisPAL will launch "HomeCourt," a new feature that will enable homeowners to offer their private tennis courts to TennisPAL Coaches. Court owners can see the courts put to use and contribute to the tennis community, while coaches gain access to courts without paying high club and court fees.
How does TennisPal help players find Coaches, Tennis Court, opponents and schedule a match with Tennis Pal?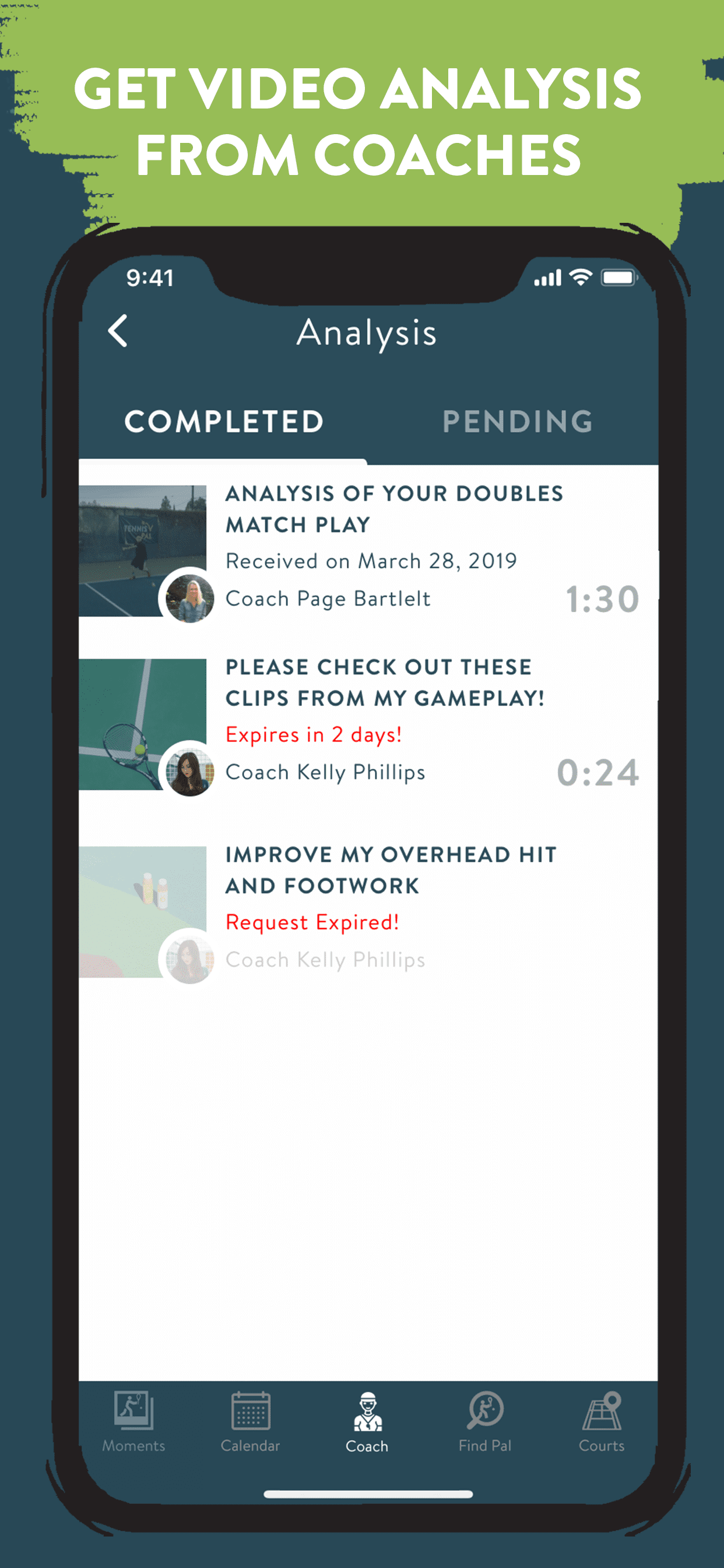 Any successful community relies on ease of access, communication and engagement. TennisPAL makes it easy for its members to find other players anywhere. Members search for other players by using the "Find Pal" feature to define the radius, age, gender and skill level of their desired component. They can either broadcast a message or reach out to individual players through the in-app messaging feature. Players can also comment on other members' posts in "Moments," an instagram-like news feed feature, to stay engaged or schedule a match. The "Coach" feature lets members browse a list of available coaches and then send a request to start communicating for in-person or virtual lessons. The app also offers additional features like "Court Locator" to find nearby courts (with driving directions) and "Calendar" to track and schedule games.
If I am a Tennis Court owner, can I list my court on the TennisPal App, are there any partnership opportunities?
TennisPAL HomeCourt is a new feature that will launch in early 2020. It will allow homeowners to offer their private tennis courts to TennisPAL's network of coaches to "rent" – all through the app. Our research has shown that court owners are excited to see their courts in use. With TennisPAL HomeCourt, court owners can contribute to the tennis community and coaches have access to courts without paying high fees.
 Does TennisPal have any limitations like country or age?
TennisPAL started as a US-based community and has now grown its network to Australia and a number of European countries. Our goal is to gradually expand our global reach.
The starting age for members is 14, and the app has built-in safety features to limit communication access between adult users and junior players. We also have a community of parents who are using TennisPAL to communicate with coaches for their kids.
Do you have more information for our readers?
We invite everyone, especially those who are avid tennis fans or players, to give the app a try! And give us your feedback! We love to hear from users as we continuously strive to enhance the app.
For more information, visit: https://tennispal.com/