From the roots of Brooklyn, New York, GERNIE NYC was created, cultivated, and born. A lifestyle brand that offers men's high fashion footwear and accessories. Renowned for the highest quality materials, craftsmanship, and flavor. GERNIE NYC is quickly influencing pop culture and is recognized amongst the finest. As a rapidly and mature growing urban brand, GERNIE NYC is devoted to promoting fashion and confidence every day. Walk, run or fly, the story is just unfolding.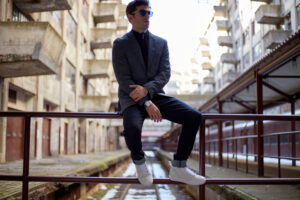 GERNIE NYC was founded by CEO Jack "Gernie" Ashkenazi. A fashion influencer known for his style & dynamic personality. All taking social media platforms by storm. The face & body behind this men's trend station (Instagram @gernienyc). You can spot most of Gernie's favorite items on his website gernienyc.com including trendy leather bags, wallets, unique jewelry, and of course the latest in footwear. Handcrafted in Brazil with the finest leathers on the planet, no detail is spared in creating the perfect product.
Gernie's vision when starting this company was to create a brand that not only looked good but made people feel good too. When you put on a pair of GERNIE NYC shoes you instantly feel 10 feet tall and bulletproof. That boost of confidence can be seen all throughout his social media platforms as well as in his personal life interactions. His innate gift for making people comfortable and his ability to make everyone feel like family has helped him gain not only a loyal following but true friendships as well.
Conclusion:
As this men's fashion brand continues to grow there is no doubt we will see even more big things from GERNIE NYC in the future. Be sure to follow them on Instagram @gernienyc to stay up-to-date with new arrivals, upcoming events & so much more! Who knows… maybe you'll even get lucky enough to meet Jack "Gernie" Ashkenazi himself one day!
Image Credit- https://www.linkedin.com/in/jack-gernie-ashkenazi-3761401b7/
Feature Image Credit- https://www.gernienyc.com/