Dental disorders are reported to be a common concern due to poor eating habits, aging, aging, and accidents. Dental implants prove to be a feasible solution in this regard. As per FOR (Foundation for Oral Rehabilitation), over 240 Mn people are partially or completely edentulous as of the year 2020. Dental implants are advantageous over the other methods of tooth replacement as they are more effective, safe, durable, and result in more natural-looking teeth.
CAD/CAM technology is also witnessing extended applications these days. 3D printing technology is also not behind. This has resulted in cost-effective and simplified production of durable and precise implant components. Also, the fact that dental implants enable non-invasive flapless surgeries, thereby resulting in the reduced postoperative discomfort and healing time, that too, with soft tissues let to stay intact. This factor is bound to take the dental implants market by storm in the upcoming period. Persistence Market Research has mentioned about these trends along with insights in its latest market study entitled "Dental Implants Market".
How is the Dental Implants Market categorized?
The global dental implants market, by material, spans Zirconium and Titanium. Procedure-wise, it's root-form dental implants and plate-form dental implants. By type, it's subperiosteal implants, transosteal implants, and endosteal implants. Design-wise, it's parallel walled implants and tapered implants. By end-user, it's dental clinics, hospitals, and academic & research institutes.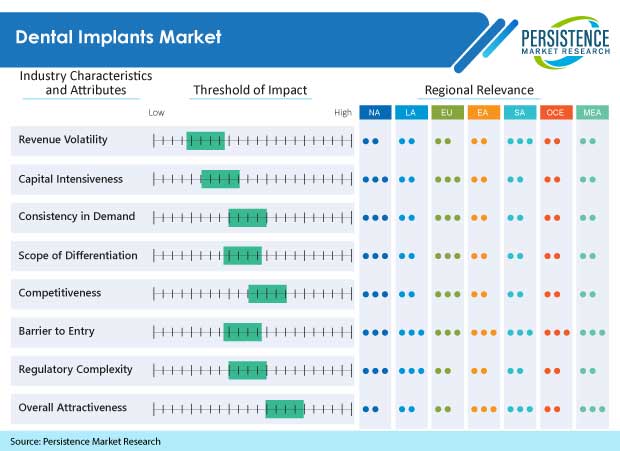 Region-wise Snapshot
North America holds the largest market share. It, in fact, holds close to 38% of the market share. This could be credited to the US being home to growing geriatric population, which is prone to improper dental conditions. As per the American Academy of Implant Dentistry, over 3 Mn people do have dental implants. This number is expected to increase in the upcoming period. Europe stands second on the same grounds. However, the Asia-Pacific is expected to grow at the highest rate in the dental implants market in the forecast period. This could be reasoned with the fact that the countries herein are known for low-cost treatment, along with new technologies like CAD/CAM-based dental restorations being introduced. LATAM is also expected to pick up pace going forward due to growing medical tourism in Mexico and Brazil. Persistence Market Research has highlighted these findings with insights in its latest market study entitled "Dental Implants Market".
Get Sample Copy of Report @ https://www.persistencemarketresearch.com/samples/2821
The Competitive Arena
The key players in the dental implants market, as profiled by Persistence Market Research, include BioHorizons IPH, Inc., Nobel Biocare Services AG, Zimmer Biomet Holdings, Inc., OSSTEM IMPLANT, Institut Straumann AG, Bicon, LLC, Leader Italy, Anthogyr SAS, DENTIS, DENTSPLY Sirona, DENTIUM Co., Ltd., T-Plus Implant Tech. Co., and KYOCERA Medical Corporation.
Persistence Market Research has gone further with mentioning the latest developments in this regard. For instance – Straumann Group, in May 2020, did announce a new-fangled zygomatic implant solution to help patients subject to stark jawbone loss in partnership with Southern Implants. His solution does combine Straumann's BLT and BLX implant prosthetic range with proven design features of implants. Furthermore, DENTSPLY Sirona, in January 2021, announced acquisition of Datum Dental, Ltd. to exercise control over its OSSIX biomaterial portfolio. Carestream Dental, in July 2019, announced inking a partnership with ArchformByte, through which CS 3600 or CS 3500 intraoral scanners offered by former started sending precise images to ArchformByte, that too by online means, to efficiently produce C-Thru aligners speedily.
What could be inferred?
The global dental implants market is poised to grow on an irrevocable note between 2021 and 2031 – Persistence Market Research