Various industry verticals need to abide by regulations regarding workplace safety, inclusive of equipment and personnel safety. This is where gas leak detector comes into picture. In the last few years, breakouts have been minimized due to the employment of gas leak detectors. This employment is expected to grow in the next 10 years, thereby placing the gas leak detector market at a respectable position in the forecast period.
At the same time, it needs to be noted that low quality and low-cost substitute gas detectors are widespread. As such, the end-users don't give a second thought before buying these detectors. This factor is bound to restrain the gas leak detector market in the forecast period. Measures for creating brand awareness could be taken for doing away with these concerns, along with extension of legal support to utilization of branded products.
Monitoring the toxic gases is crucial for all the natural gas power plants, oil & gas pipe production plants, chemical processing plants, and refrigeration facilities. Toxic gases' leakage could result in excessive corrosion and environmental damage, apart from fatalities. It has been observed that majority of poisonous compounds don't come with strong physiological warning features, which implies that people could get affected adversely much before realizing that they are actually there. This shows the imperativeness of gas leak detectors in the manufacturing vertical.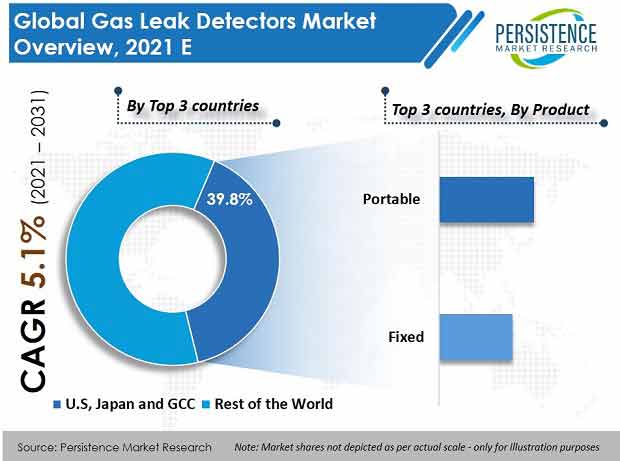 Gas Leak Detector Market Segregation
The global gas leak detector market, by type, spans fixed and portable. Technology-wise, it's electrochemical, semiconductor, ultrasonic, infrared, and others. By application, it's residential, commercial, and industrial. Out of these, portable gas leak detectors hold the largest market share. By technology, electrochemical has been ruling the roost till date. However, in future, infrared and ultrasonic are expected to take over.
Region-wise Snapshot
North America holds the largest market share due to the US witnessing a handsome concentration of gas leak detector producers. These suppliers do provide a wide range of products, thereby making way for larger revenue from gas detectors' sales. The current trend is that of multi-gas detection through single device. Coming to MEA, rapid urbanization is expected to be the major revenue generator with regards to gas leak detector market. Also, hydrogen gas detection in the oil refineries is becoming crucial over here. The Asia-Pacific and Europe are also poised to grow on a substantial note in the gas leak detector market in the near future.
GAIN COMPLETE ACCESS TO THE REPORT – https://www.persistencemarketresearch.com/checkout/4606
Competitive Landscape
The global gas leak detector market has its key players as MSA Safety Inc., 3M Co., Danfoss A/S, Det-Tronics Corporation, Inficon Holding AG, Emerson Electric Co., Honeywell International Inc., Draegerwerk AG & Co. KGaA, Testo SE & Co. KGaA, and Tyco International plc. Coming to developments, MSA Safety Inc., of late, announced inking an agreement for acquiring Bacharach, Inc. for expanding the former's gas detection portfolio, thereby leveraging its manufacturing and product expertise into new-fangled markets. Also, INFICON Holding AG, in October 2018, did acquire assets of Techno-Tools Corp. (producer of handheld leak detectors) and Final Phase Systems, LLC.