What Is Fundraise?
Fundrise is an online investing platform that offers everyday investors access to an asset class that's been historically reserved for the very wealthy: real estate. Fundrise offers accredited, and non-accredited investors access to this asset class with a minimum investment of just $10.
Based in Washington, DC, Fundrise was founded in 2012 and has become one of the biggest and more accessible real estate platforms in the US. Fundrise has more than 371,000 active investors, $7 billion in total asset transaction value, and has paid out more than $226 million in net dividends.
What Are The Fundrise Strategies?
The four investment strategies are:
Fixed Income
Core Plus
Value Add
Opportunistic
Fixed income and core plus real estate assets start generating income very soon, within months after acquisition; these are not as profitable as a value add or opportunistic investments but are necessary to add stability to the Fundraiser's strategy.
Value add and opportunistic investments can take years before you start seeing returns, but they are the best way to generate wealth long-term. If you can't afford to invest for the long term – with a time horizon of at least five years – you will miss out on value add and opportunistic investments. If that's the case, you may want to consider a different, less profitable type of investment with a shorter time horizon.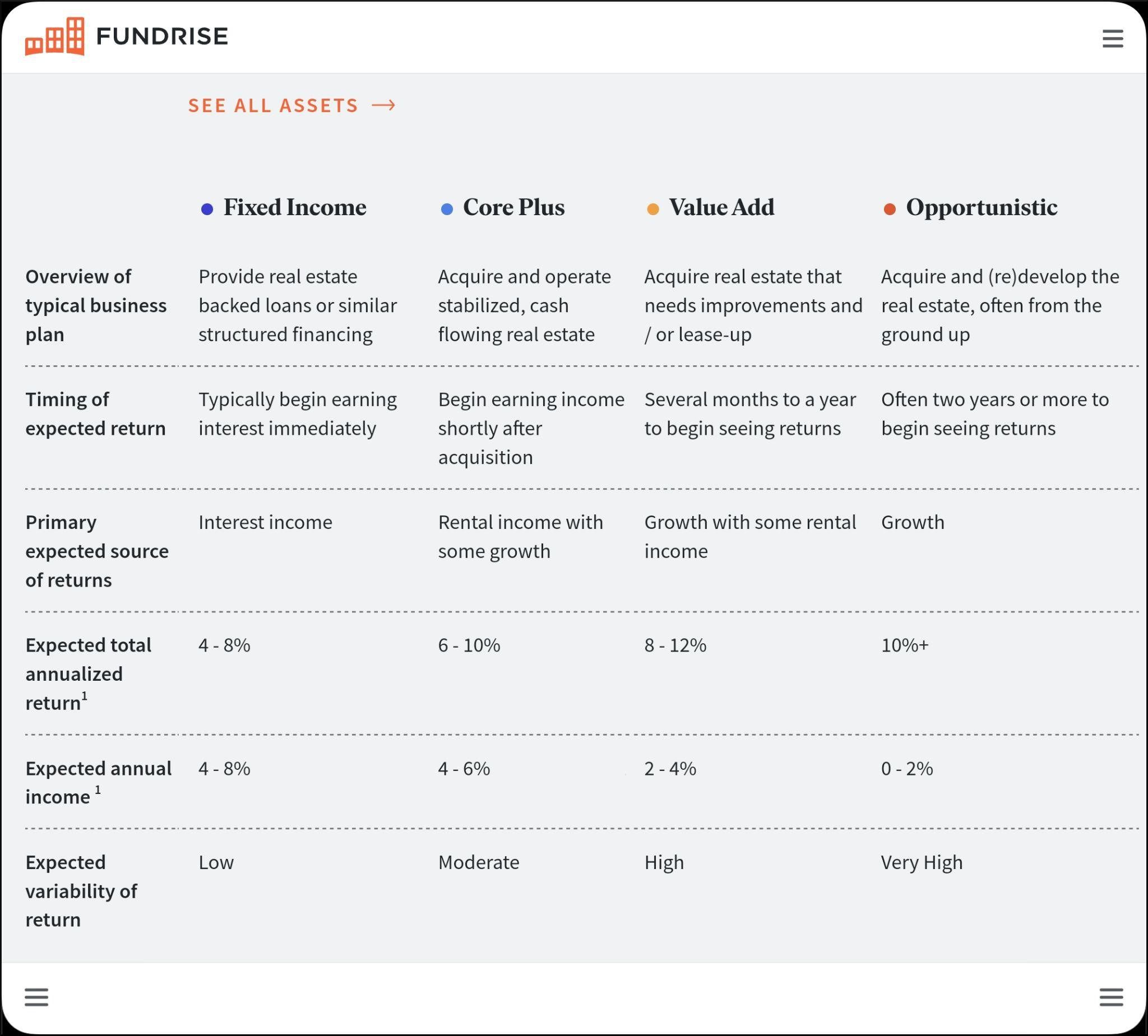 Fundrise Exclusive Features
Based on your initial investment, you'll be able to access five different accounts with growing benefits and features:
Starter Account: $10 minimum investment (auto-invest and reinvest)
Basic Account: $1,000 minimum investment (access to IRA investing)
Core Account: $5,000 minimum investment (customizable portfolio strategy)
Advanced Account: $10,000 minimum investment (access to specialized funds)
Premium Account: $100,000 minimum investment (invest in exclusive accredited offerings)
Check out our full Fundrise review, where we break down and go in-depth on each account's benefits.
How Long Should I Invest In Fundraise For?
We recommend Fundrise if you have a time horizon of at least 5 years. This is very common in the real estate industry and is designed to ride out any short-term fluctuation while giving time to value add and opportunistic investments to grow.
The breakdown of how much you can expect to earn based on how long you hold your Fundrise investment is as follows:
Hold for a year: 11.3% of your initial investment
Between 1-2 Years: 21.1%
Between 2-3 Years: 34.4%
Between 3-4 Years: 49.6%
Between 4-5 Years: 60.4%
Between 5-6 Years: 85.7%
7 years or more: 80.1%
This was calculated using more than 446,957 data points from hundreds of thousands of individual accounts.
What Is The Average Return With Fundrise?
Fundrise returns largely depend on how long you hold on to your investment; the longer you hold them, the higher the returns. Using data from the last five years, the breakdown of the expected returns ranges from 11.3% after 1 year to 80.1% after 7 years. This is higher than the expected returns of the S&P 500 index and most investments. These expected returns are calculated using more than 446,000 individual investor accounts, but as with any investment, there's some risk involved – is Fundrise legit?
If you can afford to hold an investment with Fundrise for at least 5 years, you are sure to realize a profit. However, if you're looking into more liquid investments, you may want to check out our Fundrise vs. REITs review, where we consider all the factors and make a recommendation based on the type of investor you are.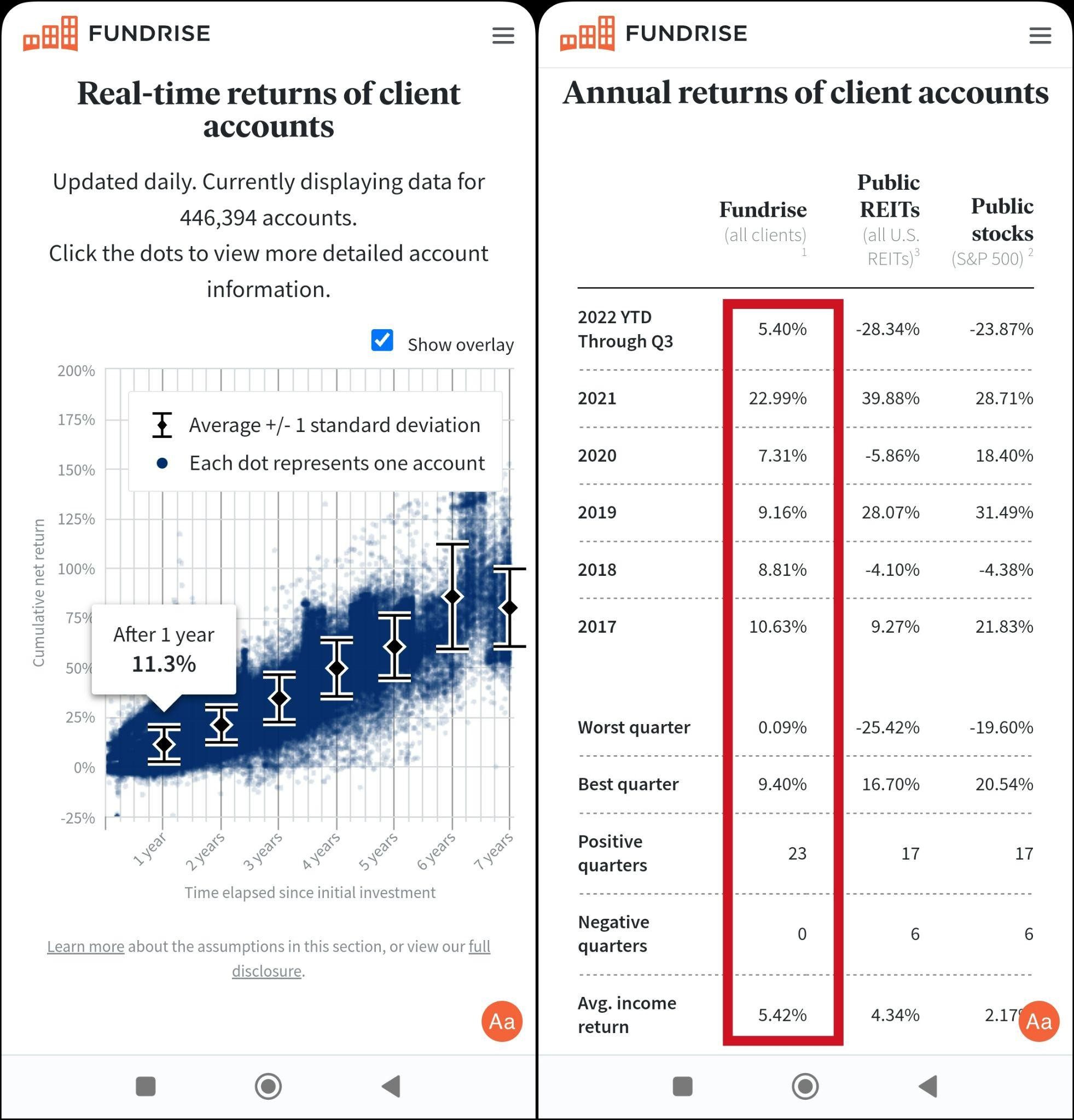 Fundraise Pricing
Annual Advisory Fee: 0.15%
Annual Management Fee: 0.85-1.85% (depending on the investment you choose)
Sales Commission: Free
Early Redemption Fee: 1%
The annual management fee is 0.85% if you invest inFundraiserss Flagship Fund, Income Real Estate Fund, eREITs, or eFunds. For the Fundrise Innovation Fund, the annual management fee is 1.85%.
The early redemption fee applies only to eREITs and eFunds if you decide to liquidate your shares before the 5-year mark.
The advisory fee applies to all investments and covers tax reports, customer support, and dividend distribution. All fees are a percentage of the total investment you have with Fundrise.
Signing Up With Fundrise
Fundrise is only available for US citizens and permanent residents over the age of majority. Accredited and non-accredited investors can sign up, and the process won't take more than a couple of minutes. Here are the steps:
Visit Fundrise's website
Click Get Started
Enter your email address and click Continue
Fill in some of your basic information
If you use this link to sign up, you will get a bonus ranging from $25 to $100 worth of Fundrise shares, depending on your initial deposit.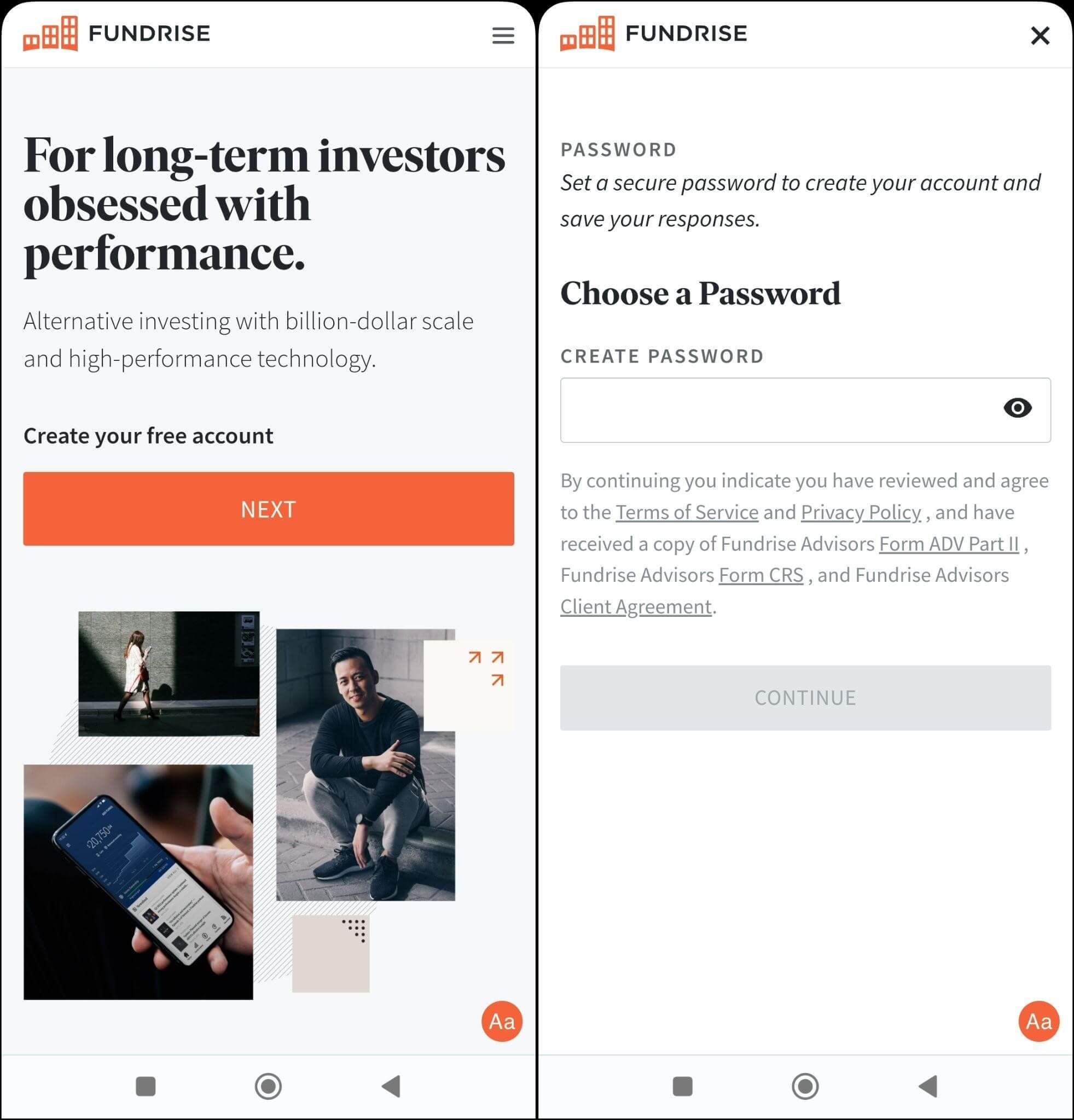 Can You Make Passive Income With Fundrise
Yes – the Fundrise portfolio is designed to cover consistent passive income and wealth generation. The Fundrise portfolio comprises a mix of fixed income, core plus, value add, and opportunistic assets. The allocation ranges from 30% for fixed income and core plus to 25% for value add and 10% for the more risky investments classified as opportunistic. If you want to read more, we recommend our breakdown of the best Fundrise investment strategies.
Does Fundrise Pay You Monthly?
No – Fundrise, like many other real estate investing platforms, pays dividends quarterly. You can expect payments in the middle of April, July, October, and January every year. Keep in mind there's no minimum dividend payment, and dividends may fluctuate depending on the performance of the underlying assets in the portfolio.