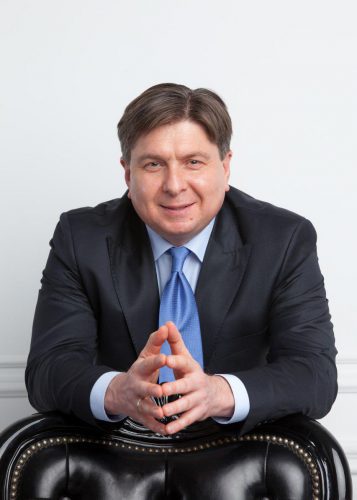 Dmitry Moiseev is the CEO and Co-founder of Naviaddress. Naviaddress is a digital ID for any place and object. Naviaddress can assign a fully functional address to any place or object. 
1) Please tell us your name and about yourself?
Dmitry Moiseev, Co-founder and CEO of Naviaddress, a disruptive blockchain ID project,  which aims to change the way people interact with the addresses.
2) What is NaviAddress?
Naviaddress is a blockchain ID management project which develops, markets and operates an address platform. The platform shall provide users with blockchain IDs for places and objects in real and virtual worlds to ease communications about locations and to lower in broader sense transaction costs between users. Each blockchain ID is linked to platform and user generated metadata about user's locations and objects.  We deployed the addressing platform for commercial testing in the end of 2016. As of June 2018, the total amount of naviaddresses in the system exceeded 1 500 000, and 1 300 000 of them are in the business category; the number of Naviaddress app users exceeded 70 000 people from 20 countries all over the world.
The current platform is being deployed onto the blockchain. It will provide people and businesses with freedom and ability to create, obtain, own, lend and sell their digital addresses – naviaddresses – unified digital IDs for any place and object.
Our mission is to facilitate mass adoption of blockchain based platforms and products for benefits of common people in everyday life by using human friendly IDs.
3) You have a vast practical experience in growth management, marketing and business development, do you think this is a great advantage to the NAVI project?
I've been running and advising successful businesses through dynamic stages of their development, from seed to IPO, for more than 20 years. I do have many years of practical experience in managing companies in Russia and abroad. My experience in corporate and product strategies, team management and business development as well as vast networking contribute to the Naviaddress project development and growth strategy. We are quite ambitious and upbeat that naviaddress disruptive solution could change the addressing system worldwide.
Within the last 6 month my team and I successfully accomplished ICO stage. Now we are refining our platform business strategy with a greater focus on fast platform adoption through building and scaling up partnerships with industry players, software and blockchain project developers in the target industries. Our focused industries are express postal delivery, e-commerce, international tourism related industries, real estate, state postal services, IoT.   We are working on launching several customer development projects together with DPD Russia (strategic partner of Alibaba in Russia) in order to further obtain and implement in the platform key and must-have features for end users and express delivery businesses. All this is needed to develop and offer an innovative solution to billion dollar markets (e-commerce and postal delivery). Several other pilots with other target industry players are in pipeline –  we've also developed and launched the Beta 0.2 on the blockchain and plan new cooperations with MENA and SEA based regions  State Postal Services, e-commerce, smart cities and governments. We are leveraging our Russia market related networking to develop first platform release and scale it up further on the international level.  My goal is to build global platform, strong international team and IT infrastructure that can scale up naviaddress ecosystem rapidly. We plan our to open our first international operational foothold in SEA in Q4 2018.
4) What are the major pain points Naviaddress plan to solve?
For a post-delivery operator, the right addressing system means well-established work, time and resource savings, and, of course, a notable increase in customer loyalty. Nevertheless, the existing global addressing system fails to meet the requirements of modern life.  For US Postal Service in 2016, overall Undeliverable-as-Addressed (UAA) mail did in fact increased. More than 6.8 billion pieces of mail were undeliverable — that's 4.56% of outbound volume. And the cost to the United States Postal Service (USPS) to process all that UAA mail was a whopping $1.3 billion.
Today, 20% of addresses in developed and up to 80% of addresses in developing countries respectively are not verified today from the first time due to mistakes in address spelling, verification and "last mile" navigation problems. This creates billions of US dollar wastes in e-retail and postal delivery industries. Naviaddress provides the solution for e-retail and delivery businesses –  a trustless verified by transaction and geo coordinates precise ID of users' locations linked to user generated metadata. The solution will cut the wastes drastically.
There are 2 key advantages to the Naviaddress solution on blockchain for e-commerce and delivery businesses. First, simplification of internal verification process: every point, every object can be assigned with its own digital address that we verify just one time. After that, it is considered 'verified' and does not require extra time for subsequent validations. Secondly, every pick-up point is given a short digital address, which is easy to find, share and remember. These measures improve internal efficiency of a logistic provider and create better customer experience.
Another area of naviaddress can be found in the travelling sector. "Last-miles'' issues affect travelers in all parts of the world, but more so in places where mobile technology is less pervasive (fewer details on maps, poor or no cellular signal, etc.), within cities that have an ancient street plan or when visiting a brand-new neighborhood. Smaller hospitality operators are often not good at signposting and making it obvious to new visitors how to find them. Travellers are often tired or jet-lagged after a long journey. All they want is to go to their accommodation and unpack. The good news is that definitive step-by-step directions for the 'last mile' exist in every naviaddress. This feature is supported by local photos and tips to help you locate your accommodation.
Another problem is being unable to read or communicate an address in a foreign country. It is a common 'pain-point' for most in the hospitality sector, business travellers and tourists. Just look at this example: you want to take a taxi to an office located at Archiepiskopou Makariou III, 45, Larnaka, 6017, Cyprus. You can try pronouncing or spelling it out in Greek, which would be Λεωφόρος Αρχιεπισκόπου Μακαρείου Γ΄, 45, Λάρνακα, 6017, Κύπρος. Although you'll most likely do it incorrectly. But imagine being able to simply say the numbers "357 456017". That's all you would have to do to get to that precise location quickly. Users have the option of going through the Naviaddress mobile or web-app, or simply Google "Naviaddress [357]456017." Now, anyone can communicate any address in universal digits, not in Greek, Chinese or any other language.
5) There is currently so much skepticism in the Token market, what makes NAVI Token special and different from the others?
NAVI token is an ERC-20 based utility token that provides its holder with the exclusive opportunity to buy premium naviaddresses (from one to 5 digits IDs selected by a user) from the NAVI Platform. These premium addresses can be rented out for fiat or applied for personal use.
Premium naviaddresses will be available after the commercial launch of the Navi Blockchain Platform. Custom/Standard addresses (from 6 to 18 digits) are free on the platform and a particular ID is selected by the platform for a user.
Naviaddress country and regional containers with 1 to 5 digits naviaddresses are retained for premium naviaddresses that should be sold through auction by the platform. The difference between nominal premium naviaddress price (price-list) and auction price will be retained by the platform. But the nominal token price for premium naviaddresses will be burnt by the platform. We intend to sell through auction country and regional containers of premium naviaddresses to country level subscription businesses willing to lend naviaddresses to local location dependent businesses for fiat. The current nominal price for one country container is 5.000.000 NAVI tokens and a regional container — 500.000 NAVI tokens. We also will build strategic partnerships and cooperation to expand the usage of verified naviaddresses.
As a next step we plan to use NAVI token to facilitate the usage platform services as well as payment for the external services, such as taxi, car sharing, booking, post delivery, etc.
6) What is next on your Roadmap and where do you see NaviAddress after ICO and in the next 5 years?
Our developers have been working continuously to introduce the naviaddress auctioning platform. While it is a still a proof of concept (beta) we are happy to announce that a new Testnet version (v0.2) is now live on https://beta.naviaddress.com/.  We are on schedule to deliver the platform commercially in early Q4!
We also work on adoption of our addressing platform on the key target markets to expand National and Industrial partners' network to introduce successful cooperation to unlock further growth potential for Naviaddress. Already for this year we plan 2 country-level and 2 Industrial partners pilot projects. By the END of 2020 we aim to have 3M of active users in 5 Strategic Markets – where Industrial Partners are located. We also have already started to  implement an active IPR strategy and submitted a patent application for a user-friendly, universal identification platform on the blockchain infrastructure. We continue our research for naviaddress solution for different industries and will file quite a number of new patent applications soon to provide innovative and technological leadership in Location Identity industry on the blockchain.
Visit the website for more information: https://ico.naviaddress.com/
Join the Telegram community: https://t.me/naviaddress