What Is FTMO?
Founded in 2014, FTMO is a proprietary trading platform – also known as a prop trading platform – designed for experienced Forex traders. Prop trading platforms offer the opportunity to trade using a company's capital, and the company, in this case, FTMO, pays back traders a percentage of their earnings.
Before you can start trading as a certified FTMO Trader, you must pass FTMO's 3-step vetting process called the Evaluation Process. This process usually takes between 30 and 90 days to complete and is designed to ensure that traders have the key skills that all successful traders should have. Some key concepts include risk management, minimizing losses, and reaching profit goals. FTMO is available in 180+ countries worldwide.
Since its launch, FTMO has paid more than $70 million to certified FTMO traders. In this quick FTMO summary, I will go over Evaluation Process and other key things you should know before getting started. If you want to read a more in-depth analysis, check out our full FTMO review.
Pros & Cons of FTMO
Pros
High payouts with the FTMO Trader account
Low minimum deposit (€155)
Available in 180+ countries worldwide
Supported trading instruments and assets include (Forex, crypto, stocks, and more)
Free trial with complete access to all the tools
Helpful customer supports is available 24/7
Full refund for your initial deposit after you get your FTMO Trader account
Complimentary FTMO Challenge access when you refer friends
Cons
Long vetting process
Requires trading experience
Pass The FTMO Challenge And Get Your Account Verified
With FTMO, any trader who completes their 3-step Evaluation Process will receive their FTMO Trader account and become part of the FTMO Proprietary Trading firm. The 3-step verification process starts with the FTMO Challenge, a 30-day test run where you'll need to showcase your discipline as a trader and manage risk successfully. The requirements for the second step, FTMO Verification, are very similar to the FTMO Challenge. To navigate the first 2-steps, you will need to follow the rules:
You can't exceed the Maximum Daily Loss limit (ranging from $500-$10,000)
You must reach the minimum of 10 Trading Days within the period (30-60 days)
You must reach the Profit Target (ranging from $1,000 to $20,000)
The Maximum Daily Loss limit ranges from $500 to $10,000, based on the initial balance you chose when you created your account ($10k, $25k, $50k, $100k, or $200k). Trading Days are defined as days where you executed at least one trade.
Keep in mind that if you don't reach the minimum profit target or exceed the daily loss limit, your account will be automatically invalidated, and you will lose eligibility to continue.
The only scenario where you'll get a complimentary second chance to complete the FTMO Challenge (or FTMO Verification) is if you don't exceed the Maximum Daily Loss limit and your account ends in a profit at the end of the period.
How Much Can You Earn As A FTMO Trader?
After you complete the FTMO Challenge and the FTMO Verification, you will unlock your FTMO Trader account and will start trading using FTMO's capital. With your FTMO Trader account, you will receive 90% of the profits you make; this is very favorable compared to other platforms in the industry, like the TopStep Funded Account, which pays out only 50% of what you earn.
When you join the FTMO Challenge, you will have full access to the leaderboards and can check how much the best traders earn.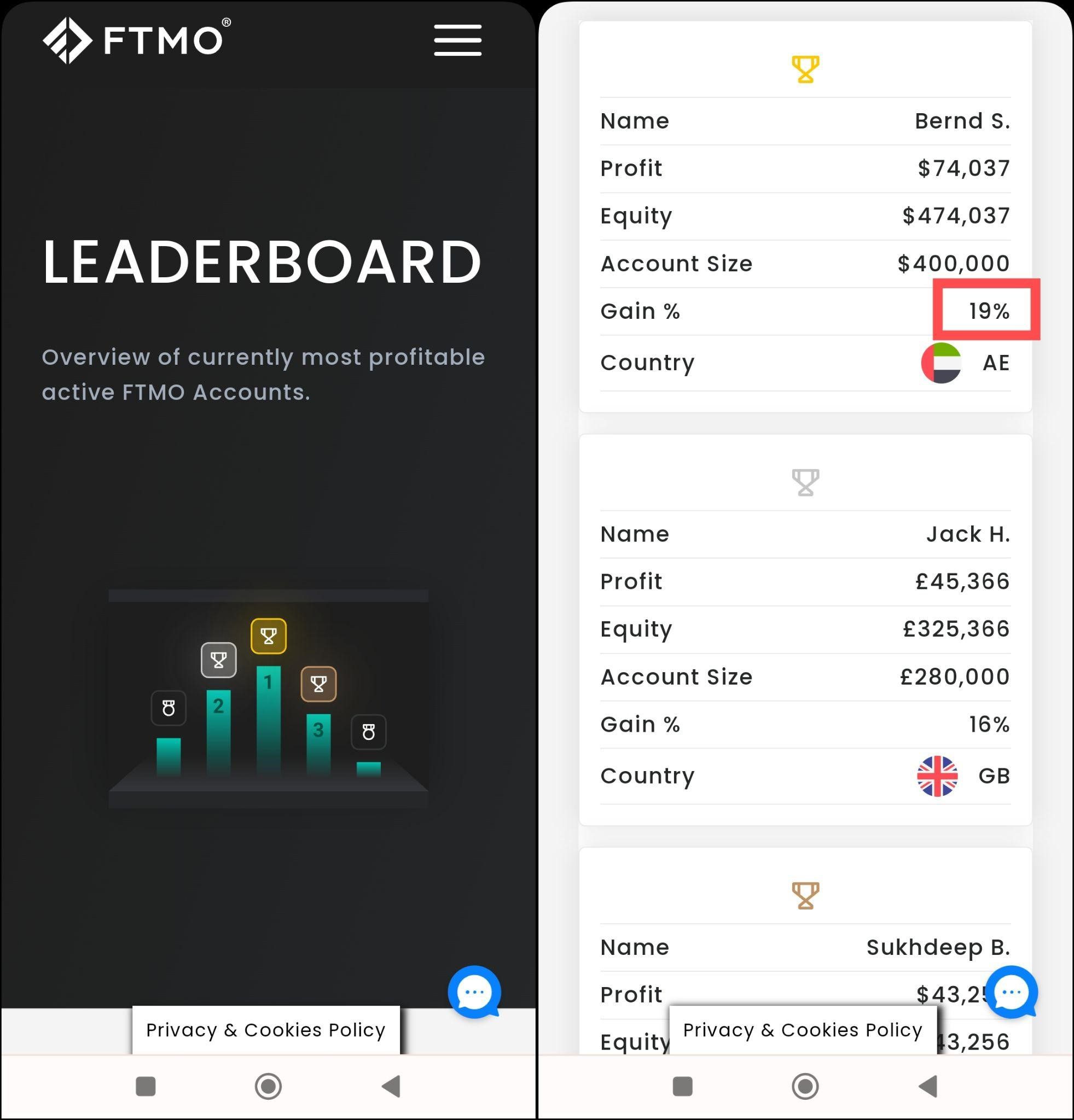 FTMO Fees
To sign up for the FTMO's Challenge, you need to make an initial deposit ranging from €155-€1,080, and after you pass the 3-steps and become an FTMO Trader, you will get a full refund.
$10K Buying Power: €155 (minimum deposit)
$25K Buying Power: €250
$50K Buying Power: €345
$100K Buying Power: €540
$200K Buying Power: €1,080
The higher your initial deposit, the higher your initial balance. Keep in mind that the Maximum Daily Loss limits and Profit Targets also change based on your initial deposit – make sure to double-check all the numbers before committing to an account.
Sign-Up Process
FTMO accepts traders from around the world, and other than being 18 years old, there are no special requirements to apply. The sign-up process is quick and won't take more than a few minutes. To get started:
Visit FTMO's website
Click FTMO Challenge
Scroll down and click Register
Fill in some of your basic information
If you use our link to sign up for the FTMO Challenge, you can get a commission ranging from 8%-20%, and you'll receive your referral link. You can use your referral link to earn commissions, and transferable FTMO Challenge passes and gift them to friends and family.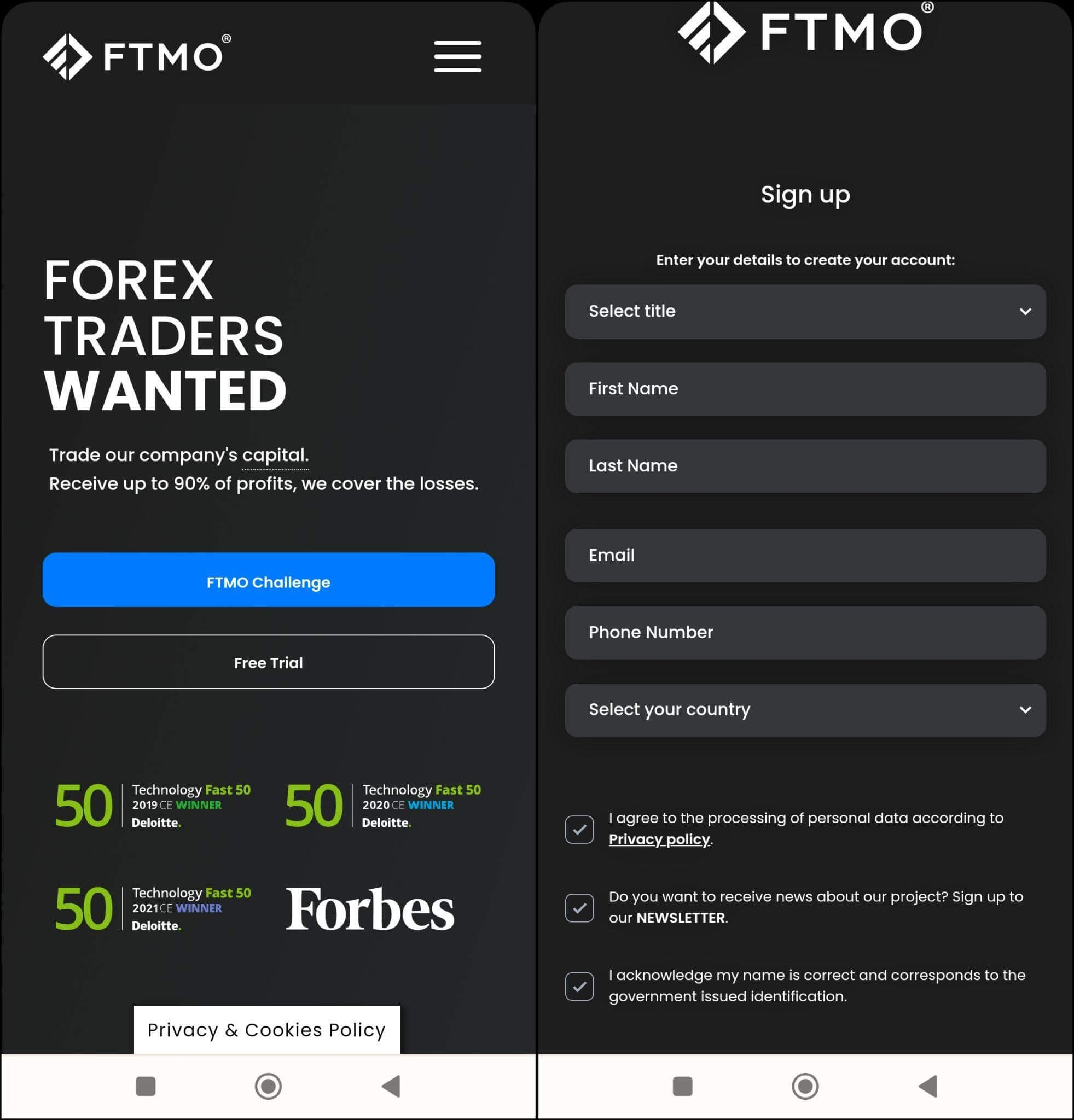 Trustpilot Reviews
FTMO has excellent reviews from all its users, and it holds an excellent rating of 4.9 on Trustpilot. Here's what some of those users have to say about FTMO:
"It's a breath of fresh air to work with a prop firm that is reliable, professional, punctual, and has excellent customer service." – Antoine D.
"If You want to become a Professional and Disciplined Trader, you must do the FTMO Challenge. It doesn't matter the package you are going to do, do it and thank me later." – Aguilar N.
"Well, I'm very happy to say this is my sixth profitable month and like always, FTMO has given my profit split in a timely manner." – Dean A.
"Ftmo is a great profirm, although the stages to get the funded account is hard to pass as I have tried many times, once u pass it is smooth sailing, Patience is key to trading." – Mark N.
If you are not entirely convinced that this particular service is for you after reading these reviews, we recommend checking out our full TopStepTrader review. TopStepTrader is another prop trading company slightly more established, with more than 12 years of experience in the market.
Final Thoughts
FTMO is an excellent prop trading platform for experienced Forex traders. The Evaluation Process is considerably longer than platforms like TopStepTrader – which require as little as eight days to certify your account – but FTMO offers up to 90% of what you make as payouts, unheard of in this type of platform. If you're an experienced Forex trader, we recommend FTMO as one of the top prop trading platforms available.