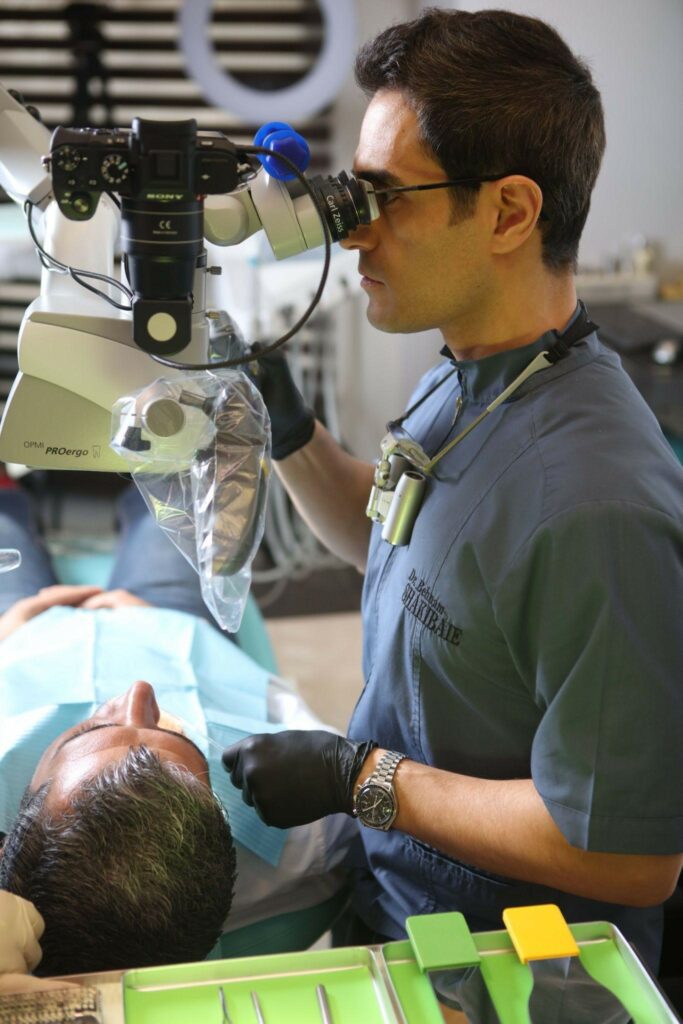 The field of dentistry is undergoing a remarkable transformation, heralding a new era of minimally invasive procedures that are fast becoming the norm rather than the exception. Dr. Behnam Shakibaie, a well-renowned Oral Surgeon, is leading this revolution with his significant contributions to the development and application of microsurgical techniques and digital chair-side technologies in Implantology. 
Technological advancements, including optical magnification, microsurgical instruments, bone and soft tissue grafting materials, and digital dentistry, are contributing to this shift. These technologies are enabling dental professionals to centralize different specialties for comprehensive, state-of-the-art tooth replacement treatments, eliminating the need for extensive lab involvement. 
Dr. Shakibaie has been a strong advocate for minimally invasive dental procedures. His pioneering work focuses on every stage of treatment, starting from tooth extraction, socket preservation, implant insertion, and soft tissue management, to the final chair-side digital full-anatomic supra-construction, always with the goal of achieving restitutio ad integrum, or a restoration as close as possible to the original condition. 
"The key to success in highly demanding cases is a combination of cutting-edge techniques such as implant microsurgery, microscopic and digital chair-side dentistry, along with knowledge, skills, and passion," says Dr. Shakibaie. He adds, "Taking the necessary time for each procedure is also crucial." 
Numerous scientific reports confirm that conventional procedures are associated with significantly more complications and risks compared to microsurgical digital workflows, particularly in the surgical segment of the treatment. On the other hand, the design, fabrication, and delivery of implant-prosthetic restorations using the latest digital chair-side technologies and materials have shown exceptionally promising results. 
Minimally invasive treatment methods aim to minimize tissue trauma while maximizing tissue preservation or reconstruction, thereby ensuring that only the bare minimum of healthy anatomical tissue is affected. Achieving these objectives has become possible thanks to the utilization of modern dental microscopes and specially developed microscopic instruments that are now available for various fields of dentistry, including Endodontics, Periodontics, Prosthodontics, Restorative Dentistry, and Implantology. 
SeoXnews – The Press Release You Need
In 2010, Dr. Shakibaie became the first author worldwide to scientifically describe the clinical uses of dental microscopes in the discipline of Implantology. Since then, he has been developing and publishing multiple techniques and instruments in this field, such as Microscopic Open and Closed Sinus Lift, Microscopic Tooth Extraction along with Socket and Ridge Preservation, and Microscopic Split Rolling Flap Technique for implant exposure. 
His groundbreaking contributions have not gone unnoticed. Dr. Shakibaie has been honored with several internationally recognized awards, including the "German Periodontology Award" and the "American Micro Dentistry Congress Award". His scientific achievements underscore his reputation as a leading innovator in the dental world and attest to his commitment to enhancing the precision, safety, and effectiveness of dental implant procedures. 
In conclusion, Dr. Shakibaie's significant contributions are shaping the future of minimally invasive dentistry. His groundbreaking work continues to drive the evolution of dental science, paving the way for improved patient outcomes and experiences. 
For further information, please contact pr@tnyt.info.  
About Dr. Behnam Shakibaie:
Dr. Behnam Shakibaie is a distinguished Oral Surgeon renowned for his pioneering work in the field of minimally invasive dentistry, particularly within Implantology. His innovative techniques and applications of modern technology have earned him global recognition, affirming his standing as a leading figure in dental science.