The integration of human creativity and technology has brought positive change to industries around the world. While human creativity and imagination remained core points. There have been many changes in recent years to the way interiors are designed.  A designer and client would first discuss the desired outcome. After that, they can choose different colors and designs from samples that will be shown to the client.
The client would carefully peruse the material samples provided by the interior designer to settle on a color scheme that satisfied everyone involved. The method was slow and laborious due to the number of physical stages involved. Recent developments in 3D architectural visualization and the use of 3D for interior design have not diminished the beauty of the hand-drawn process; rather, they have merely made it faster and more efficient.
3D Modeling Turns the Virtual Experience into Reality 
By using 3D interior design, you can rapidly picture the end outcome before any construction has even begun by taking a virtual tour of your location. This allows you to plan and budget appropriately for the project. As more of the project is disclosed, all of the structural and aesthetic components, beginning from the bottom up and working their way up, will fall into place. This includes the more minute details of the building itself.
You will be able to visualize just where and how everything will fit, bringing you one step closer to the completed project regardless of whether you are working with a large bookcase, a small window, or a congested entrance. You can obtain a greater sense of the aesthetic benefits and technological characteristics of the design by examining the interior from every angle, which was a significant difficulty with the 2D interior design.
3D Modeling Gives Flexibility in Design 
3D modeling gives you flexibility in choosing designs and color schemes. Whether you want to make a change in your living room or a specific modification in your dining area after seeing the 3D model, you can easily alter the designs without any hesitation.
With 3D virtual interior design, you can virtually create any space. You can try out various looks, color schemes, textures, patterns, layouts, etc., without having to physically move or repurchase anything. This opens up a wide range of creative possibilities and hundreds of variations and combinations for your surroundings.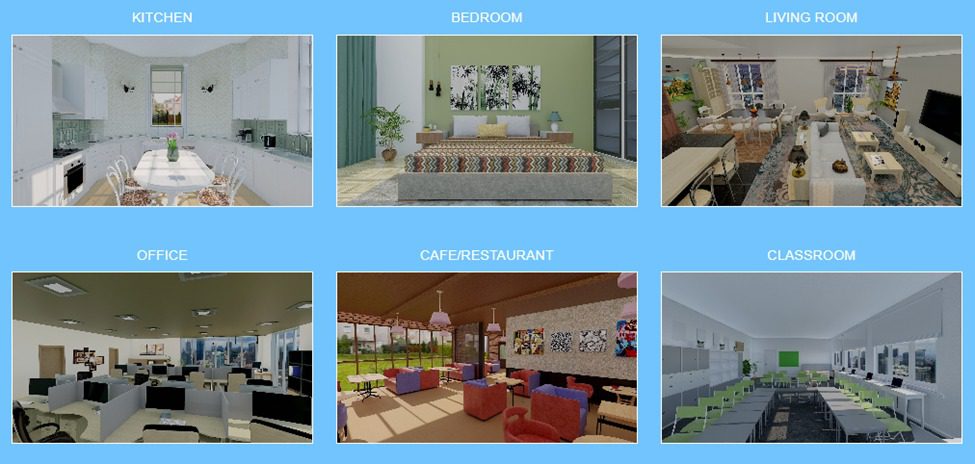 A Swift Tool For Alteration 
The collaborative system of a 3D interior designer enables you and your designer to make alterations to the rough drafts or first versions of the plan by adding, removing, changing, or rearranging features or products within a virtual environment. These modifications can be made in combination with one another.
When using 3d for interior design, you can make as many alterations as you'd like to guarantee that the result is precisely what you had envisioned. If you are unhappy with the swing door wardrobes that are currently installed in your bedroom, for instance, you can easily and swiftly change them out for a sliding door wardrobe or a walk-in wardrobe of your choosing by getting in touch with an interior designer.
3D Modeling Brings Ideas To Life 
During the early stages of the development of 3D printing, the process was prohibitively expensive, and the necessary mechanisms were difficult to come across. However, there is a difference in plan and design now. Cost-effectively printing architectural designs with a 3D printer is simple and quick to do.
Interior designers can build anything they can imagine using this method, even in small forms. In addition, the customers can imagine how the design would appear when it is implemented in the real world. Although this method has a long way to go before it can be considered standard practice, the opportunities that it presents are limitless.
A Quick Way of Error Detection Before Implementation
With the use of 3D visualization, customers can imagine themselves living in their new homes even before construction is finished. Because of this, interior designers must have an understanding of the necessity of delivering high-quality work on all of their projects. Therefore, interior designers are consistently seeking to develop projects of high quality that are both immersive and interesting.
Nevertheless, just like with any other form of design, they could have certain flaws as well. If any of these faults are discovered very late in the process of the project, they will result in extremely high costs for the client as well as the customer. Thankfully, this problem can be solved with a 3D interior rendering. It is simple for both the interior designer and the customer to identify errors at an early stage of the project using 3D for interior design and to make the necessary corrections before the issue develops into a more significant challenge later on in the project.
Mitigating The Feedback Loop
The introduction of the idea of representation in three dimensions (3D) has opened up a beautiful channel of connection for the customer. Customers get an experience that is extremely close to real life when they use 3D simulations, and the greatest part is that it can be accessed from any location. Even if they are located several miles away, clients can observe the design of their full home and all of its particulars.
To Conclude,
3D modeling has completely modified the interior design domain. It can turn your virtual experience into a reality. 3D modeling designs are crucial in a wide range of industries, including product design, architecture, and entertainment. They allow designers to visualize their ideas and test different concepts before they are brought to life. 3D modeling also enables precise measurements, accurate simulations, and improved communication with clients and stakeholders. With 3D modeling, you can easily picture the whole construction of your house. It gives you flexibility in the remodification of the selected designs. It is a quick way of modifying and detecting errors before implementing the entire model. The use of 3D for interior design mitigates the feedback loop, allowing designers to manage designs while sitting in a different location.