Ivan Maryasin is set to revolutionize the fintech industry, following the launch of Monite, a Berlin-based embedded finance startup focusing on back-office automation
Ivan Maryasin is the CEO and co-founder of Monite, a fintech company that is looking to chart a new course in the industry as the first company to embed financial accounting products, such as accounts payable automation, expense management, invoices, and a host of others. With more than eight years of experience in growing startups in Silicon Valley and Europe, working with the likes of People.ai and BrightEdge, Maryasin brings hard-earned expertise to Monite, delivering a unique experience to different categories of clients.
Ivan Maryasin's Feat in the Tech World
Maryasin has built a reputation over the years to become a top influencer in the "embedded finance" movement. The aim of embedded finance is to enable different stakeholders in the eCommerce and fintech space to take in short lines of code known as APIs into their interface, ultimately eliminating delays and helping to reduce cost.
Ivan Maryasin has always been enterprising and adventurous, starting his first business at the age of 16. Described as "the Super App Superhero," Ivan Maryasin currently ranks as one of the leading names in startup growth in Europe, including Germany-based B2B neobank, Penta, known for leveraging his tech prowess to improve the productivity of businesses across industries. Maryasin has a Master's degree in Business from Hult International Business School, San Francisco, where he won the Hult Global Leader Scholarship.
Successes With the Monite Brand
Ivan Maryasin has made an almost instant impact on Monite, with the company raising over $6.3 million in funding over two rounds. He was able to attract major investors, such as P72 Ventures, Runa Capital, and Tomahawk VC, as well as founders and executives from companies who understand the concept of embedded finance. He has also positioned the company on a high pedestal attracting several high-profile customers amid plans to partner with more than 100 more platforms across the United States, the United Kingdom, and the EU.
"Before launching the platform, we studied more than 3000 SMEs and freelancers across Europe and found 76.5% of them prefer to use one platform for the admin needs, rather than constantly switching between five or six narrowly-focused tools or using Excel. With Monite we strive to enable any specialized software or neobank to become the full finance one-stop-shop for their clients. replace all those tools, saving 50% of both time and money and boosting productivity." – Ivan Maryasin, CEO of Monite.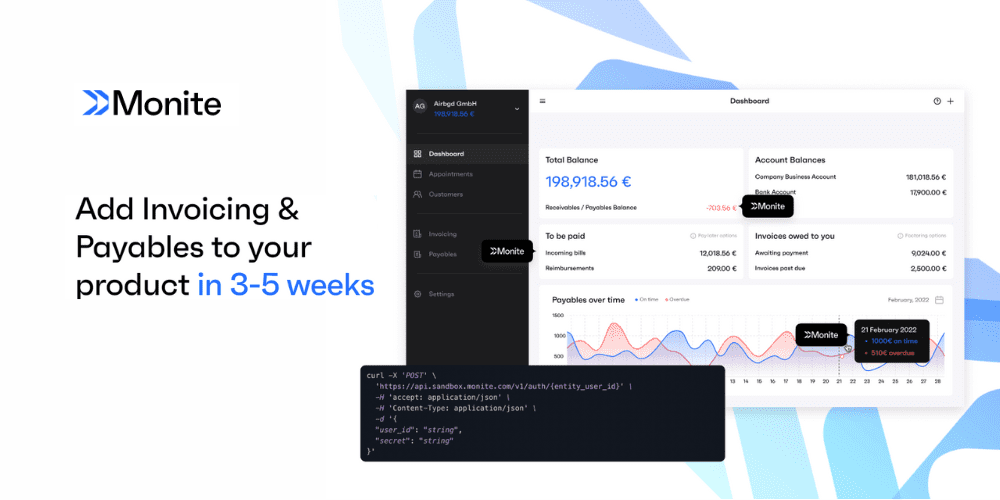 The approach by Maryasin to enable B2B platforms to construct super apps using APIs is undoubtedly yielding the desired results, judging by the buzz Monite has created in a relatively short while. Monite created a layer to connect any bank account while delivering the exact functionality of the best new bank on the market. The feat is even more laudable, considering that Maryasin did all of this with a team of two developers over eight months.
Overview of the Monite Brand
Monite was created as a solution to the problems associated with back-office business chores. Headquartered in Berlin, Monite was co-founded in 2020 by seasoned fintech and API professionals Ivan Maryasin (CEO), and Andrey Korchak (CTO). The finance automation solution provider offers automated finance tools to open up new workflow management and allow businesses to become one-stop shops or super-apps for their clients. 
Monite continues to create more innovative solutions to meet the diverse needs of businesses looking to leverage technology to enhance their operations and deliver an enhanced experience to customers.