The Fed increased rates by 50 basis points which is a deceleration from the 75 basis points the market received consecutively for the past few months. This can be taken as dovish, however,  after reading the minutes which indicated the terminal rate has moved to 5.1%, the market considered this as hawkish.
This was seen as a hawkish statement and the markets reacted with a sudden surge in the Dollar. After the rate hike yesterday, we are now sitting at 4.25%-4.5% which leaves room for a couple more rate hikes in 2023 before hitting the terminal rate at 5.1%.
Jerome Powell also mentioned in his press conference that this rate may increase or decrease depending on future CPI numbers. During his press conference, he stated that they plan to cut interest rates by 1% only in 2024 which is again very hawkish as previous forecasts had the Fed cutting rates by the end of 2023.
He mentioned that the long-term goal is to bring inflation down in a stable fashion and they understand that high-interest rates affect households and employment but this is all to provide a stable environment in the long term. He stated that even though the data may seem to be improving for now they will keep an eye on any volatility in data and respond accordingly.
With hawkish sentiment out of the Fed, we saw Gold and Crypto fall at their reactions to the minutes. We did see retracements after the conference as the market reacted to the Q&A from Powell..
In today's DIFX Analytics, we're going to look into the following assets:
Bitcoin is bearish after rate hike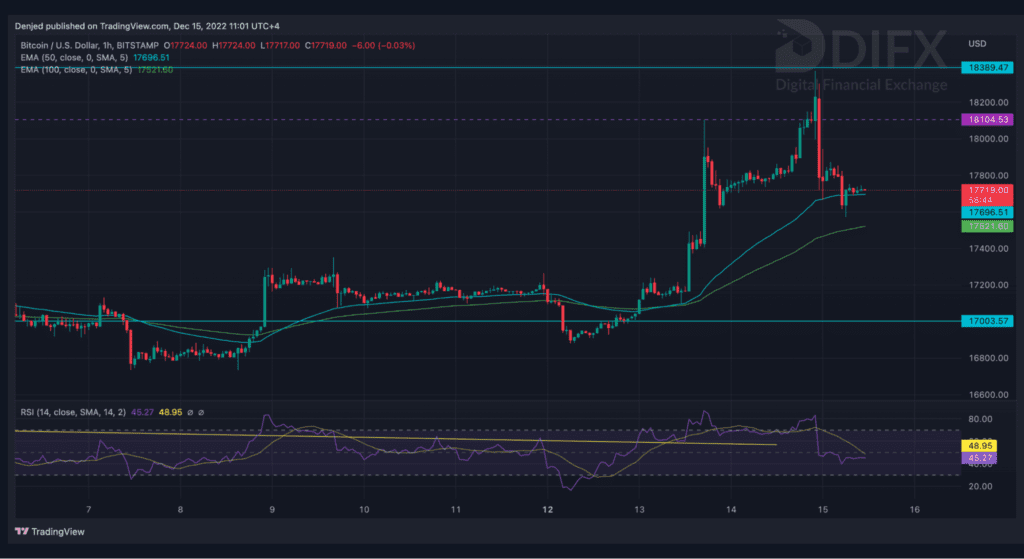 Bitcoin fell below $18,000 after the Fed hiked rates by 50 basis points on Wednesday. There has been not much rejection from the support levels and we have not seen much retracement after the bearish moves.
This is negative sentiment for crypto as most assets have seen retracements during Asian trading yet bitcoin has continued to fall.
Dollar gains after FOMC minutes but retraces during Asian trading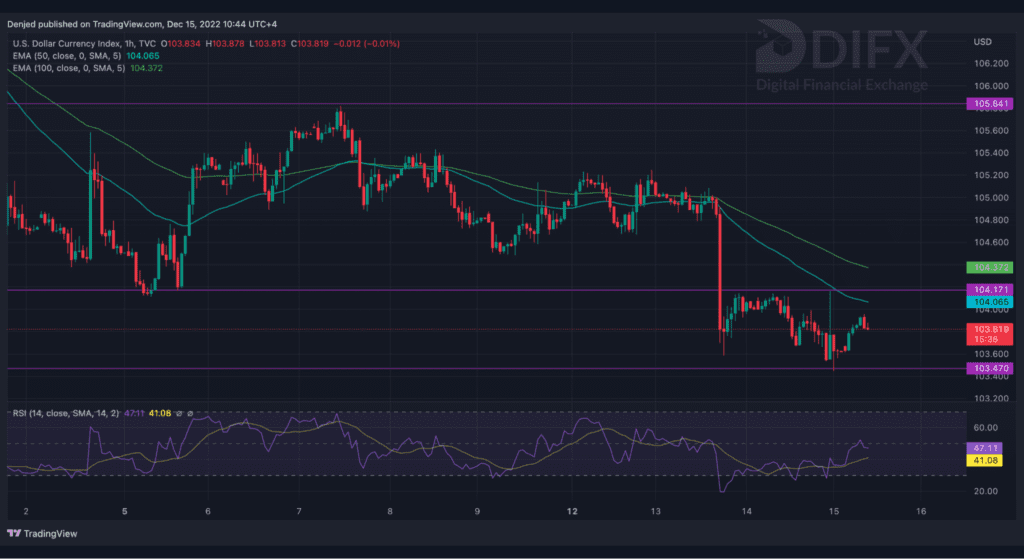 The Dollar pushed up to touch $104 as the FOMC minutes were released yesterday. We saw price action retrace during his press conference to set a new low.
During Asian trading hours, the dollar pushed up in a bullish fashion as the market is deciding whether Powell's statements were hawkish enough to reverse the direction of the trend.
Ether is bearish after rebounding $1280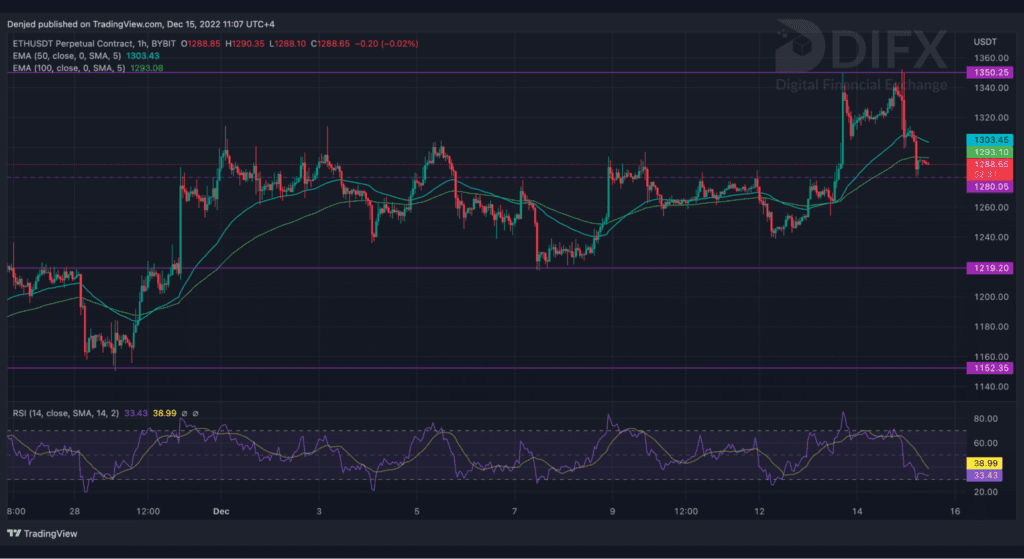 Ether fell to $1280 on the sentiment from the Fed. As dollar bulls entered the market from the bullish statements, the rest of the market fell against the currency.
Ether has been on an impressive bull run and set a high of $1350 before the minutes were released from the FOMC. Analysts see $1280 as a strong support level so we may see retracement here.
If this level is broken then we could expect further downside moves toward $1220.
Gold falls beneath $1800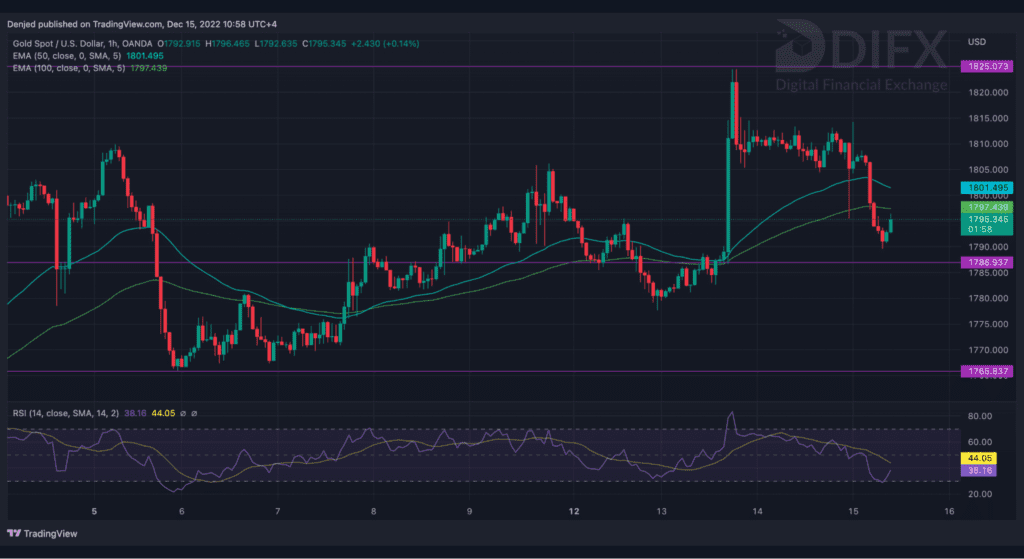 Gold fell after the hawkish statements of the Fed to break below $1800. We saw a slight rejection in price at $1790.
Gold is still in an upwards trend but the market will react to Jerome Powell's statements from yesterday and we should see some directional moves before the end of the week.
RSI is oversold, however, traders should focus more on fundamentals after a data-heavy day on Wednesday.
*****
To learn more about the markets and start your trading journey, sign up now on Digital Financial Exchange (DIFX) to create your diverse portfolio of assets. 
About Digital Financial Exchange
Digital Financial Exchange (DIFX) is a centralized cross-asset crypto exchange that allows users to trade between multiple asset classes that include indices, forex, crypto, metals, and commodities, just to name a few. The DIFX fully-insured crypto wallet comes from a partnership with Fireblocks, one of the leading crypto custodians in the world.
To begin your journey with Endless Possibilities, download the app now from the iOS or Google Play Store, or visit us at difx.com
Trading Disclaimer
DIFX shall not be responsible for any loss arising from any investment based on any recommendation, forecast or other information herein contained. The contents of this publication should not be construed as an express or implied promise, guarantee, or implication by DIFX that the forecast information will eventuate, that clients will profit from the strategies herein or that losses in connection therewith can or will be limited. Trades in accordance with the recommendations in an analysis, especially leveraged investments such as foreign exchange trading and investment in derivatives, can be very speculative and may result in losses in particular if the conditions or assumptions used for the forecast or mentioned in the analysis do not eventuate as anticipated and the forecast is not realized.