The Mac device is a great invention of Apple and offers reliability regarding various tasks. You can easily retrieve different functions from your Mac device, including storing data, installing different apps, playing games, and more after a normal start-up. Usually, the Mac will show an Apple logo with a progress bar when finding the built-in startup disk and continuing to proceed with the startup process. But unfortunately, the Mac computer is also bound to bear some malfunctions, which makes you have no access to the data saved on the Mac due to sudden booting issues.
Numerous boot-up problems may come with the Mac machine. Booting up your Mac device like usual, you may come across a scenario suddenly where your Mac starts up to a progress bar or Apple logo but could not boot any further. Sometimes the progress bar could be seen with the Apple logo and at other times, it's just a progress bar. What's worse, your MacBook fails to boot past the Apple logo and the Mac screen goes black all of the sudden.
So, what to do if MacBook won't boot past the Apple logo? If you find yourself in the same situation, just keep calm! In this post, we summarize some easy and promising methods for you to help you out of the Mac not turning on issue.
Your Mac Starts up to a Progress Bar or Apple Logo, What to Do?
Sometimes the progress bar or the Apple logo may be displayed for a longer period. This may be due to the slow installation progress. Generally, it happened when you are installing macOS and the process could be completed overnight if needed. Hence, Apple recommends the installation of macOS in the evening. But sometimes the Mac screen goes blank and won't boot past the Apple logo after staring up with the progress bar for a long time, which may result from software incompatibility, file system corruption, hardware issues, and even insufficient storage. In this instance, you need to take some solutions to get rid of the Mac not booting past the Apple logo problem.
Unplug All the Accessories and Force Restart Your Mac
Perhaps, some of the connected accessories cause your Mac not to boot past the Apple logo. If you find your Mac screen has been stuck for a long time and doesn't show any progress, then you can disconnect all third-party peripherals (including the keyboard, mouse, power cable, printer, charger, etc.) and then power cycle your Mac to see if the issue can be solved.
Step 1 Press and hold the power button on your Mac for 10 seconds to force your Mac to shut down.
Step 2 Unplug all the accessories from your Mac device, such as printers, drives, and cables.
Step 3 Boot your Mac device like usual by pressing the power button again. This method could solve the problem if the issue is linked to any kind of default cable, drive, or peripheral.
Initiate PRAM and NVRAM Reset
Your Mac's NVRAM and PRAM help to store setting information related to display resolution, startup disk selection, recent kernel panic, sound volume, and time zone. Hence, resetting PRAM and NVRAM can be taken as a feasible way to fix Mac stuck on the Apple logo when booting up.
Step 1:  Shut down your Mac by pressing and holding the Power button for a few seconds.
Step 2: A few seconds later, press the Power button to boot up your Mac while holding the Command, Option, P, and R key combination to reset NVRAM.
Step 3: Restart the Mac machine to check if it can boot past the progress bar properly.
Perform Mac Hard Drive Repair
Booting the Mac that is stuck on the progress bar could be challenging, but you can try fixing this issue by repairing the Mac hard drive.
Step 1: Boot your Mac that starts up to the Apple logo or progress bar into macOS Recovery mode.
Step 2: Choose the Disk Utility option from the macOS Utilities window to open the Disk Utility interface.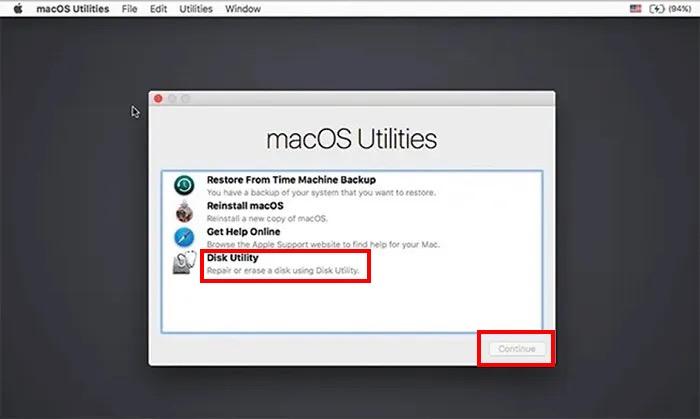 Step 3:  Select the internal hard drive located at the left sidebar and then navigate to First Aid > Run.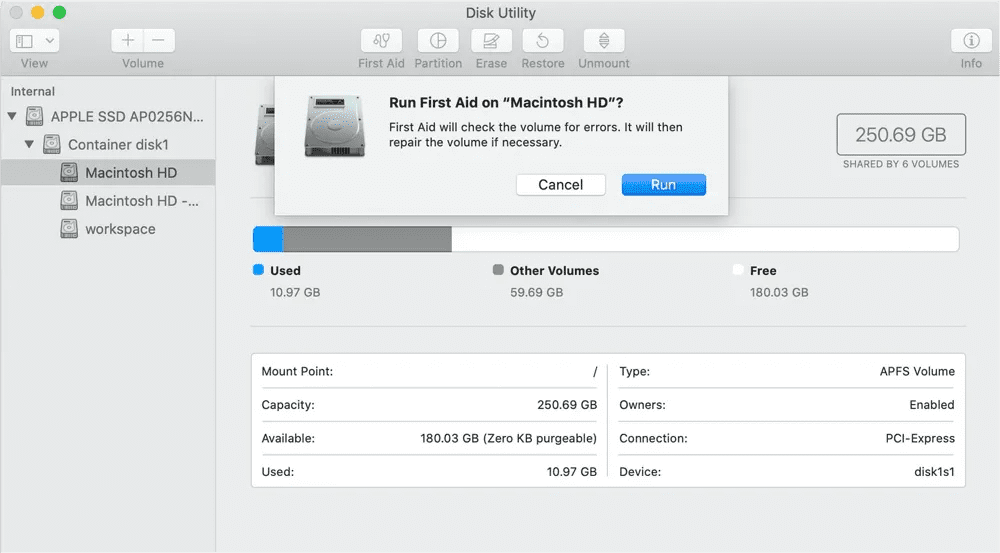 Step 4: Wait for some time until the First Aid repair is completed successfully, and then quit Disk Utility.
Step 5: Reboot your Mac like usual to confirm if this solution can take effect.
Alternatively, you can also free up Mac hard drive space, remove incompatible Kernel extensions, recover the system by APFS snapshot, or reinstall macOS under macOS recovery mode. All these mentioned methods could work to help you out.
Conclusion
Apple offers great user reliability by introducing various Mac devices and macOS. Thus, fixing some Mac-related problems could be very tough especially when your Mac ran into some boot problems. Luckily, there are still some possible ways working to assist you to overcome the difficulties. Hope this article can be helpful to you.