At times, when you try to open a QuickBooks company file, the software might fail to reach the file due to some reason and ultimately show QuickBooks unrecoverable error stating: QuickBooks has encountered a problem and needs to close. Other than this error message, you might further come across anyone of the 50 unique numeric error codes that will have 10 digits in the format: 5 digits space 5 digits. Talking about the unrecoverable errors, they usually indicate that the software has experienced some issue in accessing the file. A few common unrecoverable errors include: 13730 84631, 19758 63847, 02457 79428, 20888 41171, and the list goes on.
What causes unrecoverable errors in QuickBooks?
There are a bunch of factors responsible behind the occurrence of QuickBooks unrecoverable errors. This includes:
In case you have a corrupted or damaged QuickBooks component.
Another possible reason can be if the computer is having certain issues.
You can further come across similar issues if there are any sort of power outages which caused damage to the files being worked upon.
Not just that, it is possible to experience a similar issue if the windows are outdated.
Similar error occurs when some network issue occurs leading to company file login failure.
You can further experience the error if the system itself is having some technical problems.
Effective solutions to QuickBooks unrecoverable errors

Though when such errors occur, reaching QuickBooks customer service is an ideal decision, you can try implementing the below set of steps to eliminate the unrecoverable error manually. Let us explore the solutions one by one:
Note: Before you proceed with the troubleshooting, make sure to update QuickBooks desktop to the latest release and also create a backup of the company file.
Method 1: Open QuickBooks all windows closed
An important point to note is that QuickBooks will re-open any windows left open when you close your company file. In case you have a large report or several windows set to open automatically, there are possibilities that you come across unrecoverable error on startup.
In order to open the file with all windows closed, you can try performing the steps below:
Initially, open QuickBooks desktop

You will now have to press and hold ALT and further pick the open option
Avoid leaving the ALT tab till the file opens
In case QuickBooks asks you to sign in, release ALT and further enter your password.
The next step is to press and hold ALT again and hit the ok tab.
Method 2: Using a Different QuickBooks User
Opening the company file using a different QuickBooks user can remove the unrecoverable error. This can be done as follows:
Move to the company tab and further choose Set up users and passwords.
Once done with that, select set up users.
If you are using QB Enterprise, then you need to head to the company file and further choose users and also select set up users and roles.
The next step is to select an add user and type the username and password and also select the next tab.
Note that using the damaged username isn't recommended.
You will now have to customize the user as required and click on the finish tab.
After that, navigate to the file and choose close company/logoff.
And also sign in to the company file using the new login credential.
In case the new user works, then delete the user you are having problems with and create them again.
When admin user is damaged
Here you will have to download QuickBooks tool hub.
And from there access QuickBooks file doctor tool.
The file doctor tool will auto detect the issue and fix it on its own.
Other than the above measures you can try fixing the unrecoverable error by moving your file to a different folder or by opening a sample company file.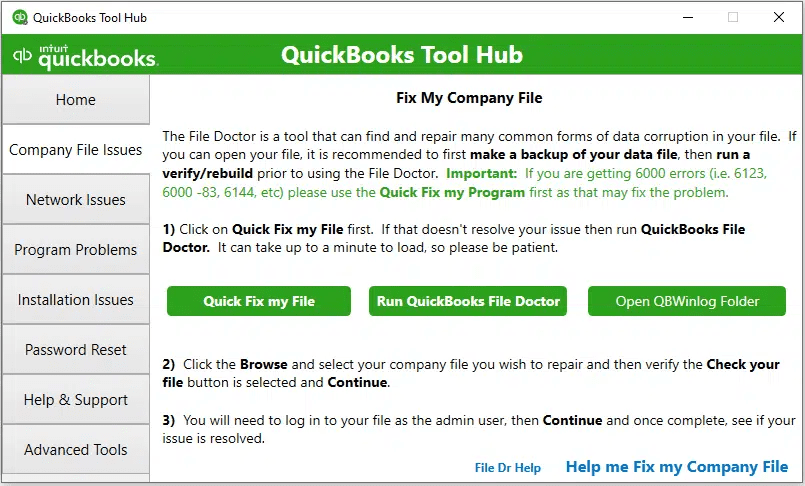 Conclusion!
QuickBooks unrecoverable errors can be seen in different formats and with different numeric terms. However, fixing them becomes easy once the above discussed procedures are implemented step-by-step. We hope this article has helped you in any way to eliminate QuickBooks unrecoverable errors and cleared all your clouds of confusion!