Our muscles naturally become less elastic over time, leading to stiffness and decreased range of motion. Regular stretching helps counteract this by lengthening the muscles and tendons, allowing for greater mobility, improved posture and a healthy body. These and other benefits you will find out in this TechBullion interview with STRETCHIT Co-Founder Natasha Nikolaeva, as she talks about the stretching fitness app.
Please tell us more about yourself?
My name is Natasha Nikolaeva. I am the CEO and Co-Founder of the STRETCHIT app – a leading fitness app on stretching, mobility, and flexibility.
I co-founded STRETCHIT with my sister Marina Skladchikova to bring the positive impact and health benefits of stretching and flexibility to people worldwide.
As a side note, I live in New York and I'm a former lawyer who gave up a successful career in corporate law to build and grow STRETCHIT.
Tell us about STRETCHIT, what inspired this platform, and what solutions the platform provides?
I remember sitting at my desk at the law firm, suffering from persistent lower back pain. I was 25 and thought the pain was a normal part of "getting old." 
One day I accidentally got to a stretching class at a local dance studio. I felt inflexible, couldn't even touch my toes, and everything felt stiff and tight. 
Gradually, I started to see significant improvements in my flexibility. I reached front splits, backbends, and all these other movements I thought I was "too old" to do. It just felt amazing. All that tension and pain was gone.
My sister was going through a similar transformation then, and we knew we had to get more people to experience these benefits.

Could you give us an overview of the stretching fitness industry, and the level of demand for a tech focused solution like STRETCHIT?
Purely looking at our user numbers, there is a demand for what we do. There are plenty of fitness-focused apps and yoga-focused apps. Those markets are really saturated.

At the same time, there is a limited choice for people who want to build a goal-orientated flexibility practice. Being in New York, we can access the best flexibility and mobility teachers. But even in New York, finding these teachers was hard. 
That's where the tech is so powerful. It enables us to give people access to these fantastic teachers and flexibility principles, regardless of location.
How does it work? Could you give us a walkthrough of the STRETCHIT ecosystem and the benefits of using the app?
Our guiding line for everything we do is to keep the app as simple and user-friendly as possible. The goal is to have the user start a workout within a few seconds of opening the app instead of leaving them feeling overwhelmed and confused and less likely to complete the day's flexibility workout.
When a new user opens the STRETCHIT app, it prompts them to complete a brief questionnaire. Based on the answers, the app can recommend programs and classes matching the individual's flexibility goals and prior experience. 
Our programs and challenges go anywhere from 7 to 90 days and focus on reaching a specific outcome, such as achieving the splits or alleviating back pain.
After each session, the app adapts its recommendations based on your progress. So, instead of just following random flexibility workouts, the suggestions are based on the goals you set in the beginning and your feedback on each class. 
As for the benefits, STRETCHIT helps users achieve their specific flexibility goals like splits and backbends as well as improve their overall health by increasing mobility and alleviating pains. STRETCHIT users feel better, move better, and even sleep better!
What stands out to me are the testimonials. As weird as it might sound, reading some of these transformative experiences our users have had using STRETCHIT makes me cry. It's quite incredible.
People also recommend STRETCHIT to their friends, which is a great sign. And seeing fitness trainers and therapists recommend the app to their clients means we've tapped into an unmet need. 
Who is STRETCHIT for, who are your target users and who needs the stretching videos for flexibility the most?
Initially, we were working with people who wanted to improve their flexibility for their other fitness activities, mainly dance, and gymnastics, or they just wanted to accomplish those impressive flexibility moves like splits for Instagram or whatever. 
But with time, we realized that so many people just want to stretch a few minutes daily to feel better. To alleviate body pains, sleep better, and move better. Most people don't have an hour a day to spend on flexibility.
We've created this whole new program for beginners with simple, short classes. They need five, ten, or 15 minutes a day, and that's more than enough for them to feel the difference. And then, if they want to up the challenge, they can choose one of the more advanced programs as they progress.
Keeping fit can be hard, how do you motivate the users to meet their personal fitness goals on STRETCHIT?
If we can help it, we don't want people to miss a class. Our goal is to help our users build and stick to flexibility habit, making it easier to maintain over time.

We've put their daily class front and center of the screen whenever they open the app. Just to reduce the risk of users wandering around the app and then feeling overwhelmed about what to do.
People also get notifications when it's time to stretch. And most users find this nudge helpful—just a little reminder on their phone.
Community is a big part of motivation too. We have a feature where you can compete with your friends and set a goal for a specific challenge. Such as training four days a week and you hold each other accountable.
The app will then update you on how you're doing, who's achieved what, and who might need a bit of encouragement.
The app encourages you to take progress pictures to track your progress easily. People don't always remember how they looked a month, two, or three months ago. So these photos give you a reference point of how far you've gone. And most people get surprised at how long they've gone over the time, which is motivating. Just to see that the time and effort you've put in is paying off.
What are the costs involved in using your services and the app and how can one get started with using the STRETCHIT services?
We kick things off with a 7-day free trial so you can test the waters without any strings attached. If you need more time after the trial, we've got some classes on the app that are completely free. When you're ready to commit, our monthly subscription is $19.99, or you can save by going yearly for $159.99.

Are there any safety concerns to pay attention to when using STRETCHIT programs and how do you address these?
Most people with aches and pains can benefit from stretching, but like with any physical activity, they need to make sure their healthcare provider clears them. The same goes for healthy people too.

Some people don't stretch or work their flexibility because they're scared of the pain, but a reasonable level of discomfort is a normal part of the progress. Again, that's no different from any other physical activity where you seek improvement.
That said, feeling sharp or excruciating pain while stretching is not okay.
For beginners, it's best to start with the gentle forms of stretching in STRETCHIT and gradually work up to the more intense classes as you get to know your body.
We have a detailed explanation of each move and focus a lot on the alignment, breathing, and feeling of the right muscles. Our goal was to make the app feel like you're getting the best possible guidance without actually being there in person.
Our service is designed for people 18 years and older. Some parents do our classes with their kids, though, which is great to see. But we always remind them to supervise the kids to ensure they perform the movements safely.
Would you mind sharing some success stories or testimonials from users who have achieved significant results using STRECTHIT?
"My FAVORITE app. Seriously. My sister is a medical doctor and recommended it. I was very flexible growing up, then because of hip dysplasia had to have a hip replacement in my 40's. The doctor told me I'd never be as flexible. Well, I've always loved my flexibility, so I was very sad.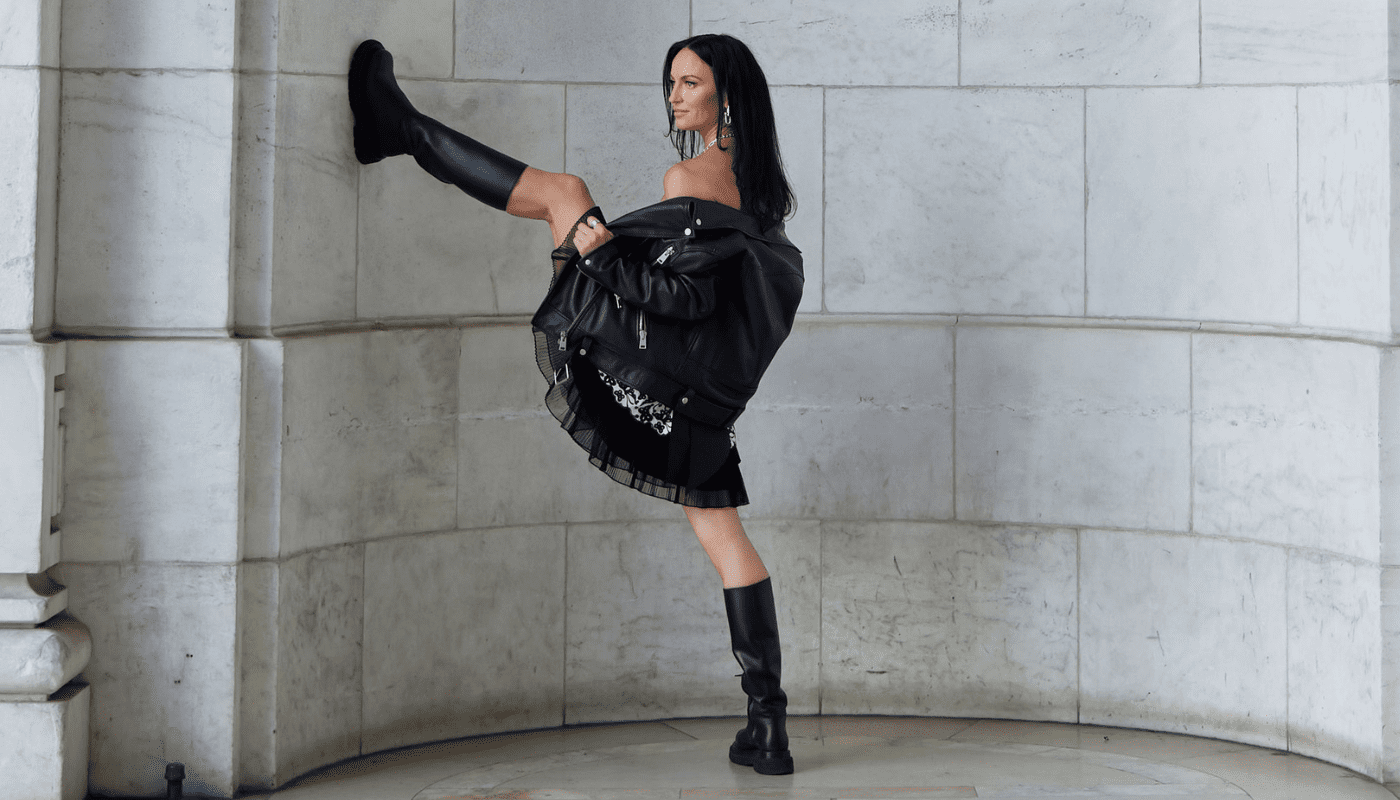 That and a predisposition, I got very depressed and slowly gained 40 pounds. Going from a marathon runner to obese middle aged, depressed woman, made it so difficult to want to exercise. My sister has suggested STRETCHIT to many patients and encouraged me to try it and I fell in love. Initially, I did one of the plans. All the routines were short, and I saw results really fast which encouraged me to continue. Now I love, love, love doing a longer stretch and have been focusing on hips. 
STRETCHIT has amazing ways I never dreamed of to work my hips that feel so good. With medication and STRETCHIT pulling me back into my love of movement, I've lost 40 pounds and feel good about myself. It had gotten to the point where I didn't want anyone from my past to see me. 
I am a firm believer beauty comes in all sizes, but after menopause, I had people asking when my baby was due, which was hurtful, some even saying I must be close to delivery. A large amount of stomach fat causes so many problems with your organs, and I felt horrible. I have beautiful friends who are much bigger than I was, but their weight is more evenly distributed. It really depends on the person, their bone structure and how excess weight is distributed. So, it's not about the weight I lost, but the huge belly I got rid of. I may seem like I'm going overboard on my review, but I promise, it goes beyond expression. 
My very flexible, ex- ballet dancer sister is just as challenged as people just starting out. Seriously, how does STRETCHIT do it? Gosh, I just love the instructors. Each one is a jewel, so encouraging, such great direction and pointers. I love no repetitive music. If you enjoy music while you exercise, you can choose your own soundtrack. I actually zen out with no music which may surprise some because I'm a musician. This is my 3rd year of a subscription, and I'll keep renewing. Yes, it's that great! 🎵🎶🎼🥹 
Be good to yourself. Try it for a month and you'll want to keep going. We are all beautiful and moving our bodies just wakes up that in your ❤️❤️❤️❤️ ok, I'll stop gushing, but I hope I've encouraged anyone with depression, weight gain, or just middle-aged body shifting. Not just those people, teen cheerleaders will get just as much from it. I sometimes do it with my 13 year old niece and she loves it. I wish you the very best and hope you give STRETCHIT a chance to lead you or continue you on your path to health and happiness.🙏🕊️❤️" – Coleen F.
What is on your pipeline at STRETCHIT, any opportunities for investors or partnerships in your business? Do you have more information for our readers?
We've been working with Union Apps for almost two years now. And it's been a great partnership. They handle our marketing and advertising, which allows us to focus on improving the product for our users.

The guys at Union Apps also suggest product improvements to increase STRETCHIT's marketability, which has been really helpful. 
Our main goal right now is to keep improving the app, to help users get even better results, and to increase our conversions and client base. 
We are working on several new features, but I cannot go into details now. 
We're not actively looking for investors, but we talk to people when they approach us. Meeting new people, talking to them, and sharing information about STRETCHIT is always nice. We're always open to those calls.