Serenity Financial offers blockchain Escrow services for the financial and cryptocurrency markets. The founder of Serenity, Stanislav Vaneev, will be discussing this project with us in this interview.
Please tell us your name and about yourself?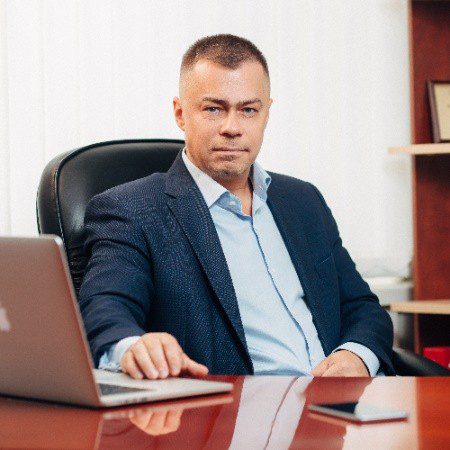 My name is Stanislav Vaneev, I'm the founder of Serenity. The idea of our project is to create a secure and comfortable environment for OTC market trading.
Since 2006 I've been the head of the brokerage company Grand Capital. Many years of experience in the field of Forex allowed me to take a good look at the market both from the perspective of a broker and a trader, to learn in detail its problems and clients' demands. That's how the idea came about to create an escrow for secure trading with brokers on OTC markets, and a cryptocurrency exchange as an additional tool.
What is Serenity Financial and what is the technology powering the ecosystem?
Serenity is a smart contract escrow. The escrow ensures secure transfer of funds between two parties and guarantees their safety in case of one party's failure to perform its obligations. The project's mission is to protect the interests of traders from careless and outright fraudulent actions of companies. Besides that, Serenity Escrow is integrated with Tradefora platform which checks the accuracy of prices and trades, while aggregating data from over 100 companies. Thanks to this system Serenity can act as an arbitrator in disputes and issue the final ruling.
The core element of Serenity Escrow's structure is the smart contract. It stores clients' funds which can be withdrawn only if the operation is confirmed by at least two parties out of three (trader, broker and Serenity). The smart contract's code is written in a way so that no one, even the escrow's developers can change a wallet's address. The source code is openly available on GitHub for anyone to view and check its robustness.
What is the demand for a crypto escrow and what are the major Services you provide at Serenity Financial?
The demand for escrow arises from the fact that many Forex brokers has no regulation. The reputation of all brokers is compromised because of the actions of certain companies, while traders who work with unlicensed brokers risk losing their money.
As a result, there's an issue of trust between traders and brokers. Moreover, even if a broker is licensed in one or several countries, the funds of a client from a third country still aren't properly protected, since they have no one to appeal to in case of a dispute.
Obtaining a license is an expensive procedure that not every company can afford, while the lack of guarantees can negatively affect the number of clients and their loyalty.
Serenity offers an alternative solution for the problem of regulation and security of trades, with the modern technology as the main tool.
To create a full-fledged ecosystem, the cryptoexchange will be operating alongside the escrow. Its users will be able to hold assets in various cryptocurrencies and trade them.
The mission of the escrow is to provide a reliable independent storage of funds, as well as the regulation of disputes between brokers and traders.
Could you give us a structural analysis of the Serenity escrow, how does it work?
Serenity Escrow includes several components – a system for analyzing trades and resolving disputes, and also our own cryptoexchange.
Tradefora, the system for resolving disputes, analyzes trades execution based on data gathered from several hundred brokers. If a trader is having doubts about the correctness of trade execution, the system will examine the opening and closing price of the position and compare them with other brokers.
Since the escrow operates in a way so that traders' funds are frozen on the smart contract and are transferred only after the operation has been confirmed by at least two parties, Serenity can guarantee refund of the initial deposit.
What are the unique features of the Serenity exchange?
The key feature of Serenity Exchange is the aggregation of positions from other exchange. This means that there's always depth of market on the exchange. If Serenity Exchange lacks liquidity, we request it from other exchanges.
On what stage of development are the Serenity Financial platforms and what is next on your roadmap?
Currently, the development of Serenity Escrow is finished and we're in the process of connecting brokerage companies to our escrow. Also, our team is working on creating and implementing the cryptoexchange. As of now, the escrow is used by the broker Grand Capital, which already offers trading services though the escrow. Anyone can test Serenity.
The development of cryptoexchange is in its final stage and it will be launched in November, 2018.
What are the benefits of the Serenity Token to token holders, tell us more about your Token sale?
The holders of Serenity tokens can use the services of escrow and exchange with significant discount. Tokens are accepted as commission payment for transactions, as well as payment for listing on the exchange. Tokens of other companies that are to be listed on Serenity Exchange will be evaluated in SRNT. Besides, SRNT is also accepted by the project's partners, UpTrader and RAMM, as payment for the development of services for brokers. We're planning to create a Marketplace for all companies that accept SRNT.
SRNT tokens can be purchased on Yobit and Idex exchanges.
Please tell us more about your team experts, developers and customer support?
Most of our team members have a vast experience in the field of financial markets services, while the platform developers previously had been working on software for broker companies.
How Safe is Serenity Financial, would you like to talk about your compliance and security measures?
Serenity Financial is registered in Estonia. Our company is licensed in Europe for crytocurrency and fiat money operations.
The stability and reliability of the operation of Serenity Escrow is guaranteed by the smart contract. The source code is available on GitHub, so anyone can evaluate the transparency of our system and see how it works.
For more information, visi: https://serenity-financial.io/.