Visitors to this year's Lagos Fashion & Design Week would be forgiven for wondering why a mobile money operator was sponsoring Africa's preeminent fashion event for the second year in a row. While the Nigerian fashion and fintech sectors may seem like unlikely bedfellows, increasingly they are seen as integral to each other's continued growth. There is good reason for this.
As the Nigerian government seeks to diversify its economy away from oil, there has been a particular focus on the creative industries. Small wonder – according to the only empirical study of the Nigerian creative industries to date (Mapping of Nigeria Creative Industries, 2013) the music, film and fashion sectors provided a combined Gross Value Added to the economy of over 2.5 billion naira. In fact, the Nigerian film industry is now seen as the second largest in the world.
Furthermore, the UN estimates that the world's creative sectors constitute some 3.4 percent of the total value of world trade, with a growth rate of 8.7 percent. It is not hard to see why Nigerian Minister for Information and Culture Lai Mohammed frequently refers to Nigeria's creative industries as the "new oil".
In particular, the Nigerian fashion industry offers cause for excitement. Not only does it boast the lions share of employment out of the three main creative sectors (87 percent), but its potential economic value is astounding.
Euromonitor International estimates the combined garment and footwear market in sub-Saharan Africa to be worth some $31 billion. This is projected to grow to $40 billion over 2017. Speaking to CNBC Africa in July, Deola Sagoe, CEO of haute couture Nigerian fashion brand Deola Sagoe noted that despite a paucity of data, it was clear that Nigeria was a major contributor: "If we look socio-culturally we can see the influence of Nigeria everywhere in the world. Nigerian culture, as expressed in our fashion, is global."
However, the sector faces a myriad of problems that frustrate both its proper integration into the formal economy and its transformation into a fully-fledged business.  Principal among these are the lack of access to short and long-term financing, the inability to quickly get payments to suppliers and workers, and the difficulty in distributing internationally.
In short, Nigeria has been unable to properly monetize the sector so far. When the contributions from the creative industries to the UK economy in 2014 and the US economy in 2015 (£84.1 billion and $698 billion respectively) are taken into account, the extent of this terrible waste is made clear.
This is where fintech has a role to play: helping fashion and art to create value. Private sector collaboration will be crucial in taking the sector to the next level, and today's mobile money services, which allow large corporate users to invest, to collect revenue and to quickly and efficiently make payments to even largely unbanked Nigerians are the solution.
For example, Fetswallet, the fashion week sponsor, now accommodates not just transfers between individuals, but also corporate clients. The service means that everyone in the fashion value chain, from suppliers to employees, can be paid in a convenient and timely manner. As it allows for quick and cashless revenue collection, it means that business can be done abroad as well. Symbolically, all the models at the Lagos fashion week were paid via Fetswallet, and the food court was also cashless.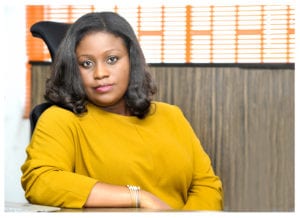 On the eve of the Creative Industry Financing Conference, which took place in July this year, Minister Mohammed reiterated his confidence in the sector: "we are ready to explore and exploit the new oil." Thanks to advances in financial technology and specifically mobile money, he is right. The Nigerian fashion industry has the potential to be a world-class business. With a little help from Fetswallet, it will be.
Omotade Odunowo is CEO of Fetswallet, a mobile money operator and proud sponsor of Lagos Fashion & Design Week 2016 and 2017