When trading financial markets online, it is important to use a comfortable trading platform that offers maximum functionality. Despite the assets traded online, the basic requirements are pretty much similar for all trading platforms. They must provide chart analysis tools, indicators, measurement tools, and alerts to name a few. Below we will discuss and rank the most iconic trading platforms including MetaTrader 4, MetaTrader 5, cTrader, and TradingView. So, get some snacks and read thoroughly.
What are the main software types for online trading
The trading software for financial instruments is diverse depending on the asset class traded. For stocks, the requirements are a bit different, but many CFDs brokers offer clients the ability to trade Forex, Stocks, cryptos, and many more from one platform. Although there are web traders provided by almost all popular brokers, they can not be compared with more advanced desktop software like MT4, 5, and cTrader platforms. To see which is the best platform, see MT4/5 vs cTrader is compared here in more detail.
The main software types can be divided into three web, desktop, and mobile trading platforms.
Web traders
Web traders are browser-based charting and trading platforms. Web trading software can be accessed through the browser and provide somewhat limited trading features, including indicators and drawing tools. Many web browser-based trading platforms fail to offer comprehensive analysis tools and can only be used for mild trading activities like opening and closing trades, setting stop loss and take profits, alerts, etc. But there is one trading software that started as a sole browser charting platform that outshines all the professional trading programs including MetaTrader and cTrader, and it is TradingView. TradingView provides one of the most advanced features for analyzing price charts and has vast trading instruments. Price data are provided by numerous brokers enabling users to find any trading instruments including stocks, commodities, cryptocurrencies, Forex pairs, ETFs, and many more. There are more trading instruments available on the TradingView platform than on cTrader and MetaTrader web platforms.
Dedicated desktop trading platforms
MetaTrader and cTrader are among the most popular platforms for trading Forex, CFDs, cryptos, etc. there is a reason why MetaTrader gained so much popularity. It provides custom indicators and Expert Advisors or EAs. These EAs give users the ability to fully automate the trading process. Custom indicators can be downloaded from the online marketplace, or users can develop their own if they have at least beginner programming experience.
Mobile trading apps
Mobile apps got popular recently, because of the rapid development of smartphones. Smartphones are getting so advanced that they are starting to replace desktop computers in many aspects, including trading. There are some limitations for smartphones when it comes to trading. Indicators are limited and using robots is not possible. But TradingView offers almost the same functionality as on desktop and web variants.
Top financial trading software ranked
Considering responsiveness, user-friendliness, advanced technical indicators, custom indicators support, trading robots, and the number of devices, these are our selections for top trading platforms.
TradingView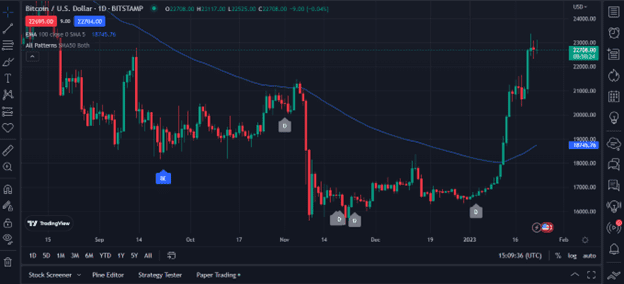 Offers the most advanced features, but only allows a limited number of indicators and other tools on the chart at the same time for free. For using more than 3 indicators at once, the paid plan is required. TradingView is the most robust charting platform, offering its own pine script programming language and the ability to develop automated trading strategies and custom indicators. TradingView is one of the most robust and reliable trading and charting platforms available today. It offers almost the same functionality on all platforms, including smartphones. This is very important as it is really hard to use other apps to analyze charts with custom indicators. TradingView is innovative as it is web-based and has similar features on all platforms it is installed but comes with its own disadvantages. It is not possible to trade from TradingView android and iOS apps.
MetaTrader 4
Most popular trading platform out there when it comes to desktop trading. The programming language is MQL5 and offers the ability to develop custom indicators and trading robots. The MQL5 language offers the ability to fully automate the trading process using algorithmic trading. The platform is native to the desktop and has a possibility to develop any custom feature.
MetaTrader 5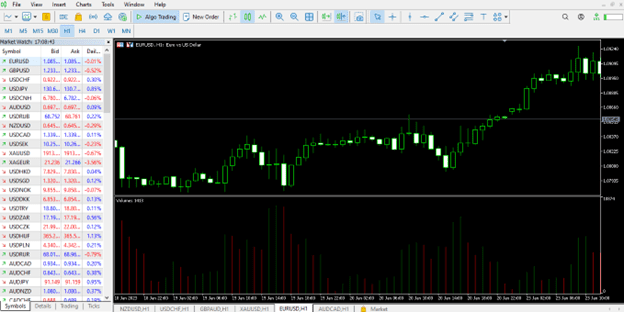 is Almost the same as MetaTrader 4 with slight differences in visuals and programming language. All functions are the same with some newer features including
cTrader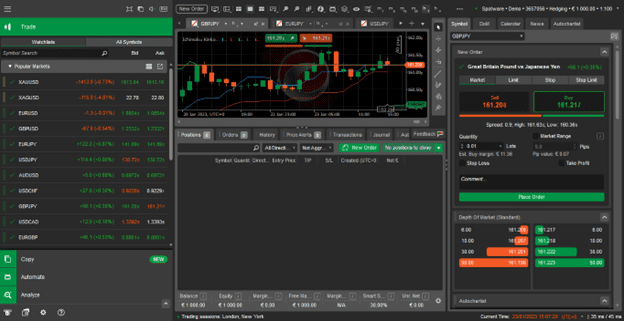 With the C# programming language and advanced inbuilt and custom indicators and robots, cTrader is another reliable and robust trading platform that can not be underestimated. Although MT4 and 5 are a bit more popular, functionality wise there are not many differences as the platform provides everything to analyze the markets. CTrader also has the web trader variant which is inferior to the TradingView platform just like in the case of MT4 and MT5. By programming, the language cTrader has a little advantage for C# developers but for an average programmer who wants to learn to develop trading bots, MQL5 could be easier to learn.