David Reiling in his new book, "Fintech 4 Good" shows how through the power of financial technology (Fintech), doing well and doing good are no longer mutually exclusive. David Reiling will be telling us more about "Fintech 4 Good" in this interview.
1) Please tell us your name, about yourself and your experience in the Fintech Industry?
As CEO of Sunrise Banks, I see Sunrise as more than just an average community bank. Sunrise is a social enterprise that just happens to be a bank; every day we strive to be the most innovative bank empowering financial wellness.
Originally, I started my banking career in California and eventually came back home to the Twin Cities to help my father run a small bank charter, which became Sunrise Banks. The original bank charter was located in a difficult area of St. Paul, Minnesota, and we wanted to help the businesses and that community succeed. So, we partnered and rooted ourselves in the community to help it thrive.
Because of our focus on both financial wellness and the local communities, we innovate and restructure our services and products to find solutions: whether for saving money, building credit, or providing safe alternative options to payday loans, etc.
While we are a community bank, our footprint has been growing over the last decade with our fintech partners. These partnerships have allowed us to reach more people and expand our impact in helping individuals reach financial wellness. As such, my experience with the fintech industry has been working alongside other entrepreneurs who are passionate and motivated to spark change in the lives of others.
2) What is Fintech4Good?
I wrote Fintech4Good to highlight how certain trailblazers in the financial industry are using technology to solve some important financial challenges and issues. The book focuses on five fintech entrepreneurs who saw or experienced a financial health challenge and met the challenge head-on by creating solutions that can help thousands of individuals who find themselves in the same boat. These stories are compelling and empowering because most of them are sparked by issues the founders faced.
According to the Center for Financial Services Innovation's 2018 Baseline Survey, only 28% of Americans feel they are financially healthy. This is a financial health crisis. There is no one-size-fits-all solution to financial wellness. Every individual has unique goals. Fintechs are making waves in this area by meeting people where they are and solving financial problems through the use of technology, offering a range of tools, services, and solutions that solve almost any problem for a niche audience.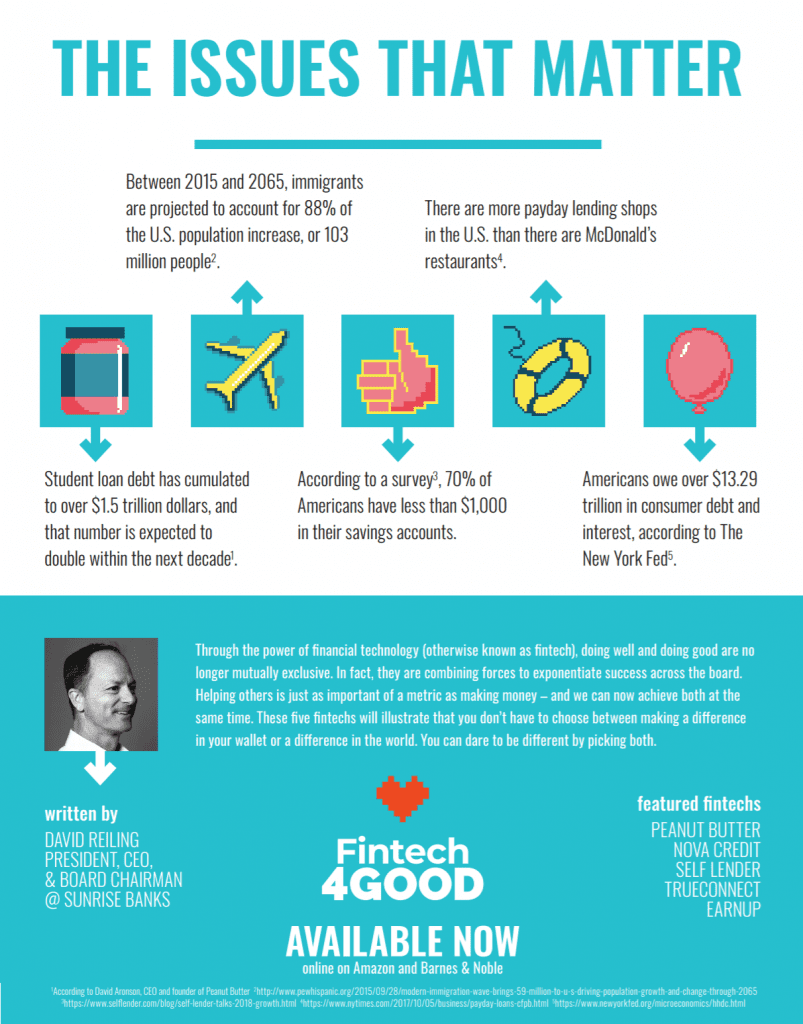 3) Tell us more about the role of financial technology (Fintech), doing well and doing good.
Many organizations have this mindset that by being mission-focused you can't do well financially as a company: mission minus margin. I disagree with that mindset. By being mission-focused and doing good, you will actually do even better financially: mission times margin.
What has been interesting to see, when working with these fintechs, is how they are driven by their mission and doing good while doing well. At Sunrise, our mission is baked into our DNA. Our employees live and breathe it in their daily lives. It is great to work with these fintechs and see them doing similar things that we are doing but on a national and global scale through the use of technology.
4) What is the market size of of the fintech industry in 2019 and where do you see the future of the fintech market?
The fintech market is expected to increase year over year according to Statista. Additionally, based on their projections, the transaction value in the fintech section will double by 2023.
Fintechs have already started to, and will continue to, disrupt the financial services industry by providing unique and convenient services and experiences to their customers, which is why we will continue to see an increase in this market.
5) How do you hope this book will help the ready and improve the fintech industry and Where can we purchase this book??
My hope is that this book will inspire other entrepreneurs and technologists to continue to innovate. There is so much opportunity in the fintech space to do good and do well.
Currently the book is available for purchase online at Amazon and Barnes & Noble.