It is no longer news about the scalability issues faced by the earliest and largest cryptocurrency – the Bitcoin which lead to a split in the blockchain. Before then, as an open public blockchain, the Bitcoin was quite successful in providing all the support for cryptocurrency networks, issuance of digital tokens and offering of smart contracts. But the scalability issue soon poses a threat and many companies decided to build and run the blockchain application on a private network as a solution to the problem as well as tackle other issues.
These private networks use limited as well as a small number of nodes on centralized service integration to provide the solutions to the public blockchain scalability which arises due to replication of activities on the blockchain. Although these private networks are working to make the blockchain transactions better, it doesn't operate with the same trust level and security as their public blockchain counterparts which make their operations quite difficult. This is where the FERN protocol comes in as a solution for these private networks.
What is the FERN?
FERN is a distributed protocol and marketplace where private networks can gain access to independent nodes and services to make their blockchain technology platform decentralized instead of the normal centralized nature. The FERN protocol was launched in London in May 2018 and developed by Applied Blockchain which is a company that specializes in developing blockchain applications. FERN is an open protocol developed to specifically challenge the scalability issues being faced by the blockchain technology.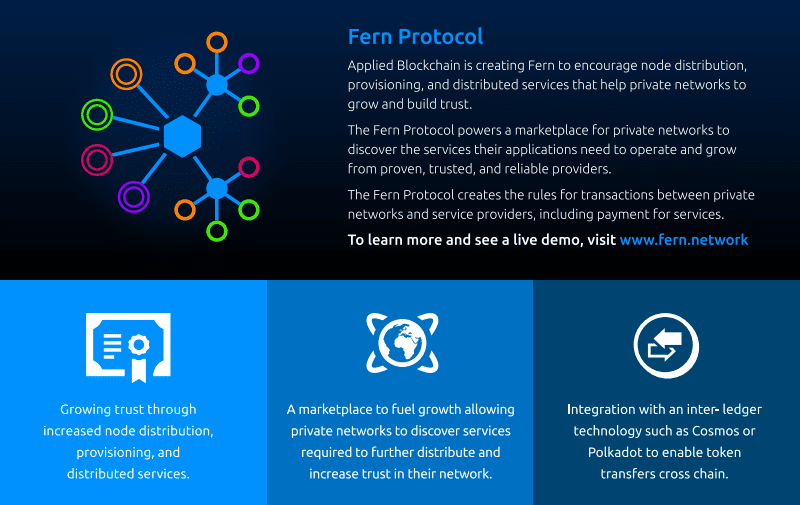 What is the function of FERN?
With the successful launching of FERN, Applied Blockchain hopes to eliminate the current issues being faced by private networks and below are some it's the main functions.
The FERN protocol was developed to accelerate the growth and provision of private blockchain network. Private Network needs to improve on their network from the centralized nature to the decentralized blockchain technology in other to increase the number of participants on the network which will, in turn, contribute to the increase in security and integrity of the blockchain network.

FERN provides private blockchain networks with distributed protocol and marketplace where they can access independent nodes and services to make their transition from centralized network to decentralized, thereby increasing their trust level as well as security level.

The FERN marketplace also provides reliable, tested and trusted independent service providers for private networks who are on other popular blockchain technology platforms such as Ethereum and Hyperledger.

The FERN marketplace also gives private networks a place where they can source for providers who are already verified, thereby helping private networks reduce their dependency on centralized networks as well as the vulnerabilities that come with such networks.
The Applied Blockchain is also leveraging inter ledger technology to help align incentives for private network by enabling the transfer of data between the private network, public networks and distributed service provider found on the FERN marketplace.