Feras Bashnak, founder of Ferla Bikes, is on a mission to build greener cities with pedal power—something Europeans have established in their culture. Over time, the bicycle trend has evolved, and now, e-bikes are all the rage.
But for many, it is not just e-bikes for single use, but cargo bikes that can be used in a variety of ways, for both family use and even commercial activities. With Ferla Bikes, the cargo e-bike culture of Europe has come to the United States, offering a healthier and environmentally friendly alternative to intra-city movement. The company produces the world's most innovative, technologically advanced, and sustainable commercial and consumer cargo e-bikes and carts.
More than Just e-Bikes.
Cargo e-bikes are not just three wheelers with an electric motor and a battery. They are a way of life. Capable of greater mileage per charge, larger storage capacity and adaptable for a large variety of uses, cargo e-bikes can be customized for any number of applications.
It doesn't matter if you want to go grocery shopping, to the park with your little ones or run a small business, there is always a Ferla cargo e-bike for you.
Ferla Business e-Bikes for Entrepreneurs
Ferla has seen how e-bikes can come in handy for businesses, both large and small. From business bikes to carts, all business products are based on extensive research and feedback from clients. This makes Ferla bikes and carts some of the most innovative means to keep businesses on the go. With Ferla e-bikes and carts, you can go where your customers are. During the pandemic the company empowered more businesses to diversify their operations by going mobile to keep business rolling. 
Combining the coffee culture and mobility, Ferla Coffee Bikes' range consists of 5 different models, ranging from the Ferla Mini as the perfect starting point for a mobile café to the Ferla X, a solar powered vending bike with a sink, storage and even a battery powered freezer.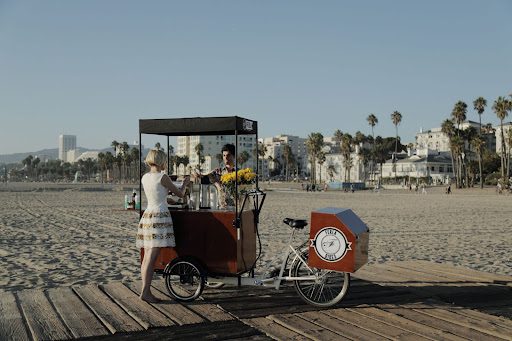 If you are looking for a better café and coffee experience for yourself and your clients, you should look into the Ferla Coffee Carts range. Bigger, larger capacity, these have all the options you need to brew your own special cup to keep customers happy. Equipped with practical features like cash drawers, heavy duty wheels, and customizable LED logos to keep your brand alive, they are the most affordable coffee carts in the United States and far less than a food truck operation.
Do you have a different business apart from coffee? Don't worry, Ferla also provides different types of carts and bikes like ice cream bikes, flower carts, juice bars, and even vending bikes that can be used for groceries, jewelry and other items to sell. Large brands such as BMW, Verizon, Tiffany, Ritz Carlton, W Hotels, and more have also included Ferla into their business model to diversify revenue streams. 
And of course, there are cargo bikes if you just want to have an eco-friendly option for deliveries and supply chain. Imagine your favorite Instacart or Doordash deliveries delivered in a Ferla reducing carbon footprint and making greener communities.
Ferla Family Cargo Bikes
The best in class for families with children, Ferla Family Cargo Bikes offers a variety of cargo trikes and a long bike, perfect for the family.
The Inspire cargo bike model has been built from the ground up to be affordable and, at the same time, be practical. It comes in both electric and non-electric versions. A powerful 250W motor allows for up to 250 lbs. of loading capacity with a 25-mile range.
The sleek Royce comes with a larger load capacity of 350 lbs. and can go up to 45 miles in a single charge, thanks to its 350W motor. But the ultimate family ride experience is with the Royce Mid-Drive, which can push 400 lbs. for up to 60 miles, thanks to a heavy density battery paired with the 350W high torque motor.
Ferla bikes are more than just three wheels powered by electric motors. The cargo space can be paired with several different devices to suit the family's needs. From a stroller to child eats to dog baskets, there is something for everyone.
Most recently, the company has introduced Lagom, the most powerful  long-tail  electric cargo bike ever built. Offering a 1000W motor and a range of up to 140 miles on a single charge, Lagom delivers power and endurance in all conditions. WIth the ability to carry up to three passengers and cargo, Lagom provides maximum versatility for every family. For the family looking for an alternative electric experience you might consider this the Tesla alternative at a fraction of the price under $5,000.00.
About Feras the Man Behind Ferla Bikes.
Founded by Feras Bashnak, the CEO of Ferla Bikes, the electric powered bikes and carts are engineered to be sustainable, cost effective, have minimum maintenance and help reduce expenses of leasing or owning costly real estate for businesses.
Originally from Kazakhstan, he is a serial entrepreneur and visualized the need for alternative transportation while working in the catering business. After earning his degree in Hospitality Management/Administration, Feras was running his own catering business when he witnessed a woman having trouble pushing her fruit cart up a steep hill in Los Angeles in 2016.
That inspired him to work on a more advanced cart solution for business and he successfully built the first Ferla cargo e-bike. Over the years, he has designed and launched more than 20 different electric cargo bikes and carts that cater to a variety of family and business uses.
The bikes by Ferla are made from premium materials for endurance and sustainability and come fully assembled so all you need is to stock up and go out.
Now, with Ferla bikes available in the United States, Feras intends to bring economical and eco-friendly options to the public and help inspire businesses and families to make sustainable choices for life.   
To learn more about Ferla bikes go to https://ferlabikes.com/ferla-x