When it comes to backyard pools, fibreglass is fast becoming the go-to choice for homeowners across Canada. So much so that it's overtaken concrete as the most popular option for residential swimming pool installation.
A Fiberglass Pool is an ideal swimming pool option for homeowners looking for a quick and cost-effective way to add a luxurious and inviting outdoor space to their homes. A fiberglass pool offers all of the advantages of a traditional in-ground pool, such as improved outdoor aesthetics, convenience, and fun, while also boasting easy installation and low-maintenance upkeep. But what are the features and benefits of an Oval fiberglass pool that make it such an attractive option? Let's take a look.
Features and benefits one must know:
Easy Installation
One of the greatest features of a fibreglass pool is its ease of installation. If a property has good access, the entire installation process can take as little as two weeks. The fibreglass shell is dropped into place and secured with a concrete base, then connected to pipework and backfilled with quality soil.
Low Maintenance
Fibreglass pools are incredibly low maintenance, which is a major advantage for homeowners who don't want to spend a lot of time cleaning and maintaining the pool. Unlike concrete, fibreglass has a smooth non-porous surface that eliminates the need for abrasive chemicals and is resistant to algae and bacteria, making it easy to keep clean.
Built-In Durability
Fibreglass pools are made from a specialised fibreglass that is designed to withstand extreme weather conditions, meaning it won't rust, rot or corrode. The gel-coat finish also makes the pool resistant to staining and fading, so it will continue to look great for many years.
Cost-Effective Solution
Eclipse fiberglass pool are typically less expensive than concrete or vinyl-lined pools, and are usually much quicker and cheaper to install, which further adds to the cost savings.
Customisable
Fibreglass pools are extremely versatile and can be customised in a wide range of shapes, sizes, depths and colours. This means you can choose the perfect style and size that suits your home and backyard, and create the ideal backyard oasis.
Variety of Accessories
Fibreglass pools come with a wide selection of accessories and add-ons, such as pool cleaners, heaters, LED lights and chemical feeders. This allows you to create an ideal backyard paradise with the facilities and features you desire.
Environmentally Friendly
Fiberglass roman pool are incredibly energy efficient, which is beneficial for both the environment and your wallet. The material is designed to ensure a minimum amount of energy is lost from the pool, meaning less energy is required to heat up the water.
Safety
Fibreglass pools are considered one of the safest swimming pool options for your family. Unlike a concrete pool, fibreglass does not give off a slippery surface, reducing the likelihood of slips and falls.
Increased Resale Value
Finally, fibreglass pool installation can significantly increase the value of your home. According to the Canadian Housing Industry Association, adding a pool to your home can increase its value by up to 10-15%.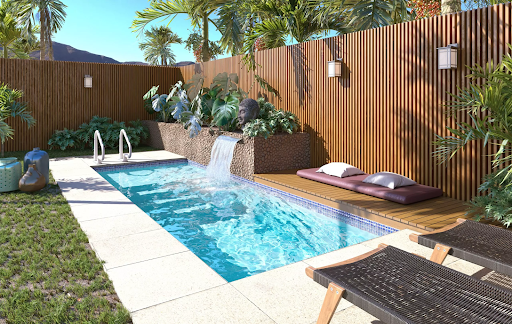 Conclusion:
In conclusion, Hawaiian swimming pools offer a number of great benefits that make them the ideal option for homeowners. Fiberglass is a superior choice for pool construction because it is non-porous, so it resists staining and is less likely to suffer from chemical imbalances caused by algae, bacteria, and other contaminants. This not only makes fiberglass pools easier to clean and keep up with, but it also means that the pool is less likely to become a breeding ground for mosquitoes and other insects. From easy installation to increased resale value to a low-maintenance design, fibreglass pools are guaranteed to bring years of enjoyment to your family.