FanX is a blockchain Social Media innovation. "FanX, through blockchain technology, empowers fan communities around the world by equitably distributing "values"created by communal interaction between social media users ("Contributors") and Content Providers ("CPs") such as KOLs and Celebrities".  Feng Shen and Daniel Zhang will be discussing the FanX project with us and the opportunities available.
1) Please tell us your names and about yourselves?
Feng Shen, Steering Committee Member and responsible for Global Business Development at FanX. Feng is a Partner of Bitshine Group, a blockchain technology incubation, development and investment group. Feng has over 11 years of experience in the financial sector including private equity and securities research & trading. He's worked at various prestigious financial institutions such as Photon Capital, ICBC International, and Goldman Sachs. He received his BA form the University of Chicago.
Daniel Zhang, Steering Committee Member and responsible for Global Marketing & PR. Daniel is the COO of Blockshine Communication, a world leading supplier in blockchain related information and technology backed by Blockchain Global. Daniel has been working in the blockchain and cryptocurrency space since early 2017 and has invested and incubated many major blockchain projects such as Penta, SingularityNET, Etherparty, Bankera and Proton. He received his Master's degree from the University of Warwick.
2) What is FanX?
FanX, leveraging the power of blockchain technology, empowers global fan communities by rewarding communal interaction and facilitating deeper engagement. Fans/social media users ("Contributors") will be able to earn FanX Tokens by interacting on with celebrities, influencers, KOLs, broadcasters, etc ("CPs" or "Content Providers") and spend them to purchase digital contents and services offered by their favorite CPs.
FanX will lead the social media industry into a new era of social media 3.0, which entails
1) Contributors will be fairly compensated for the values created from their communal interactions; 2) CPs are able to better monetize their content and time through expanded monetization channels and improved engagement; 3) personalized and custom made services and contents creating deeper engagement significantly improving the "user experience"; 4) community building across platform lines.  
FanX is the world's first platform and industry agnostic ecosystem covering 29 live streaming platforms, 25 million broadcasting rooms, and 300 million users in four countries.  
3) What are the Major Features and Services provided by FanX?
There are two main products within the FanX ecosystem: the FanX Wallet and the FanX Market. The FanX wallet will track all user activities and reward FanX users accordingly.  The 1.0 version is already launched with a gamified 2.0 version coming in the next weeks.
We will also launch the FanX Market very soon where Contributors will be able to purchase digital services and contents from their favorite CPs.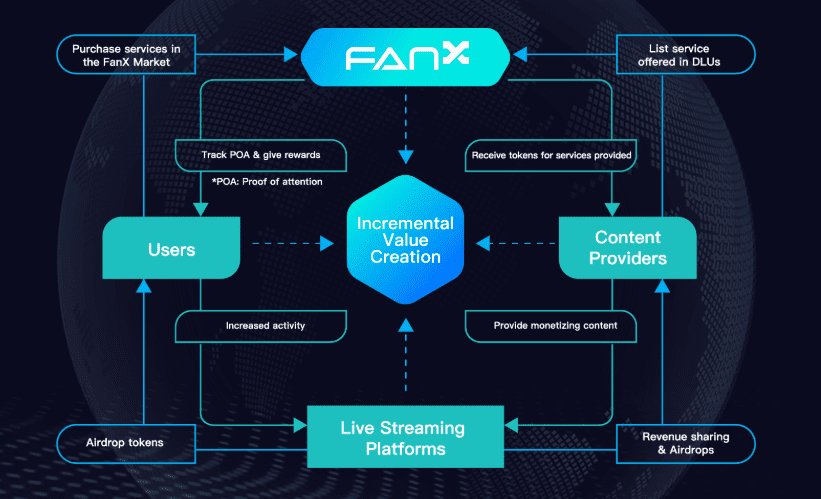 Stay tuned and check our website for new product updates.
4) What is the technology behind FanX?
Blockchain technology and cryptocurrency forms the bedrock of our technological platform.  FanX also utilizes big data analytics and AI technology to track and monitor user activities, and evaluate CPs' performances.  
5) What is the market size of the Blockchain Social media market?
Currently, FanX focuses on the live streaming industry in China, which is a US$5.5 billion dollar market and has a user base of over 334 million people, with more than 5 million broadcasters and is expected to grow to US$16.5 billion by 2022. FanX's ambition does not stop here, we plan to tackle the wider social media industry which is about US$40bn and eventually the global media and entertainment space which is about US$1.9 trillion in market size.
Great things lie ahead for the FanX community.
6) How does the FanX token work and how can we invest?
The FanX Token is a cryptocurrency that captures the value of communal interaction and rewards social media users for the time and work invested. It can also be used by Contributors to purchase services from CPs.

FanX recently completed its airdrop which attracted more than 87,000 people submitting their addresses in 1.5 days. Our telegram group has close to 100,000 FanXers!

FanX token will be announcing its plans of public sale and listing within the next few weeks. Stay tuned and check out our website for further updates. www.fanx.one
7) What is next on the FanX roadmap?
We have a big team of engineers around the clock to develop our gamified 2.0 version of the Dapp, it will be released soon.  We want to become the new standard of social media with hundreds of thousands of Daily Active Users and find traction in the real economy, so we are very focused and tuned in in getting our Dapp out as soon as possible.  We are also preparing for our public sale and listing which are very exciting to the community as well.
8) Do you have any strategic partnerships you will like to share with us?
We have Channel Partners in four countries globally and will announce such partnerships on a later date.  Please stay tuned.
9) Could you tell us about your team and customer support?
Our steering committee is composed of veterans not only in the social media industry but also blockchain, finance, gaming and legal industries.  This well-heeled team will oversee the governance of the FanX Foundation and also the development of the ecosystem. We also have industry partners in 4 countries that will help us popularize the FanX ecosystem on a global scale.
10) How Safe is Fanx, would you like to talk about your legal and security measures?
We have done our technical audit and found our Ethereum based smart contract to be up to the most stringent of technical standards.
11) Do you have more information for our readers?
Unlike other projects, FanX will be able to find teeth in real world adoption because it is rewarding the existing users of different platforms and networks globally, it doesn't need to create a new user base or be captive to a single platform.  It is truly platform and industry agnostic. We expect great developments from the FanX community and hope you could join us in bringing a better blockchain enabled world!
For more information, visit teh FanX website: http://fanx.one/