Fantom has seen a 94% fall since hitting its all-time high in late 2021. However, since March 2022, when Cronje announced his departure from the Fantom Foundation, the project has not had the same attraction.
Cronje was an integral part of the project as he was seen as one of the brightest in the industry, with a long history in DeFi and as the founder of Yearn Finance. He dropped off blockchain tech completely early this year which was met with massive surprise and returned in early November as a Director of the Fantom Foundation and announced the future of Fantom for the upcoming year.
The new plan includes areas such as gas monetization and performance engineering but most importantly Fantom will provide a high level of security for their Dapps. The Fantom blockchain aims to provide a single secure settlement layer for all decentralized activities which will help the ecosystem create an environment where Dapp Devs can build sustainable businesses on the blockchain without the stickiness seen from previous chains.
Bitcoin hit support levels on the MACD technical indicator and we are seeing a bullish divergence to the upside. In the short term, we can expect some bullish gains in the asset.
The same goes for Ethereum which has seen its RSI hit a reading of 30 which it has since rebounded from.
Gold is still showing signs of a reversal but due to a lack of volume in the market we may see it continue within range until post the holiday period 
In today's DIFX Analytics, we're going to look into the following assets:
Fantom's "Father of Dapps" Cronje has big plans for 2023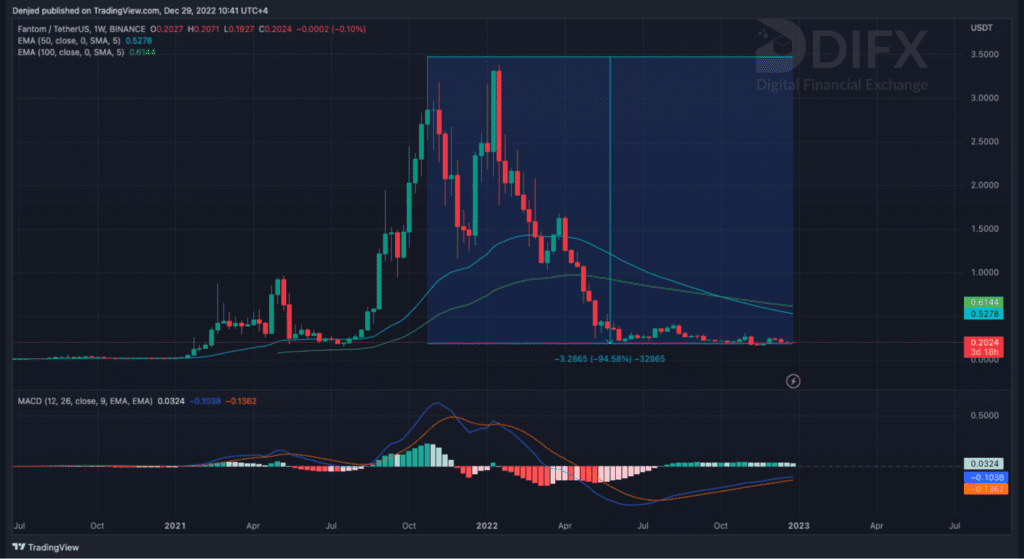 Fantom has fallen 94% since its all-time high was reached near the end of 2021. Fantom was on a rapid rise but was hindered when Andre Cronje announced his departure from the crypto space completely.
We can see that since his exit in March of this year, the token has suffered. Cronje returned to the project in November and investors may see this as an attractive project once again. He has now outlined his vision for 2023 and this has sparked some energy in the Fantom Foundation.
Bitcoin at the support level
 
Bitcoin is nearing support and traders are forecasting a reversal to the upside in the short term.
We can see RSI is oversold touching 30 levels. This coincides with the MACD seeing some bullish divergence as it is quite close to neutrality even whilst RSI and price action are near their lows.
Traders can search for profits near the 100-day EMA at $17,000.
Ethereum oversold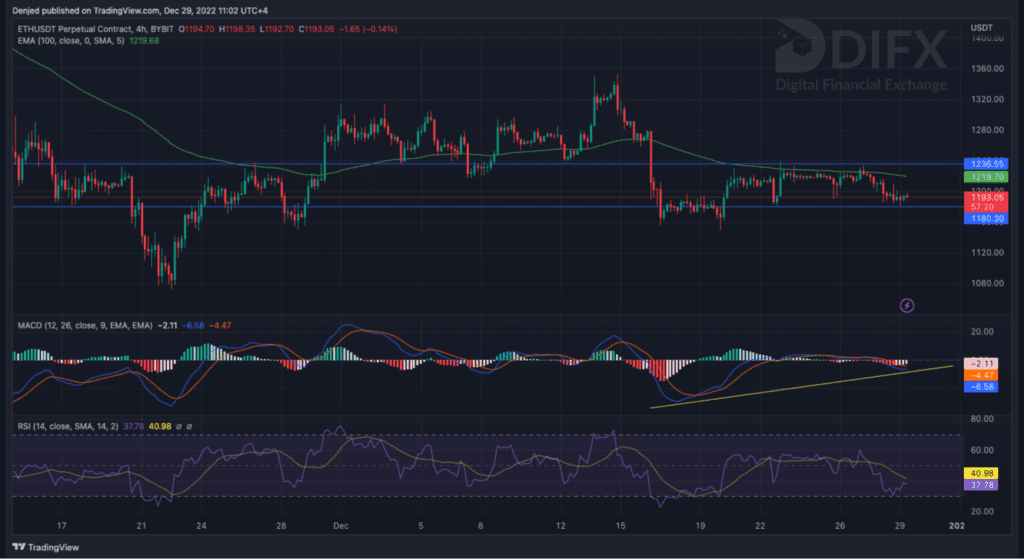 Ether seems oversold as RSI rebounded off a 30 reading. A key support level at $1180 was hit here as well which was met with bulls on previous occasions.
MACD is gaining strength with an obvious uptrend even as RSI and price action are near swing lows.
The support level presents a good place for traders who are bullish on the asset. They should keep an eye on the $1219 – $1230 levels. If $1180 is broken then we could see bears until the next support at the $1150 level.
Gold MACD is eyeing a crossover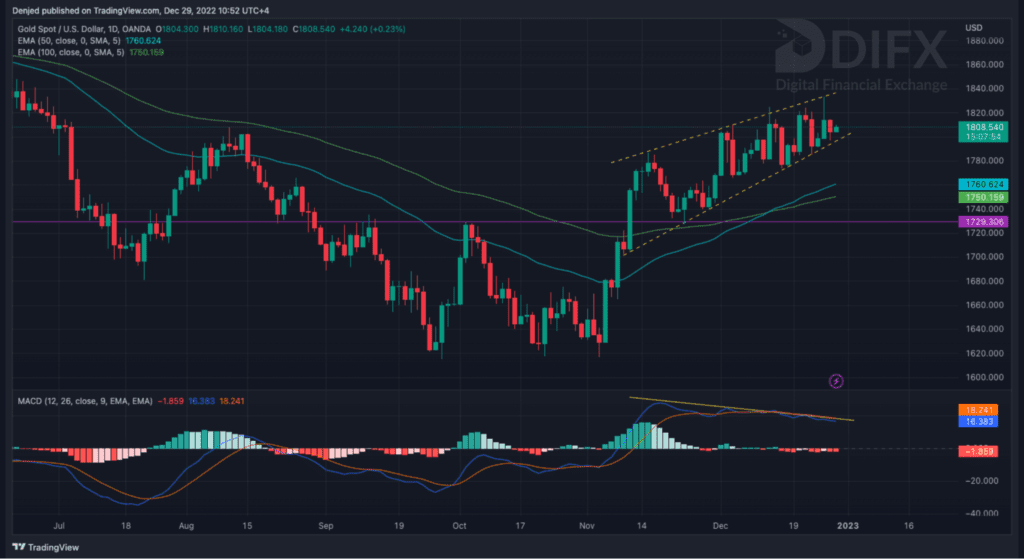 The Daily chart for Gold is starting to seem increasingly bearish. We have seen a bearish divergence in the MACD indicator as price action has set new highs and the MACD has fallen.
The histogram on the indicator has turned negative which is a bearish signal. The MACD has crossed over the signal line on the indicator, however, with not much aggression. We could see more volatility come into play once traders return from their breaks.
*****
To learn more about the markets and start your trading journey, sign up now on Digital Financial Exchange (DIFX) to create your diverse portfolio of assets. 
About Digital Financial Exchange
Digital Financial Exchange (DIFX) is a centralized cross-asset crypto exchange that allows users to trade between multiple asset classes that include indices, forex, crypto, metals, and commodities, just to name a few. The DIFX fully-insured crypto wallet comes from a partnership with Fireblocks, one of the leading crypto custodians in the world.
To begin your journey with Endless Possibilities, download the app now from the iOS or Google Play Store, or visit us at difx.com
Trading Disclaimer
DIFX shall not be responsible for any loss arising from any investment based on any recommendation, forecast, or other information herein contained. The contents of this publication should not be construed as an express or implied promise, guarantee, or implication by DIFX that the forecast information will eventuate, that clients will profit from the strategies herein, or that losses in connection therewith can or will be limited. Trades by the recommendations in an analysis, especially leveraged investments such as foreign exchange trading and investment in derivatives, can be very speculative and may result in losses in particular if the conditions or assumptions used for the forecast or mentioned in the analysis do not eventuate as anticipated and the forecast is not realized.