Most recently, digital financial services Fabriik has launched its fully functional crypto wallet; and Fabriik COO Steve Bailey talks about the features of the Fabriik wallet in more detail during his presentation at the BSV Global Blockchain Convention currently being held at the Grand Hyatt in Dubai on May 24 to 26. 
"We're really proud of this one. So, this was launched in April 2022. A mobile-first, self-custodial, multi-currency wallet where you can buy, swap and store top currencies cheaply and instantaneously—all in one place. The Fabric app is an essential hub for storing, managing and transacting [cryptos]," Bailey said.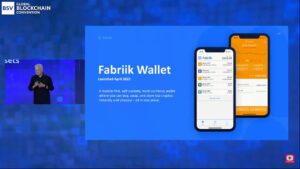 Bailey points out that being a self-custodial wallet means app owners control all of the cryptos they buy, trade, send and store themselves. It is very user-friendly and is currently available for download for free at the App Store and Google Play Store. One of this crypto wallet's unique features is the user is able to restore their BRD wallet if they previously had one. 
"The Fabriik wallet was built upon the breadwallet open-source [code], available to millions of users, one of the first successful digital wallets available. And because it's open source, Fabriik is now the custodian of this, and we open this up to everybody to be able to help us make this wallet and platform as robust as it possibly can be," Bailey explained. 
Being newly launched, Bailey says there is more to come for Fabriik wallet users this summer, which includes the availability of tier 1 payment processing, the listing of BSV, the Fabriik simplified protocol that allows direct access to the BSV Blockchain, and the next batch of token support. Earlier this week, Fabriik wallet added five more tokens to its roster, making for a total of over 40 tokens supported. And the list is expected to grow immensely in the future.
If you are here at the #GBC22 in Dubai, visit @FabriikX 's booth and know more about its services. pic.twitter.com/Us5RBrLaEc

— Kimberly Maceda (@activekimberly) May 25, 2022
Bailey then moves on to FabriikX, its community-centric NFT marketplace and minting platform. Because FabriikX uses the BSV Blockchain, minting NFTs is made a lot cheaper. It has received positive feedbacks from artists who are able to gain access to a more flexible pricing system.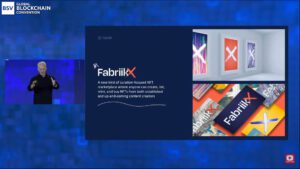 "Using BSV is one of its superpowers. We're able to facilitate low transaction fees. Now, this one is really important, particularly to the artist, because the artist wants to be able to list their artwork at the prices that suit them. And that's not always possible. Well, in fact, it's not possible with other blockchains," Bailey pointed out.
"Because of the superpower of BSV and the low transaction fees, they're able to list them for lower pricing than they would. Lower pricing, obviously [means] more sales, as well. And again, its full asset minted on the chain. So, it's there and it's instantaneous," Bailey added. 
Unlike other minting platforms where a third-party wallet is needed in order to store NFTs, with FabriikX, the NFTs are forever stored on the blockchain. And again, this is made possible because transaction fees on the BSV Blockchain is extremely low due to its ability to limitlessly scale—meaning block sizes and throughput as measured in transactions per second continue to increase while fees constantly go down to mere tiny fractions of a cent.