The term "metaverse" is currently the most influential buzzword in the global discussion. Although there may be uncertainty about the origin, connotation and future development of the term, it has been interpreted from various perspectives by various industries and disciplines. Is this "avalanche", which originated from Stephenson's science fiction novel in the early 1990s, an effective "knowledge production" or a "signifier" that triggered a performance art?
As you can see, some people define metaverse as a virtual world beyond reality where people can learn, work, create, entertain, socialize, trade, etc. Some people call it the "next generation Internet" after PC Internet and mobile Internet, and some people say that there are a thousand metaverse in a thousand people's minds. What exactly is the metaverse?
Shortly, metaverse is a new virtual reality Internet application and social form generated by integrating multiple technologies. Based on extended reality technology, it provides an immersive experience; based on digital twin technology, it generates a mirror image of the real world; and based on blockchain technology, it builds an economic system that closely integrates the virtual world with the real world in the economic, social, and identity system, and allows each user to produce content and edit the world.
The Internet industry, of course, sees the metaverse as the future and is committed to making it a reality. Meta, the parent company of Facebook, describes the metaverse as an Em-bodied Internet where users can not only browse content, but also enjoy an immersive experience and do things they cannot do in the real world. Meta believes that the core characteristic of the metaverse, as a series of interconnected digital spaces, is the Sense of Presence, the feeling of actually being somewhere or being with someone.
Matthew Ball, a Silicon Valley investor, defines the metaverse as "an expandable, interoperable network of 3D virtual worlds" and describes it as persistent, synchronized and real-time, with an unlimited number of simultaneous online users, a fully functioning economy, unprecedented interoperability, richer content and experiences, and a sense of individual presence. In general, the metaverse is linked to a figurative or 3D version of the Internet. However, compared to the current Internet, the metaverse may have some completely new features: first, a unified digital identity that allows users to enter different metaverses and applications through a unified identity and avatar, which enables different experiences.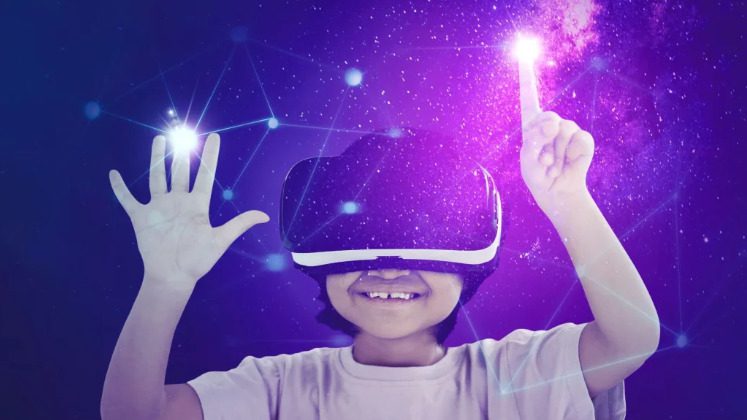 Mixed or Mirrored?
No matter how we interpret it, this still remains unknown. With the progress of cutting-edge technology and human cognition, there may be a large number of metaverse application scenarios in the future, which will drive the development of metaverse and digital economy.
In recent years, with the rapid development of VR, AR, BCI and other emerging technologies, the "metaverse" from science fiction has become the focus of current discussions in various industries and continues to spark endless imagination and even fantasy among the public.
Whether it is blockchain, AI, immersive technologies (e.g. VR and AR), as the necessary technology to realize the metaverse, it is giving rise to new application models different from the current Web 2.0 era, such as NFT, blockchain games, AI-generated content, VR and social gaming platforms, etc.
On the whole sector, people's attitude towards the metaverse is getting more and more vague as the market gradually returns to rationality while the technology giants and capital are in great pursuit. Good news came just recently, at a press conference held by the Ministry of Industry and Information Technology (MIIT), Liang Zhifeng, director of the Bureau of SMEs of MIIT, said that "a number of innovative SMEs should be cultivated in the emerging fields such as metaverse, blockchain and artificial intelligence." So far, the state's attitude towards metaverse has been clear. It has been affirmed and has made a good start in terms of policy. Meanwhile, some local governments have included metaverse in the new year's local government work report or industrial planning.
In general, "metaverse" was introduced because the capital, with its keen sense, had captured the close integration between virtuality and reality, and thus the concept of "metaverse" was derived. When this concept is released, what we are facing is a new model and a new ecosystem of the trinity of the "metaverse" proposed by the capital, the inherent "metaverse" and the "real universe".
Exploring the sea of the metaverse, technology giants built up a new industrial system.
Today the market has taken aim at the new profit models that metaverse can bring to new industries, products and services that can reinvent the industry are ready to be launched. As a virtual social form, the metaverse is both a mapping and an extension of the real world. It not only includes the existing digital economy and other factors, but also gives rise to new discoveries.
Currently, technology giants are seeing the opportunity for this fantasy to be fulfilled in the near future by well-developed social networks and VR technology. Roblox, an online gaming company that went public early last year, was named the first stock in the metaverse.
Roblox is a virtual community based on an online gaming platform, where players can create their own accounts and avatars, experience tens of thousands of games, and even create their own games to have fun with friends. Roblox has a self-sustaining economic system that allows players to sell props and coins outside of the game or cash in on virtual currency channels. At the same time, Roblox proposes eight factors of the metaverse: independent identity, friends, immersion, low latency, diversity, economic system, civilization and easy access. In other words, an independant and perfect digital virtual world requires low latency, first-class immersion VR, MR and other technologies. Independent digital human identity honor system and good social experience, as well as an independently operating economic system are needed to fulfill it.
In the face of Roblox's metaverse, Meta makes up its mind to all in the metaverse by laying out in both software and hardware sectors. For the hardware side, Oculus, the acquired company, has now shipped more than 10 million units, ranked the first in 2021 Q1 global VR equipment market share with an overwhelming advantage of 75%. Meta's next plan is to launch a high-end MR headset to seize the golden chance to enter the metaverse. For the software side, Horizon Worlds, a VR social platform, Horizon Venues, a VR event space, and Horizon Workrooms, a VR work collaboration software, are laid out in a way that combines several dimensions, including virtual identity, virtual social relationships, and virtual offices, to build a metaverse immersive experience that seeks to keep users in the metaverse for longer .
If VR headset devices are the entrance to the metaverse, content production, social relationships, and game ecology are the soft power of the metaverse, then hardware, network layer, computing power, virtual platform and other technical strengths are the underlying guarantee of the metaverse platform usage experience, and in the B-side application area, Nvidia has already come down to the layout early.
NVIDIA Omniverse platform has inherent technical advantages in motion capture, GAN generation, CG technology, GPU arithmetic, etc. In the construction of Metaverse worlds, NVIDIA's digital twin technology advantage enables the operation of mapping the real world to virtual space. Previously, Jen-Hsun Huang said that with Omniverse, "we now have the technology to create new 3D worlds or simulate our physical worlds."
Today, Omniverse has expanded to a software ecosystem that is turning the metaverse into a productivity tool, empowering traditional industries with productivity through virtual mapping of the real world for AI predictions.
In addition, WIMI Hologram Cloud, the world's leading holographic AR provider, is actively exploring the underlying technology of the metaverse. The company has the technology and expertise to develop products that maximize the metaverse opportunity and is well positioned for R&D in 5G, AI, VR/AR/XR and other areas to deliver the metaverse to users.
Specifically, in terms of metaverse software technology, WIMI embeds holographic AR content into virtual applications based on imaging detection and recognition technology, template matching and detection technology, video processing and recognition technology, holographic 3D layer replacement technology in imaging recognition, and dynamic fusion processing technology in imaging tracking. The company's holographic AR content and holographic imaging services based on image detection, recognition, template matching, and dynamic image fusion and replacement will generate commercial value in metaverse commercial applications.
For metaverse holographic applications, WIMI has a comprehensive library of holographic IP entitlement content, with virtual holographic content covering from 3D models to holographic virtual products. The company has a total of 4,654 holographic virtual IP entitlement content available for its holographic AR products and solutions, covering a wide range of categories including holographic animation, virtual live streaming, virtual idols and virtual social.
In terms of metaverse hardware, WIMI has launched a number of metaverse VR/AR/XR products and successfully entered the U.S. market with a U.S. FFC license, laying the foundation for the metaverse hardware market.
Conclusion
Just like the Internet, the future metaverse contains three levels: foundation level, platform level and application level. At the foundation level, the metaverse relies on hardware and infrastructure, standards and protocols, payment tools, regulatory frameworks, etc.; at the platform level, there will be different and possibly interconnected metaverse virtual worlds in the future; at the application level, the metaverse virtual worlds will provide diversified applications and services so that users can complete different experiences. Finally, we should both go to explore the sea of metaverse, and also face up to the heart to build up a metaverse world full of infinite possibilities.