When you visit Cluj-Napoca, the vibrant heart of Transylvania, you'll find yourself surrounded by a rich tapestry of history, culture, and stunning landscapes. Whether you're in town for business, leisure, or a combination of both, having reliable transportation can greatly enhance your exploration of this captivating Romanian city and its nearby attractions. GCA Rent A Car, a family-owned car rental business based in Cluj-Napoca, has emerged as a trusted partner for travelers seeking to make the most of their stay. In this article, we'll delve into the sights to see in and around Cluj-Napoca when you rent a car. We'll also explore the growth of GCA as a family business and how customers interact with this car rental company in Cluj-Napoca, which offers services not only in the heart of Cluj but also at Cluj Airport.
Exploring Cluj-Napoca and Its Surroundings
Cluj-Napoca, often referred to simply as Cluj, offers an abundance of attractions and experiences. With a rental car Cluj from GCA, you can maximize your exploration of the city and its surrounding areas.
Exploring Cluj-Napoca
Michael's Church– Begin your journey with a visit to St. Michael's Church, a stunning example of Gothic architecture. Its towering spires and intricate design make it a must-see landmark.
Cluj-Napoca Central Park– Enjoy a leisurely stroll or a bike ride in Cluj-Napoca Central Park, a tranquil oasis in the heart of the city. The park features a beautiful lake and botanical garden.
The Museum Square– Explore the Museum Square, where you can visit the National Museum of Art, admire the impressive Matthias Corvinus Monument, and enjoy the vibrant atmosphere of this historic square.
Turda Salt Mine– Take a short drive to the Turda Salt Mine, a mesmerizing underground attraction that combines history and natural beauty. Explore the salt mine's chambers and tunnels, which have been transformed into a subterranean amusement park.
Day Trips from Cluj-Napoca
Alba Iulia– Drive to Alba Iulia, a historical gem featuring well-preserved Vauban-style fortifications and the stunning Alba Carolina Citadel.
Rimetea– A scenic drive to Rimetea, a charming village nestled in the Carpathian Mountains, offers the chance to explore traditional Transylvanian architecture and hike in the picturesque surroundings.
Sibiu– Venture to Sibiu, another Transylvanian jewel known for its medieval charm, including the Old Town and the iconic Council Tower.
GCA: A Family Business That's Grown Strong
GCA Rent A Car started as a family venture with a simple mission: to provide top-quality car rental services in Cluj-Napoca. Founded by a local family with a passion for helping travelers make the most of their visit, the business has flourished over the years.
As Cluj-Napoca gained popularity as a travel destination, GCA expanded its fleet of vehicles and services to meet the diverse needs of its customers. The company's commitment to exceptional customer service and high standards of vehicle maintenance contributed to its growth and reputation as a reliable car rental provider.
Customer Interactions with GCA
GCA prides itself on its customer-centric approach. The company's dedicated team ensures that every customer's experience is as smooth and hassle-free as possible. Whether you're a first-time visitor to Cluj-Napoca or a frequent traveler, GCA caters to your requirements with professionalism and courtesy.
Customers often share their positive experiences with GCA:
Emily and James S.– "Renting a car from GCA Rent A Car was the best decision we made for our Cluj-Napoca adventure. The staff was incredibly helpful and knowledgeable. They provided us with a car that perfectly suited our needs, and their airport pickup service made our arrival stress-free."
Lukas P.– "I've been renting cars in various cities, but the service at GCA Rent A Car in Cluj-Napoca was exceptional. Their team goes the extra mile to ensure a seamless rental experience. I highly recommend them to anyone visiting this beautiful city."
Sophia and David K.– "Our family vacation in Cluj-Napoca was made even more enjoyable thanks to GCA Rent A Car. We rented a spacious SUV that comfortably accommodated our family. The convenience of having a car at our disposal allowed us to explore the city and its surroundings at our own pace."
GCA Rent A Car: Serving Both Downtown Cluj and Cluj Airport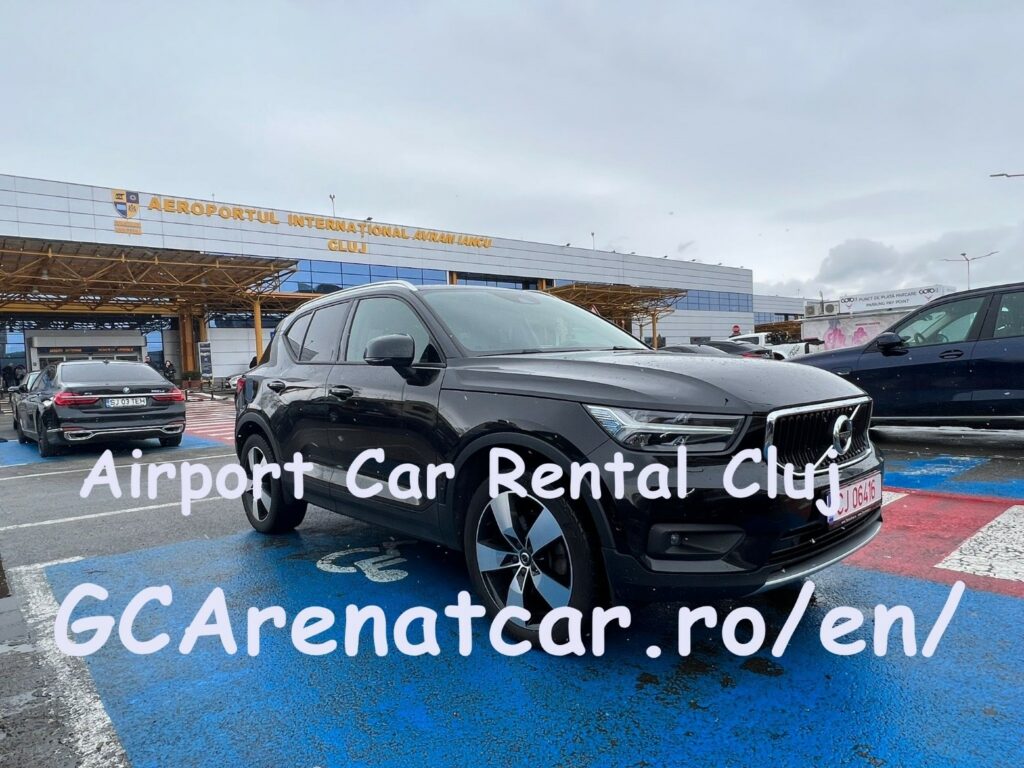 One of the standout features of GCA is its dual presence in Cluj-Napoca. Whether you arrive in the heart of the city or at Cluj Airport, GCA is ready to meet your rental needs.
Downtown Cluj-Napoca (Constanta 10): When you pick up your rental car in downtown Cluj-Napoca, you have immediate access to the city's attractions and vibrant atmosphere. GCA Rent A Car's downtown location ensures a convenient start to your Cluj adventure.
Cluj Airport: For travelers arriving at Cluj Airport, GCA offers efficient airport pickup and drop-off services. The moment you land, your rental car is ready and waiting, allowing you to embark on your journey without delay.
In conclusion, renting a car from GCA in Cluj-Napoca not only grants you the freedom to explore the city and its surroundings but also provides a stress-free and efficient rental experience. GCA, a family business that has grown into a respected car rental provider, places customer satisfaction at the forefront of its operations. Whether you're visiting Cluj-Napoca for business or leisure, consider GCA as your trusted partner in making the most of your journey in this captivating Romanian city. Unlock the possibilities, and experience Cluj-Napoca like never before with GCA.