Dubai is making waves in the used car market! With the quantum of used cars popping up in the city, it's an exciting time for buyers who can now access more choices and competitive prices. But is it a good sign? Whether you're a first-time buyer or a car enthusiast, we have looked at the current trends and their implications for buyers here at Dubai used car markets, we take a look at the trends to help you decide if investing in a used car in Dubai is a smart decision.
The United Arab Emirates Used Car Market was valued at USD 20.03 billion in 2021 and is expected to reach USD 32.07 billion by 2027 registering a CAGR of around 11% during the forecast period (2022 – 2027). So, are you looking to buy a used car?
If so, you're in the right direction! The used car market is currently expanding especially in Dubai, which gives buyers, more variety of makes and models, and more affordable prices. Dubai used car market has been on a roll for the past few years. The increase in popularity of this kind of vehicle has increased sales and demand, which is good news for buyers.
Automotive experts say that with so many new cars being introduced into the market each year, it is important to consider buying one used if you want to save money and get good quality and with the right car, you can still enjoy the latest technology and safety features without spending a fortune. Used cars are also easier to maintain than new ones since most of them have already gone through the break-in period when they were new.
Used Car Market in Dubai
A used car market is a platform where you can easily buy, sell, or trade pre-owned vehicles either in-person or online. These markets offer a plethora of options to find the best deal for buying or selling a car. The pricing of used cars in this market usually depends on factors such as their condition, age, mileage, and any alterations or upgrades.
Dubai being the hotbed of global expats and UAE's elite is almost always flush with amazing cars even in the used car market. Prospective buyers can inspect the car in and out and then take it for a test drive, to make the right purchase decision.
Buying a used car from such markets is usually more affordable than purchasing a new car and also provides a wider range of models and makes to choose from. With all these benefits the sluggish automotive industry has put the spotlight on Dubai used car market in the country.
What are the benefits of buying a used car?
Cost Savings is one of the most significant advantages of purchasing a used car, they are generally less expensive than new ones and allow buyers to get a better deal while still getting a quality vehicle.
A well-maintained used car can be just as reliable as a new car plus it is affordable and easy to fix.
The registration fees for used cars are generally lower than those for new cars.
The Insurance premiums for used cars are typically lower than those for new cars and this is because insurance companies base their premiums on the value of the car, which is lower for a used car.
The used car market provides buyers with a wider range of options and a massive variety of cars to choose from.
Covid-19 has led up the used car market sales
The Covid-19 pandemic had a severe impact on the economy of India and the world at large. When the pandemic first hit many essential workers stopped driving buses or trains and also, and people are increasingly avoiding mass transportation and becoming more cost-conscious due to the economic downturn.
With the pandemic forcing people to cut back on spending, many have decided to opt for used cars over new cars for their safe space rather than mass transportation. It was easier and safer for people to purchase a used car.
The whole purchasing system has turned out pretty well in the pandemic, online platforms facilitate the ability to start the transaction online and even finish it online, and you can have your sanitized car in front of you. The sales of the used car market were growing immensely with a wide range of models and budget-friendly used cars that are convenient for your needs.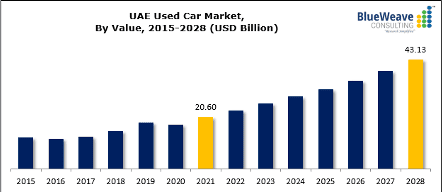 The COVID-19 pandemic has had a significant impact on the UAE's used car market sales. Here are some of the trends that have been observed before and after the pandemic:
| | | |
| --- | --- | --- |
| Aspect | Before COVID-19 | After COVID-19 |
| Sales Growth | Strong sales growth with record-high sales in 2019 | Increased demand due to a shift away from public transport and also increased by the largest on record by the end of June 2021 |
| Prices | Prices were increasing due to the high demand | High demand for used cars with Increased trade-in values and higher profits for dealerships |
| Vehicle Demand | SUVs and trucks, with 71% of sales in 2019 | Increased demand for larger vehicles due to changing lifestyles with a growing market of growing at a CAGR of 11% over the next 5 years. |
| Online Sales | Increasing online sales, but not yet dominant | An accelerated shift towards online sales due to the pandemic with a positive impact on sales |
| Consumer Behaviour | Consumers still visited dealerships for test drives and purchases | More consumers opting for online sales and home delivery by purchasing and selling cars within 30 minutes of downloading the program |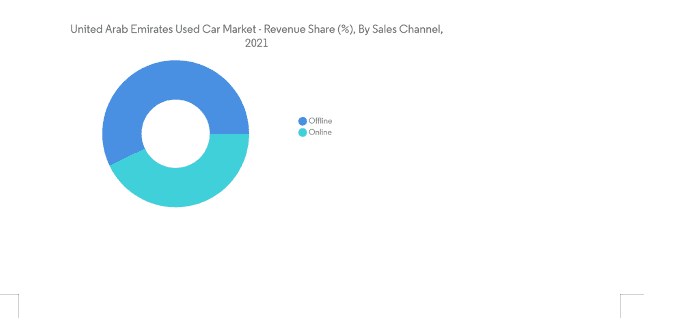 Trends in the used car markets
As the growth rate of the United Arab Emirates Used Car Market is growing at a CAGR of 11% over the next 5 years. The COVID-19 pandemic has accelerated the shift towards online sales in the UAE used car market.
Many dealerships and online marketplaces have increased their online presence and offer virtual tours and home delivery options to attract customers who prefer to shop online.
Another popular trend in the used car market the SUV category is currently the most valuable segment in Dubai used car market, primarily due to its versatility as a family vehicle with off-road capabilities and a roomy interior.
In recent years, SUVs have gained immense popularity among buyers of pre-owned vehicles in the UAE with prospective buyers that are consistently drawn to the latest SUV models available in the market, while dealerships strive to attract this expanding customer base by offering new and diverse SUV options, they also offer midsize segment that has a great value for middle-class consumers. Among the most sought-after models are the Toyota Land Cruiser and the top-of-the-line Mercedes Benz S-Class for their superior comfort, style, and innovation.
How growing online platform like cars24 UAE has played a key role in the used car market.
CARS24 has been instrumental in transforming the used car market in the UAE by providing a reliable platform for buyers and sellers to connect, we have made it easier for buyers to find the perfect vehicle at the right price and the right list of cars that are available on the website on which buyers can quickly compare different vehicles and make an informed decision.
Besides, CARS24 also offers attractive financing options, allowing buyers to pay for their vehicle in easy instalments. Another important factor that has contributed to the growth of the used car market in the UAE is the introduction of various services and features that have been designed to make the car buying process easier and more convenient for example, CARS24 UAE offers customers the ability to book test drives, arrange vehicle inspections, secure financing and a wide range of other services such as roadside assistance, vehicle history reports, and extended warranties.
CARS24 UAE has enabled buyers and sellers to easily interact and transact with each other to reduce the risk of fraud and provide a more efficient and secure way to buy used cars. With its easy-to-use interface, detailed filters and reliable security system, the platform has quickly become one of the leading online used car marketplaces in the UAE.
When looking at used cars, make sure that the difference in price between the new vehicle and your second-hand model isn't large.
When looking at used cars, make sure that the difference in price between the new vehicle and your second-hand model is not that large and you can easily get a used car for less than a new one and still have enough money left over to buy something else with it.
This way, you'll be able to save more money on gas costs as well. One thing you should always look for the reliable brands that offer great quality products and find out what makes these models unique from others on the market today.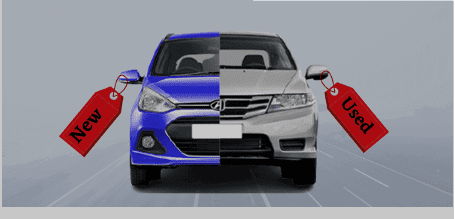 Dubai used car market is an important part of the automotive industry in UAE. It allows people to get the best deals with their money while keeping up with the latest trends in technology and design. Whether or not this trend will continue remains unclear, but one thing is certain it is good news for buyers who want to drive around in style without breaking their budget.