Decentralized finance has become a mainstay in the cryptocurrency world following its boom in 2020. Many crypto users have turned to this unique concept as they look to profit from the highly volatile market by going short or long on their capital.
eXFi, a next-generation decentralized derivative exchange, offers users a great way to trade their assets by simply connecting their wallets to the platform. You can trade all assets with up to 100x leverage and take advantage of the low trading fees on the platform.
If you're interested in derivative trading in a decentralized manner, then eXFi could be the ideal platform for you. This review will tell you everything you need to know about the derivative platform.
eXFi Overview
Trade derivatives with no gas fees
Multiple trading options
Create and execute trades with no identity verification
Built on the Polygon blockchain
eXFi is a decentralized derivative trading platform that was launched in 2022. Built on layer-2 blockchain, it offers users deep liquidity,a  simple interface, multiple collaterals and advanced risk management tools.
eXFi integrates the benefits of a CEX's user interface and advanced security and privacy, where users can trade without KYC and stay in full control of their private keys.
Supported Wallets
Users have to connect a web3 compatible wallet to have access to eXFi. At the moment, eXFi supports Metamask which is the most popular non-custodial wallet. Metamask wallet is easy to use and can be downloaded as a browser extension or accessed via web.
How to Connect your Wallet to eXFi
Connecting your wallet to eXFi is easy, just follow these steps
Visit https://exfi.trade/
Click on ''Trade Now'' or  connect wallet'' You will be redirected to the trading platform

Choose your wallet of choice preferable MetaMask. A pop up will appear for you to read the terms and conditions to continue to eXFi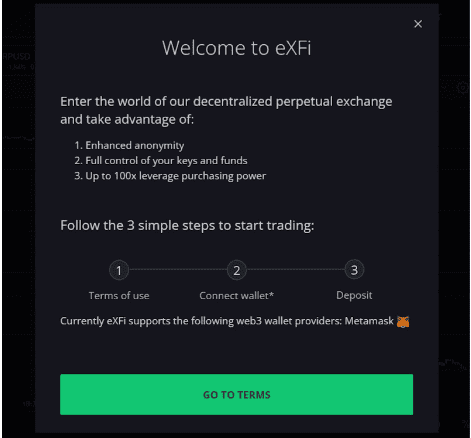 After completing the steps, head over to the ''Wallet'' page and fund your margin account with enough collateral and verify the transaction through your wallet.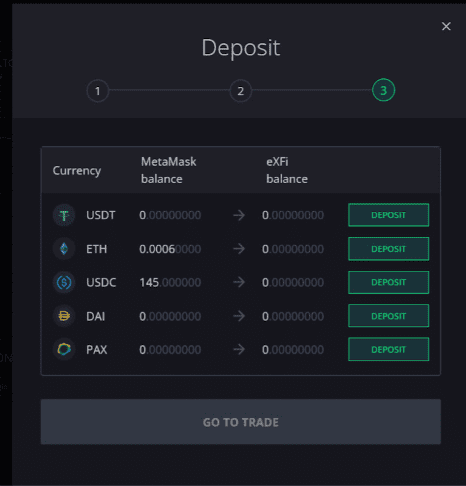 Once the transaction is verified on the blockchain, head over to the trade page to begin trading.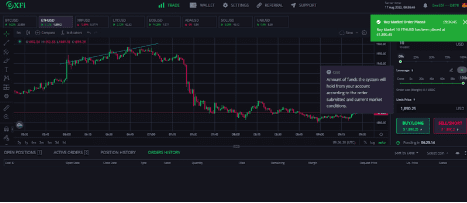 You can withdraw your assets from eXFi, at any time by clicking on the wallet page and withdrawing the coin back to your Metamask wallet. The withdrawals are quick with low gas fees.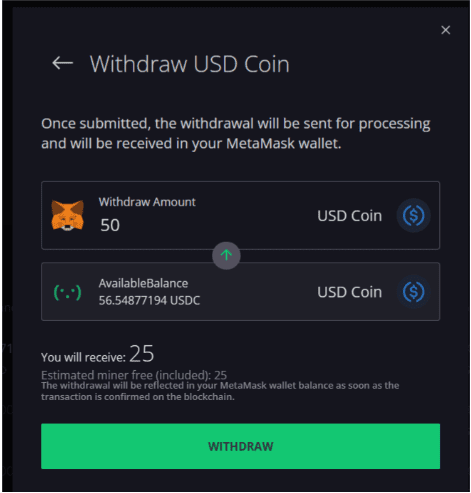 What Can You Buy On eXFi
eXFi is a margin platform and,, it enables users to deposit multiple assets like USDC,USDT, DAI,WBTC and other ERC-20 assets. This is significantly more than what most decentralized derivatives platforms offer.
You can also take trading positions on many cryptocurrencies and tokens, including but not limited to. BTC/USD, ETH/USD, XRP/USD, LTC/USD, EOS/USD, ADA/USD, SOL/USD, UNI/USD.
eXFi also allows users to complete trades without owning any trading pairs. This means you can trade on BTC/USDT pairs while using UNI as collateral. This offers flexibility and enables users to have more trading options to increase their profitability.
Best Features Of eXFi
One of eXFi biggest features is its margin trading options which is the main focus of their trading platforms. Users can do margin trading on multiple assets and leverage up to 100x on their capital.
eXFi also offers a trading dashboard that has extensive features that help users have a great trading experience. Users can view information about their orders, including current, outstanding and fulfilled orders. In addition, they can place a stop-loss to sell an asset when it reaches a particular price point and take profit using the trading tools.
Highly Liquid Exchange
Liquidity is an often overlooked aspect that is very important to traders as it affects the ability to take advantage of market volatility. eXFi aggregates liquidity from multiple exchanges allowing users to execute large transactions with minimal fuss. This is important as the slippage level is kept at a minimum and the market prices are closer to the average ensuring that traders get full value for their orders.
No Gas Fees For Most Transactions
Unlike decentralized derivative trading platforms built on the Ethereum blockchain, which attracts high gas fees. eXFi uses the layer-2 infrastructure provided by Polygon to ensure that users pay no gas fees for most transactions performed on the platform, including token swaps.
Is eXFi Safe?
eXFi is a fully decentralized platform and is extremely safe to use. Users' funds are locked in its smart contract instead of being held by the exchange. The smart contracts are routinely audited to prevent exploits, and the only risk of using eXFi is making a bad trade.
Users also have complete control of their assets and can trade on the platform without revealing personal details. In addition, eXFi has integrated novel security features like SSL encryption, DDoS protection and real-time monitoring of transactions.
What are eXFi Fees Like?
eXFi currently has one of the lowest trading fees in the derivatives market. The maker fee is pegged at 0.019%, while taker fee is 0.060%. Here's a comprehensive list of the fees on some selected trading pairs on the DEX.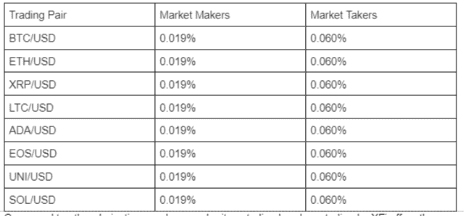 FAQs
Do you need to register to open an account with eXFi?
You don't need to register an account on eXFi. It is a decentralised derivative exchange, meaning you can simply sign-up using a Metamask wallet.
Does eXFi offer trading options?
Yes, eXFi allows users to take long or short positions with up to 100x leverage on the trading pairs listed on the exchange.