The tech revolution is here to stay, and insurance agents and brokers need to adapt to survive.
Evolving trends in technology and customer service expectations are at the core of the insurance industry, today. In order to stay in the game, brokers and agents are going to have to improve both their customer interactions and their operational efficiency sooner rather than later, or risk getting left behind.
When it comes to providing outstanding customer service and a personalized experience (two things consumers demand), the state of the insurance industry could use a bit of TLC.
Even though "85% of insurers say that customer engagement and experience is a top strategic initiative in 2016", recent studies have found that:
Only about

20% of insurers

have launched personalized or mobile services.

Approximately

75% of customers

who have tried to buy insurance online report problems actually accomplishing it.
These numbers can translate into lost revenue. Customer happiness and loyalty matters. The probability of selling to an existing customer is 60-70% while it's only 5-20% for a new customer.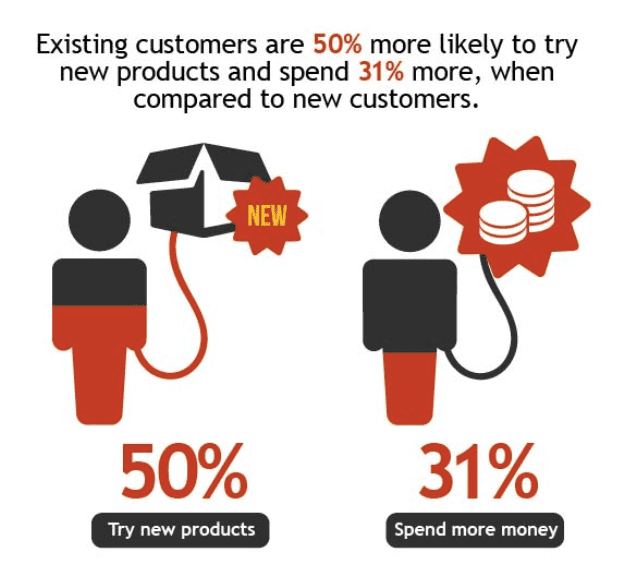 In addition, technological advances in machine learning, predictive analytics, and cloud computing are all playing a significant role in giving commercial insurance brokers and agents the tools they need.
Developments in technology have helped brokers and agents integrate automation into the insurance distribution process as well. These improvements attributed to automation have helped brokers and agents to not only better serve their current customers but also improve workflows and close more deals.
Understanding new distribution channels
Brokers and agents have long been the go-to channel used by insurance companies to sell insurance.
But now, as a result of the changes in the market mentioned above, the insurance industry has started to look for new distribution channels in the online space.
These are:
Online distribution:

The world is now dominated by access to smartphones and the internet. Now, consumers use them to research insurance products and services as well as update policy information and even buy policies.
Social media:

Twitter, Facebook, and Instagram (among others) have penetrated everyday life. Consumers not only expect insurance businesses to have a presence on social media, they also want to access information and interact with them, too.
Usage of SaaS solutions:

The rise of technology and SaaS solutions have helped to improve the insurance distribution process for both insurance businesses and customers.
Underwriting and direct sales automation:

Automation has been able to help insurance businesses with everything from improving their own decision making to offering better service to their customers.
How can brokers and agents compete and stay relevant?
The appearance of these new channels on the scene shouldn't mean that brokers and agents are stuck and can't compete. In fact, there are a number of things they can do in their businesses to both stay relevant and embrace these evolving channels.
Let's cover each of these channels one by one.
Online distribution
First, brokers and agents need to develop an understanding of what customers are looking for online. This covers everything from creating a content strategy to having platforms that offer solutions that consumers are looking for.
When it comes to content, brokers should delve into customer personas and keyword research in order to get more in touch with their customer's needs, hopes, and fears. Doing this can help brokerages create extremely relevant content that speaks directly to the needs of the target customer.
This content can be distributed across a number of marketing channels from social media (more on that, below) to blog content, informational videos, and instructional webinars, just to name a few examples.
All of this does more than simply promote the brand, it should be a foundational part of a strategy to reach customers where they are online. When a brokerage is seen as a source of valuable and educational information, trust is built, which makes consumers more likely to buy (and keep buying).
In addition, it's a good strategy to understand what needs customers would like to take care of online. Many brokerages offer customers a self-service portal as part of a cloud-based broker management system. This type of system will allow customers a place where they can access their information, contact their agent or broker, and make small changes to their accounts online.
It's imperative to have some functionality online for customers. Consumers want to be able to access their information and make simple changes online. Ease of use is a big factor — the more difficult it is to perform simple tasks on mobile, the more likely the consumer will search for other solutions.
This is a channel that, when implemented well, can be a real competitive advantage over other insurance businesses.
Social media
A solid social media strategy on channels such as Facebook, LinkedIn, and Twitter can be incredibly effective for agents and brokers. The key is to do it right.
All too often, social media is used for one purpose: to promote. That can end up making the brand seem way too sales-focused. This automatically turns off a lot of potential leads because they don't want to be sold to all the time. Instead, they want to be educated; they want to find a trusted advisor who can act as a partner that they can rely and depend on to help offer them the best policies and lines for their business.
Here's how agents and brokers can leverage social media.
Cut down on hard selling and focus on the micro

. Doing small actions like searching for people who are asking questions and then offering simple solutions, is one way to create a personalized touch.

Offer customer service to leads and customers through social media channels.

Getting a quick response via Twitter can help build trust and make the clients feel cared about.

Use social media as a tool for research.

Agents and brokers can spend time on social media looking at their target customers and:
What they are talking about

Their needs

Their frustrations
Plus, social media can be a great way to host focus groups or discussions with customers for real-time feedback.
There's a lot of potential for brokers and agents using social media effectively, so it's certainly a channel that should be explored.
Usage of SaaS solutions
Providing excellent customer service is at the forefront of the insurance industry. SaaS cloud-based agency management solutions can help do that.
But, that's not all they can do. In fact, they can help improve the overall brokerage business as well, leading to better information for agents and brokers, smoother back office processes, and IT improvements.
The ability to have real-time information is also a huge benefit. Consumers today are time-conscious, they want information immediately and quickly. Being able to find real-time price quotes can help agents and brokers get back to potential customers much more quickly, or they can easily access this information while on calls or in on-site meetings with clients. This saves time and can help remove the need for follow-ups and callbacks to provide information when it might be too late.
Access to real-time data-driven insights also means agents and brokers can provide more personalized service to their clients — exactly what consumers today are looking for. Agents and brokers can deliver more value by upselling and cross-sell intelligently. Data availability also translates to dashboards and reports that can be accessed by management as well as both the front and back office, providing all sorts of insights that were not easily accessible, in the past.
Finally, cloud-based agency management systems offer transparency between teams and business lines as well, offering 360-degree views of the entire business. Having a consolidated front and back office under one secure system means unified views of every customer as they move through their customer journey. There is no siloing of data with the back office having one set and those who are customer facing having another.
In terms of IT, SaaS solutions can replace expensive servers, infrastructure, and clunky hardware that need constant manual updates. Research has found that when it comes to legacy systems, "80 percent of time, energy and budgets are consumed by the care and feeding of the existing IT stack." So, the long-term cost savings from migrating to cloud-based solutions can be significant.
Additionally, SaaS agency management platforms can provide modular solutions. Digitized platforms are easy to implement and migrate information. Plus, they provide a solution all wrapped up in a user-friendly system that works across a brokerage and on mobile devices as well. This can be a sensible approach to updating an IT stack based on the most pressing needs for the brokerage while still maximizing the potential of technology and mitigating the risks associated with a brand new system.
These solutions can dramatically improve workflows and business operations throughout the entire brokerage.
Underwriting and direct sales automation
McKinsey found that "automation can reduce the cost of a claims journey by as much as 30%."
A big factor that impacts many brokerages that switch to cloud-based solutions is the ability to speed up the underwriting process. Rather than having agents trying to pull in information from a number of different sites and systems, easy integration with insurers means all of that can be accessed in one place.
Plus 63% of brokers and agents want tools to help them sell better. And technology has helped deliver.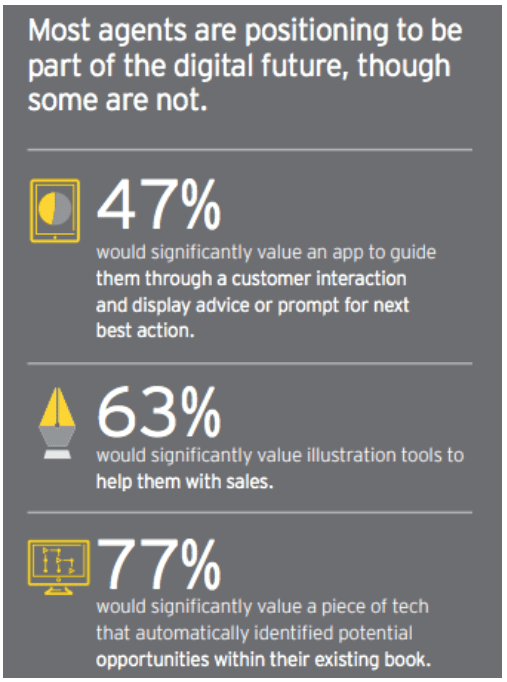 Agents and brokers can see a number of benefits of a cloud-based platform and have been using them to help transform their businesses. These platforms allow for better customer service based on predictive analytics. Having access to customer data with just a few clicks, rather than searching for siloed information, means brokers and agents can get all sorts of actionable insights and growth opportunities.  
Now, brokers and agents don't have to risk guessing when it comes to client needs. They can see when renewals are coming, and where upsells and cross-sells would benefit customers. This information can be invaluable to brokers and agents and help them shift from a selling mindset into one that is an advisor, which is precisely what customers want.
The business as a whole can streamline their entire sales processes, which can also result in improvements on the bottom line.
Automated systems free up more time for agents and brokers to do what they do best — serving customers and finding new leads. They don't have to spend endless hours doing paperwork or searching for information. Instead, they can focus being a partner to those leads and customers who are going to give them the best return on investment.
Final thoughts
Now is the time to embrace technology and go all in on the new channels that are open in the insurance industry, today. Using the available technology to reach new leads and offer a better overall customer experience is going to be how many brokerages beat out the competition.
Author Bio:
Roi Agababa is CEO of Novidea, provider of the first cloud-based platform for real-time business intelligence and agency/brokerage workflow management for the insurance distribution market. Under his leadership, Novid/ea has revolutionized how insurance professionals interact with data and their customers to enable unprecedented growth and create new opportunities at every touch-point.