After more than a year branding in cool blue hues, cryptocurrency exchange BiKi.com has adopted a new look that includes warmer and more vibrant yellow tones for its logo. This comes as the exchange begins a rebranding and upgrading effort that revamps its official website and app with a completely new user interface. 
According to BiKi, the new yellow signifies "more vitality and hope" and this corresponds to a more dynamic platform with more vibrant services. The vast and unknown universe in the backdrop conveys BiKi's intent of going above and beyond – to explore unchartered territories in the industry.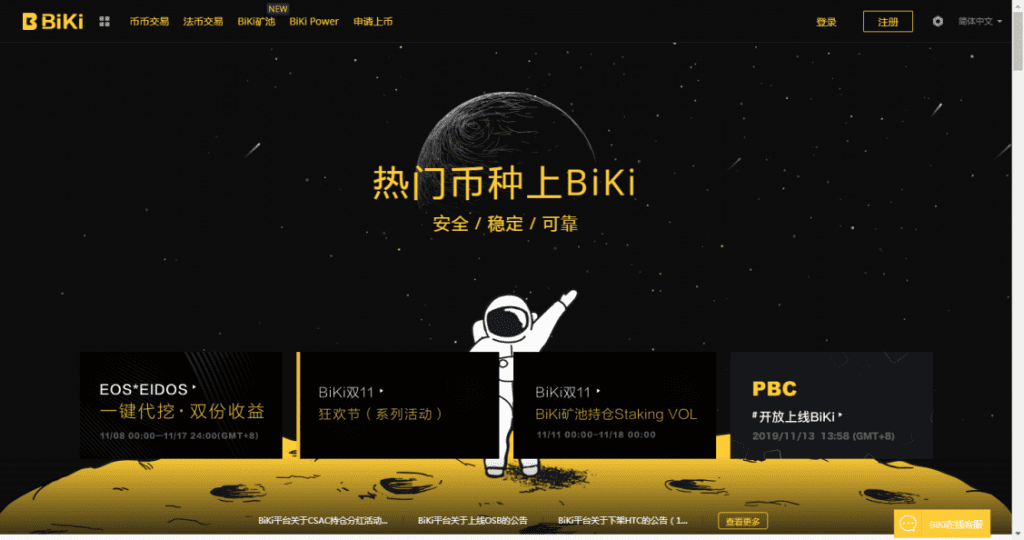 The trading platform has been on a non -stop journey since its official launch a year and three months ago. The results are impressive – 2 million registered users worldwide and 130,000 daily active users, currently ranking amongst the best exchanges on CoinMarketCap and Feixiaohao. Data from Feixiaohao puts the average daily transaction volume of BiKi at USD 1 billion (compared to USD 5 billion on Huobi Exchange). 
What can we expect next from this exchange startup who has never been held back by traditional business infrastructure or practices?
A New and Complete Ecosystem
More change, more innovation apparently.
BiKi recently established the BiKi Research Institute, led by BiKi founder, Winter, as well as a Supervisory Committee. The role of the institute will be to conduct in-depth research on apps and also the future developments in the blockchain industry. 
In response to its community demand for derivatives, the platform has launched new features such as the BiKi Mining Pool and the BiKi Innovation Zone, on top of basic exchange services.
Next up will be the setup of an industry fund as well as a project incubator. 
Strategic Offerings and Innovation 
Marketed successfully as the "Popular Token's Choice"  these past months has stood the young exchange in good stead. This, coupled with the rise of numerous smaller tokens this year that have taken place outside of first-tier exchanges, have worked together to propel BiKi to the position of a front-line exchange. 
However, if an exchange can offer no other value propositions besides a TenX project, their hold over their user base will be short-lived. Being forward-looking and innovative is crucial to guarantee sustainability. 
Hence BiKi has not stopped – from hot assets to the BiKi Innovation Zone, to the BiKi Mining Pool, to the BiKi Research Institute, to the Supervisory Committee, and more. These endeavors consume a lot of manpower and financial resources but BiKi considers these moves as insurance against losing its users to other exchanges.
BiKi's policy of using 100% of its platform fees to buy back the BIKI platform token is an unprecedented move for exchanges which has since been copied by smaller exchanges. It also implements quarterly burning of the platform token. Both these polices prioritize platform users, indicative of the exchange's focus on its users.
In the meantime, its globalization initiatives have been ongoing and the exchange has been expanding its business and operations centers globally. With its 'localization after globalization' overseas strategy, BiKi has been successfully expanding in several major countries so far. 
A Summary of the Past; A Starting Point for the Future
Tales of once-popular exchanges falling from grace abound in the crypto industry. BiKi has astutely adopted the stance that not advancing means retiring. Hence, consistently innovating and researching new industry insights to break ceilings will remain a priority for the exchange.
BiKi considers this brand upgrade a summary of all its past goals and endeavours while it positions itself for the future journey forward. Covering multi-dimensional aspects of strategy, product, service, user experience etc., users can look forward to plenty of surprises from the new 'ready-to-wear' BiKi. Yet, at its core, all these changes reflect the platform's abiding focus – the user. Despite the varied and numerous changes, being user-oriented remains BiKi's core focus.
The rapid pace of innovation and expansion continues at BiKi with the next new features to be launched in the near future: leverage, contract and lending.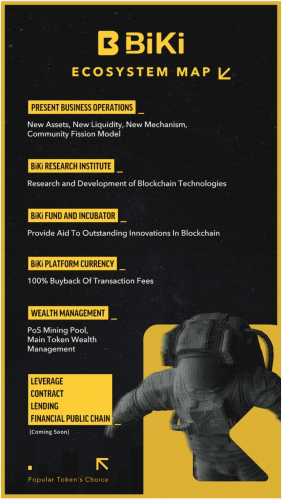 About BiKi.com
Headquartered in Singapore, BiKi.com is a global cryptocurrency exchange ranked Top 20 on CoinMarketCap. BiKi.com provides a digital assets platform for trading more than 150 cryptocurrencies and 250 trading pairs. BiKi.com is focused on providing the safest, most stable and most effective cryptocurrency trading platform. 100% of the transaction fees are used in buyback and burning of platform token, BIKI. Since its official opening in August 2018, BiKi.com is considered one of the fastest-growing cryptocurrency exchanges in the world with an accumulated 2 million registered users, 130,000 daily active users, over 2,000 community partners and 200,000 community members. BiKi.com has received investments from Huobi co-founder Du Jun, Genesis Capital Zhu Huai Yang, FBG Capital, ChainUP and others totaling approximately 10 million USD.