A trip to Africa on safari is the pinnacle of excitement for a lot of tourists. Having the opportunity to see some of the most amazing creatures in the world in their natural environment while also being surrounded by breathtaking scenery and varied cultures is an experience that is unlike any other. Yet, organizing an African safari may be a challenging endeavor, particularly if the traveler is unfamiliar with the area. This is where African Safari World Tours come in; they provide a hassle-free way to explore the delights of Africa's animals and beauty, along with knowledgeable guides, luxurious hotels, and activities that will stick with you forever.
This article will take a more in-depth look at African Safari World Tours and the experiences that you may anticipate having on one of these trips. We'll tell you everything you need to know to have the ultimate safari trip you've always wanted, from planning and preparation to locations and activities.
Planning Your Safari: Choosing the Right Tour and Time of Year
Selecting the appropriate tour operator should be the first thing you do when organizing your African Safari World Tour. While there are many different firms that provide safaris, it is essential that you perform research in order to select one that meets your requirements and caters to your interests. You should look for a tour company that has a solid reputation, knowledgeable guides, and a number of different itineraries to choose from.
Take into consideration the time of year you want to go on vacation while choosing a trip. It is vital to choose a time of year that aligns with your interests in order to make the most of the many experiences each season has to offer. If you want to view the Great Migration of wildebeest and zebra in Tanzania's Serengeti National Park, for instance, you should schedule your vacation between the months of June and October. If you are interested in birding, the greatest time to view migratory species in many regions of Africa is during the wet season, which lasts from December to March.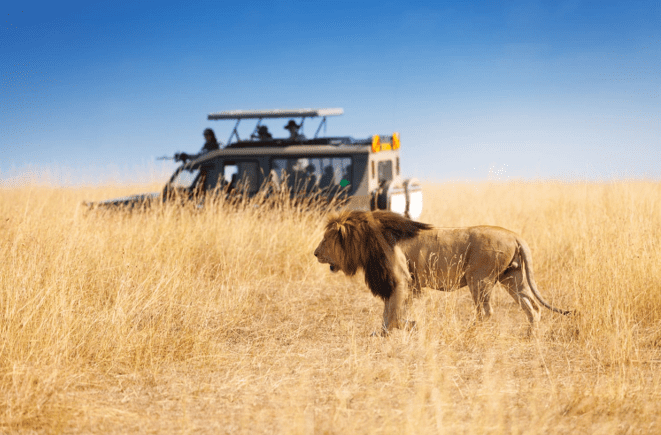 What to Expect on an African Safari: Wildlife, Scenery, and Culture
The incredible variety of African animals is sure to be one of the highlights of an African Safari World Tour. You will get the opportunity to see a diverse range of creatures in their natural environment, from cheetahs and elephants to giraffes and zebras and everything in between. It is important to do some study on the kind of animals and plants that may be found in the regions you will be traveling to since each location has its own assortment of species.
Safaris in Africa are not just about seeing animals; they also provide breathtaking views. Africa is popular for some of the most stunning landscapes in the world, like the sprawling plains of the Serengeti and the towering peaks of Mount Kilimanjaro, to name just two examples. Not only is there stunning natural beauty, but many safaris also include cultural excursions, such as trips to nearby towns and marketplaces, where travelers may get insight into the rituals and practices of the people who call Africa home.
The Top Destinations for African Safaris: National Parks and Game Reserves
Africa is home to a vast number of national parks and game reserves, each of which has its own personality and collection of animals. The Serengeti National Park in Tanzania, which is home to the Great Migration and has one of the highest concentrations of wildlife in all of Africa, is one of the most popular stops on African Safari World Tours. Other popular stops include:
The Masai Mara National Reserve in Kenya is well-known for the large cats that may be seen there, as well as its breathtaking environment.
Kruger National Park is located in South Africa and is one of the oldest and biggest national parks in Africa. It is home to a wide variety of flora, fauna, and landforms.
The Okavango Delta in Botswana is a massive wetland habitat that is home to a wide variety of animals, including crocodiles, elephants, and hippos, amongst others.
Chobe National Park in Botswana is well-known for the vast elephant herds that can be seen there, as well as for the river cruises that can be taken along the Chobe River.
In Namibia Tours, You should visit Etosha National Park which is home to a rich collection of species, including black rhinos and cheetahs. It is also popular for some of the biggest salt pans in the world.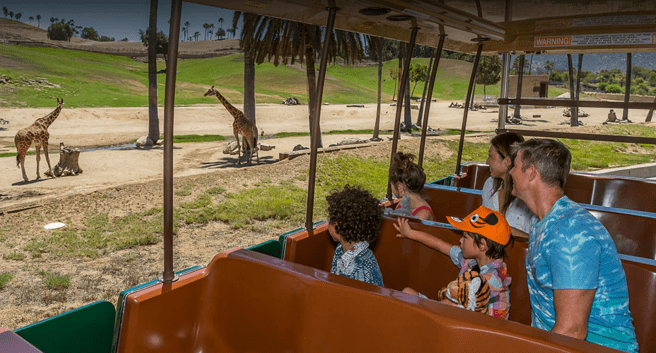 Accommodations on an African Safari: From Luxury Lodges to Tented Camps
There are various options available for lodging on an African Safari World Tour, from opulent resorts to simple tented camps. Your financial constraints, personal tastes, and the desired degree of convenience will all play a role in determining the kind of lodging option that is best for you. Tented camps may provide a more genuine travel experience, yet, some tourists would rather stay in a five-star resort that has all of the modern conveniences than in a tented camp.
A high degree of comfort and service is offered in luxury lodges, and guests can expect facilities such as air conditioning, hot showers, and gourmet meals throughout their stay. A great number of lodges also provide additional activities for guests, such as spa treatments, guided hikes, and cultural encounters.
Tented camps, on the other hand, provide a more authentic wilderness experience since the tents are placed in more distant areas. This creates a more authentic feeling of being in the wilderness. Some campgrounds provide just the most basic conveniences, such as public facilities and common eating spaces, while others include opulent extras, including private decks and bathrooms that are attached to individual sleeping quarters.
Safari Activities: Game Drives, Walking Safaris, and More
One of the most exciting aspects of going on an African Safari World Tour is participating in one of the many different activities available. The game drive is by far the most well-liked excursion, during which you will go through the park or reserve in a 4×4 vehicle accompanied by a knowledgeable guide. Game drives are the greatest way to observe a range of different species, and they are often carried out in the early morning or late afternoon when animals are at their most active.
Another popular choice is going on a walking safari, which gives visitors the opportunity to explore the environment on foot with an experienced guide. This gives you the opportunity to get up and personal with the flora and animals of the region you're visiting, as well as to learn more about the ecosystems and cultures of the places you're exploring.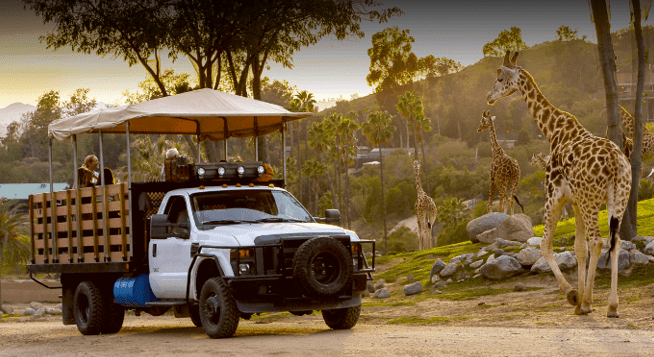 In addition to these activities, you could also have the opportunity to fly in hot air balloons, do horseback riding, or observe birds while you're on safari. Several lodges and camps also provide cultural events for their guests, such as excursions to nearby towns and marketplaces or presentations of traditional dance forms.
Tips for a Successful African Safari: Safety, Photography, and Etiquette
While African Safari World Tours provide a secure and pleasant way to enjoy Africa's animals and sceneries, it is necessary to keep a few things in mind to guarantee that the trip is a success in order to make the most of the opportunity. The following are some pointers to bear in mind:
On game drives, safety requires that you always follow the advice of your guide and remain seated inside the vehicle. Animals shouldn't be approached on foot, and you should always be alert to your immediate surroundings.
Bring a high-quality camera with a zoom lens so you may take pictures of the local flora and fauna as well as the breathtaking scenery. It is important to show respect for animals. Therefore, please refrain from utilizing flash photography.
Etiquette requires showing respect for the local culture and traditions, as well as adhering to local norms regarding greetings and appropriate forms of attire. Take care not to make too much noise, and don't throw trash on the ground.
Beyond the Safari: Cultural Experiences and Other Adventures in Africa
A world tour of an African safari is a fantastic experience in and of itself, but there is also a great deal more to see and do in Africa than just the animals and the beauty. It is possible to get a deeper understanding of the people, past, and customs of the regions you are traveling through on the African continent, thanks to the many educational possibilities available there. Africa is a continent whose culture is both rich and varied.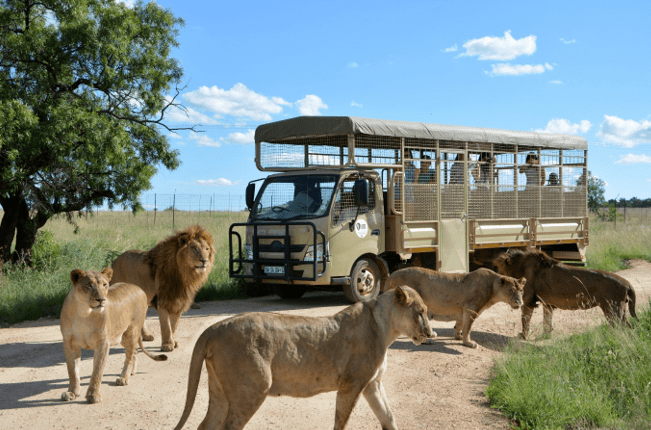 Visiting local towns and marketplaces, learning about traditional crafts and arts, and seeing traditional dance performances are some of the most popular cultural activities. There are also a lot of other exciting things to do, like climbing Mount Kilimanjaro, discovering the beaches and islands of Zanzibar, or going to Egypt to see the ancient pyramids.
Conclusion
An African Safari World Tour is an experience like no other; it's a chance to view some of the world's most amazing creatures in their natural environment, surrounded by breathtaking landscapes and colorful cultures. This tour is a once-in-a-lifetime opportunity. An African safari is guaranteed to provide you with memories that will last with you for the rest of your life, regardless of whether you are interested in animals or the natural world or are just searching for an exciting new experience.