On Friday, Nonfarm Payrolls came out exceeding the forecast which in theory is bullish for the Dollar but instead we saw it react in a bearish fashion.
This came as a surprise and serves as a reminder that the market can never be fully anticipated and always acts on its own accord.
We saw the unemployment rate come out at 3.5% which was lower than the 3.7% projected. This expresses the fact that the job sector is strengthening which is a contradiction to the monetary tightening out of the Fed.
We expected the Dollar to gain on this news as jobs data came out more solid than expected which has historically been bullish for the Dollar over the past year. This leads us to believe that the Fed will have to keep the economy in a high-interest-rate environment for longer.
However, we saw the Dollar fall to this news release which indicates that the Dollar is weaker than we initially projected and we could see the Dollar fall past support at $103.4 into a lower range as it heads toward $100.
EUR/USD is bullish as the Dollar fell against most currency pairs. Gold shot up to $1880 as it shows no signs of running out of steam. Bitcoin saw some gains and we finally saw the asset cruise past $17,000.
In today's DIFX Analytics, we're going to look into the following assets:
Dollar can't capitalize on hawkish data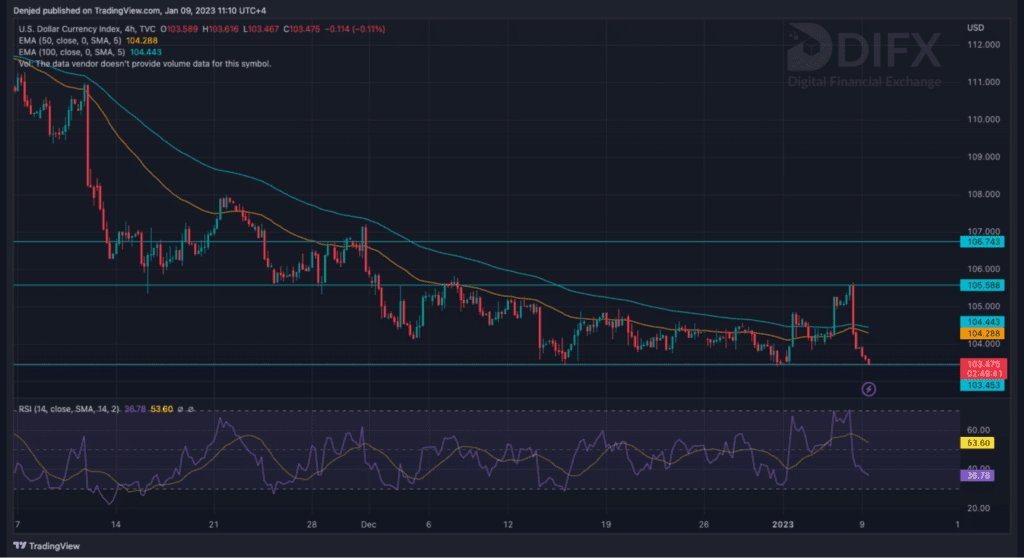 The dollar hit resistance at $105.8 and fell drastically due to the gains seen elsewhere in the market. The dollar fell against all major fx pairs after the jobs data release.
We are seeing it trade at support near $103.4 which has been hit twice previously.
RSI is showing weakness but we can see it from a slight trend to the upside with higher lows being set.
Technically we have seen signs of a reversal but fundamentally the market is short the Dollar and we can expect this sentiment to continue
Bitcoin finally breaks $17,000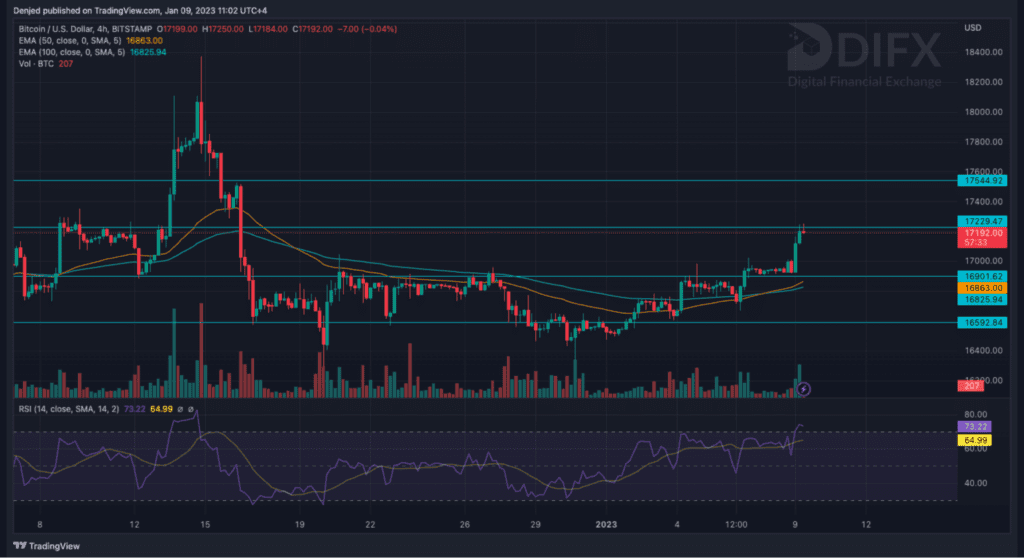 Bitcoin is rising rapidly and we saw the asset break $17,000 convincingly. RSI broke above 70 which is a good indication of further bulls in price action.
Volume is increasing with price action which is a good signal. We are expecting more positivity out of the digital asset as the Dollar falls.
EUR/USD is approaching resistance
EUR/USD is bullish towards $1.074. This is the first key resistance level to which the asset may react. The pair has been gaining after jobs data as it follows the upwards trend.
The Dollar has failed to find strength even when the data support it so we can expect EUR/USD to continue to rise.
Gold is bullish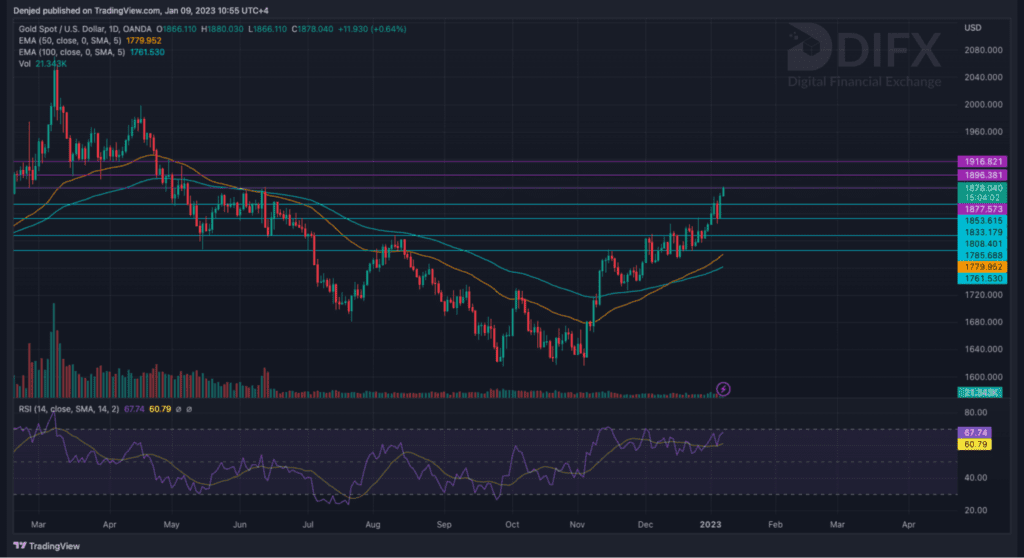 Gold is trading at our first resistance near $1878. If this level is broken, we expect a continued rise to $1896.
The asset is on a bullish trend and any downward price action can be considered a pullback. The asset saw unexpected gains after Nonfarm Payroll data and has been strengthening ever since.
*****
To learn more about the markets and start your trading journey, sign up now on Digital Financial Exchange (DIFX) to create your diverse portfolio of assets. 
About Digital Financial Exchange
Digital Financial Exchange (DIFX) is a centralized cross-asset crypto exchange that allows users to trade between multiple asset classes that include indices, forex, crypto, metals, and commodities, just to name a few. The DIFX fully-insured crypto wallet comes from a partnership with Fireblocks, one of the leading crypto custodians in the world.
To begin your journey with Endless Possibilities, download the app now from the iOS or Google Play Store, or visit us at difx.com
Trading Disclaimer
DIFX shall not be responsible for any loss arising from any investment based on any recommendation, forecast or other information herein contained. The contents of this publication should not be construed as an express or implied promise, guarantee, or implication by DIFX that the forecast information will eventuate, that clients will profit from the strategies herein or that losses in connection therewith can or will be limited. Trades in accordance with the recommendations in an analysis, especially leveraged investments such as foreign exchange trading and investment in derivatives, can be very speculative and may result in losses in particular if the conditions or assumptions used for the forecast or mentioned in the analysis do not eventuate as anticipated and the forecast is not realized.