Since the beginning of this year, not only crypto financial applications such as DeFi have begun to accelerate their prosperity, Bitcoin has also become increasingly favored by institutions domestically and internationally. More and more professional institutions agree that crypto-asset allocation is a major trend. So where should users store their crypto assets?
What novice investors are looking for is the low threshold and no requirement on professional knowledge, only with simple and convenient operation they can store and appreciate their digital assets safely.
Experienced investors who have been battered by the industry may be more focused on safety and compliance. They have witnessed too many run away wallets, trading platforms, stolen accidents that led to zeroization of the user's assets. Of course, under the premise of safety and compliance, smart people with high net worth will pursue more convenient circulation and higher yield on their crypto assets.
Therefore, to sum up, for most users, a secure, compliant, low-threshold, mobile and flexible value-added blockchain asset service platform is an ideal choice. Take EToken, an integrated crypto assets service platform for example.
The EToken platform provides services such as asset appreciation, transaction management and wallet management for users' digital assets. The threshold is relatively low, users just need to download the APP, and then register and login as on traditional mobile APP, the operation is smooth and simple, users do not need professional knowledge to manage the asset allocation.
Today we will talk about the trading management service of EToken, which allows you to trade your digital assets in real time without using other exchanges. The service is most popular among experienced traders, users who prefer P2P trading.
EToken APP has launched Trading, Quick Exchange, OTC and other functions, aims to provide trading experience with high speed, quality prices, multi-currency, making exchange much easier and faster.
I. Trading
The platform allows users to make market investment and exchange on various cryptocurrencies within the wallet, the buy & sell fee are as low as 0.3 %.
Pros:
The transaction fee is low and each transaction fee on maker or taker order is only 0.3%.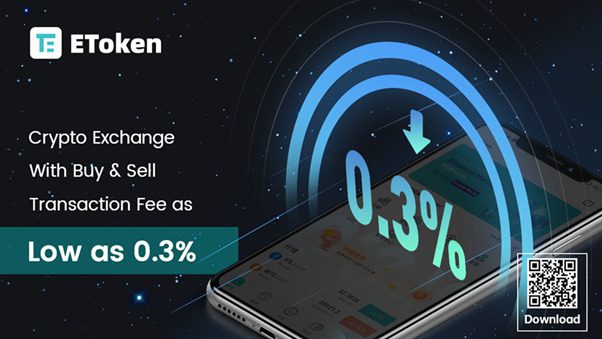 II. Quick Exchange
Allows quick exchange on digital assets, no fear on the flash market, swap with just one click and exchanged asset arrives in seconds. Users can easily swap on different currencies, no need to worry about the order ledger or transaction fee.
Supported Currencies:
Buy: BTC/ETH/FIL/USDT/DCC
Sell: BTC/ETH/FIL/USDT/DCC
Pros:
No transaction fee, the exchanged asset arrive in the account right away to invest or withdraw.
III. OTC Exchange
Provides assurance OTC crypto trading, certified merchants, real-name registered. Users can trade Bitcoin and other cryptocurrencies with merchants directly within EToken on preferred prices and payment methods, all transactions are under protection of the platform risk-control system.
Pros:
 

Both the buyer and the seller do not need to pay transaction fee.

 

Supports multiple payment methods

   

Users can set their own price, trade with more reasonable prices.

 

T+1 withdrawal, strict management on merchants, risk control with big-data screening to rule out the malicious transactions, ensuring the safety on platform assets.

 

Provides one-to-one exclusive customer service, solving users issue rapidly.
IV. About EToken
It is known that EToken TECHNOLOGY PTE.LTD is headquartered in Singapore, dedicated to the integration of crypto asset financial management, decentralized wallet services, public chain technology fields; Through continuous technological innovation, we will build a convenient and safe digital asset integrated service platform to provide asset custody, value-added, management and other services for digital assets, has attracted a lot users and supporters.
EToken has established cooperation with overseas multinational institutions and funds, EToken has established direct sales teams in Singapore, the United States, Russia, Thailand, and other places. EToken aims to become the world's most popular crypto asset management platform, providing users with low rates, high stability, a full range of asset appreciation services. At EToken, you can experience a wealth of financial services and diversified innovative products. We are dedicated to protect your crypto assets.
From Nov.26 to Dec.31, users who use any functions in the sectors (Trading, Quick Exchange, Loan, Fixed-term, OTC) are entitled to participate and share the 200,000 USDT airdrops, the airdrops are distributed in random amounts, the highest is $888, which has limited volume and stops when all distributed. For any inquiries, please contact the official customer service.
For more details please visit the EToken official site https://etoken.plus, scan the QR code to download.
Twitter: https://twitter.com/ETokenOfficial
Linkedin: www.linkedin.com/in/e-token-b93293226