Cats need to be groomed regularly. If you're new to cat ownership, then you might not know what grooming tools are necessary. Don't worry though – this article will outline all of the essential grooming tools that every cat owner should have:
Sharp Clippers
Your cat will have to have parts of their fur shaved at least once in their lifetime, whether for vaccination or examination. If you would rather shave your cat yourself instead of allowing a veterinarian to do it, then you'll need the right pairs of clippers. You should find a pair of silent clippers for cats and you must keep the blades sharp. The buzz of a pair of clippers can be very intimidating to a cat, which is why the ideal pair of clippers should be silent.
Toothbrush
Cats need to have their teeth brushed just like humans, otherwise, they could wind up with infections. You can find soft-bristled toothbrushes designed for cats in most pet stores. It's usually best to purchase a finger brush. These are rubber sheathes that you wear on your finger. They make it much easier to brush your cat's teeth.
Grooming Glove
A grooming glove is a handy cat grooming tool. Grooming gloves make a great alternative to traditional brushes. You can simply put one of these gloves on and stroke your cat. As you stroke them, these gloves pick up and collect loose fur.
Claw Clippers
Young cats do not usually need to have their claws clipped. They will keep their claws short themselves. However, as cats age, they become less effective at keeping their claws trimmed. A claw clipper is something you'll definitely want to invest in. It's important that you buy a safety claw clipper so that you do not clip too far down and risk hurting your cat.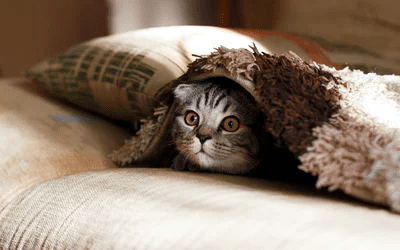 Cat Wipes
If you have an outdoor cat, then you'll want to invest in some cat wipes. These wipes can be used to remove allergens and dirt from your cat's coat. They work very similarly to a washcloth. If your cat has allergies but they're an indoor cat, then it's still worth investing in a box of these wipes.
De-Shedding
When summer comes around, your cat will begin to shed. When your cat sheds, they'll leave piles of fur everywhere they go in your house. To prevent this, invest in a de-shedding tool. These tools collect all of the loose furs. These are especially important if you have long-haired cats.
De-Matting
It's not uncommon for long-haired cats to find their fur matted. De-matting tools are a great investment to make in your cat's health. Matted fur can be painful and unsightly. De-matting tools are a much better alternative to scissors. De-matters work their way gently through the matted fur, loosening it up. These tools help to minimize hair loss and keep your cat's coat even. Without them, the only solution would be to cut chunks of your cat's fur off.
There are many grooming tools that you will need, but we've mentioned some of the most important here. If you're a cat owner and you don't have these, then it's time you took a visit to the pet store.