What can be the impacts of a badly staffed project? You may miss your project timelines and not be able to deliver good quality output. Poor resource forecasting can be very detrimental to an organization's image. Your current team will struggle to meet the schedule and the project budget will also overshoot due to last-minute hiring. So, what can you do to plan resources efficiently on your projects? One of the key things is to be able to estimate your resource availability for the projects in the pipeline. Many projects and resource managers use traditional techniques like ROI scoring, but that doesn't work in complex roles and projects. Resource forecasting before the start of a project is the best way to begin in a prepared manner. This way, your projects can be properly staffed, and you can handle any unexpected issues or challenges. 
Defining Resource Forecasting in Project Management?
As a project or resource manager, you need to anticipate your business or project resource requirements over the next few months. This process is termed resource forecasting, and it helps you to manage expectations for your ongoing and future projects. The goal here is to be aware of the probable loopholes or risks beforehand and foresee resource requirements in near future. Resource means human resources, spaces or facilities, equipment, or machinery, etc. But in generic reference to resource forecasting, it mostly means human resources. For growing businesses, it is very important to do detailed resource planning and then allocate resources wisely. Your hiring plan and staffing also completely depends on the forecasting for upcoming projects.
Importance of Resource Forecasting
A resource forecasting report provides you information on how many resources from the current resource supply are required on the upcoming projects. It also tells you the number of hours for which you'll need those resources, and what are their cost rates. Resource forecasting also helps you identify the areas where there are skill gaps. Without a resource forecasting report, it would be tough for the project managers to understand when they should plan the hiring process. Besides that, it would be tough to budget suitably when an opportunity arises. Now imagine, without this information, you cannot deliver precise quotes for any new projects. It is also difficult to determine if those projects will be lucrative or not. A resource planning software provides accurate resource forecasting reports that help in determining if you should bring in more resources in your team or if you have overbooked the existing resources. 
How can Resource Planning Software help in Resource Forecasting?
The right resource planning software can help you with the following:
Assess the past project data to make sure that your calculations and estimations are robust.

Reuse past successful project budgets and resource plans or even create similar templates as any previous projects that were profitable and brought in good margins.

Determine the team's capacity and check their bookings and availability. This helps in finding the number of hours your resources are booked for, to which specific projects and tasks, and what are their upcoming deliverables. All this information becomes easy to read and understand with the help of comprehensive resource forecasting reports that resource planning software generates.

Monitor booking and utilization data to see if your resources are under or overbooked so you can spot any red flags much in advance.

Track your team's time and individual resources' time spent on various projects. Then, you can use this data for planning your future projects and foresee how many people you may need. Accordingly, you can determine how it will impact your timelines and delivery of the project and different milestones.

Store data such as the interests and skill set of each resource so that you can map their competencies to different tasks or activities and identify the knowledge gaps.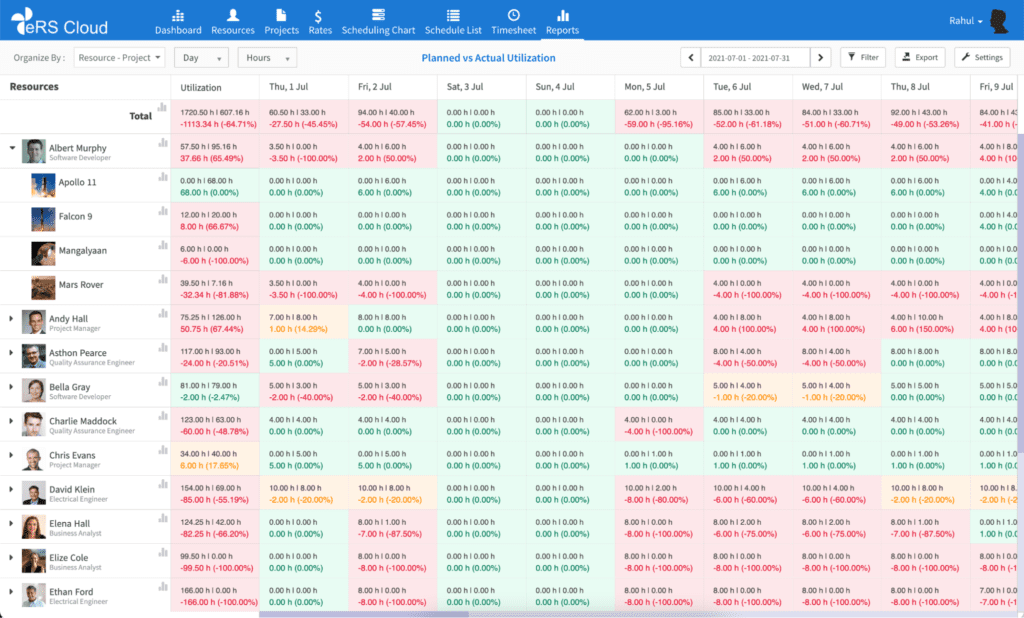 eResource Scheduler's forecasting Report Helps in Making Accurate Hiring Plans
It's important to have an insight into your capacity when doing resource planning for your projects shortly. You can do this by analyzing your past projects to see which resources were over or under-utilized. However, getting an accurate resource forecasting report is difficult. But implementing resource management software can change this for you. Such a tool monitors all resourcing information, saves all files, forms, and emails sent by any stakeholder or client, making it much simpler to accurately analyses each project. If your organization is using outsourced resources, even then resource forecasting can help you a lot in deciding what type of resource and how many of them you will need to deliver your project pipeline. Thus, resource forecasting is a key step in project management and in making an organization's hiring plans. 
Implement eResource Scheduler and Gain Benefits from its Resource Forecasting Report
eResource Scheduler's on-premise resource planning tool offers a detailed resource forecasting report that enables comparing resource capacity with its demand at the project level or resource schedules. It also flags any probable situations where there could be resource shortages, when, and by how much. You can view this resource forecasting report in the resource scheduling software in multiple units and views. The report offers you key information that helps your organization to come up with an effective hiring plan.
How does eResource Scheduler's Resource Forecasting Report Predict Hiring and Resource Needs?
The resource forecasting report helps in determining the staffing needs for your business and forecasts available resources. It also helps to determine if you need to add or substitute any resources for your future projects. These factors help in making your projects a success and provide measurable evidence to enhance your processes. This report also provides an idea of your overall capacity by looking at your past projects and identifying which specific resources have been under or over-utilized. A top-rated resource planning tool like eResource Scheduler also helps to personalize or customize these reports according to your preference and individual requirement and utilize them for making well-informed management decisions. What's more? The tool helps you measure the resource utilization levels at a macro (organization, project, etc) and micro (team, individual, etc) levels besides updating in real-time. So, implement eResource Scheduler if you want to overhaul your resource forecasting and management process.