Catch me if you can. The proven copycat company in global conference, EPIC MEMS, again announced its expertise in research and development. Without apology for the IP infringement, the president of the copycat publicly claimed that the stolen FBAR technology from Broadcom is, in fact, self-developed.
"I wish that I or Broadcom employees had thought of substituting Sc for Al atoms in the unit cell (and patented it)," quoted by Dr. Rich Ruby in the conference. "The way patents work is that you get protection from others simply copying (or stealing) your IP and avoiding any innovation or research cost."
International Workshop on Acoustic Wave Devices for Future Communication was successfully concluded. As the first resumed major conference of the industry after the global pandemic, it attracted academic professionals and industry experts. One of the important topics of this conference is to create awareness of IP protection. Dr. Rich Ruby, in his panel, presented solid evidence of a newfound infringement.
(Photo: Dr. Rich Ruby's Panel at the 2022 International Workshop on Acoustic Wave Devices for Future Communication)
"As many or all of you know, Broadcom FBAR IP was stolen around 2008/9 and this stolen IP now has found its way into many Handset manufactures," quoted by Dr. Rich Ruby. "We are aware of this."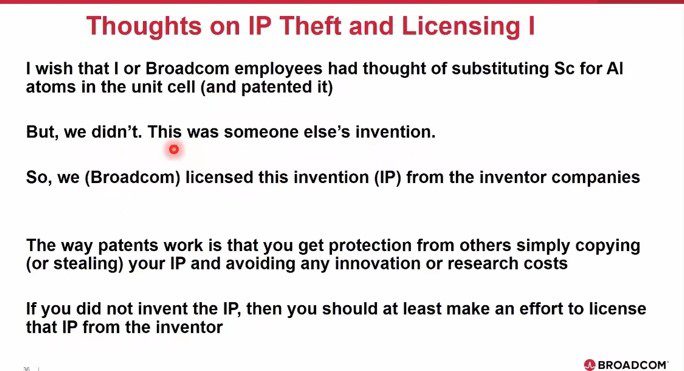 Dr. Rich Ruby has made major contributions to the development with innovations centered on the acoustic properties, manufacturability, and the packaging of FBAR filters and duplexers. He commercialized the first FBAR duplexers HPMD7901 and the 7904 back in 2001–2003. He has over 80 patents and has given numerous invited papers. Dr. Ruby was an Agilent Fellow in 2002 and holds that title as well as Director of Technology at Broadcom. He was a recipient of the Barney Oliver Prize, the Bill Hewlett Award, and the CB Sawyer Award for his work on FBAR technology, and the IAP Prize for "Industrial Applications of Physics."
Dr. Ruby displayed a photo example of the copycat FBAR 41 filter. "[It] looks almost identical to our product and uses many of the inventions we developed and patented," said Dr. Rich Ruby. "In the end, IP theft can hurt very companies who use it…and in the case of companies whose IP was stolen, this can lead to job loss of their R&D group."
Industry experts discovered that the displayed FBAR 41 filter comes from a company called EPIC MEMS and provided in-depth comparison with the cap-opened EPIC MEMS EP7041 filter chip.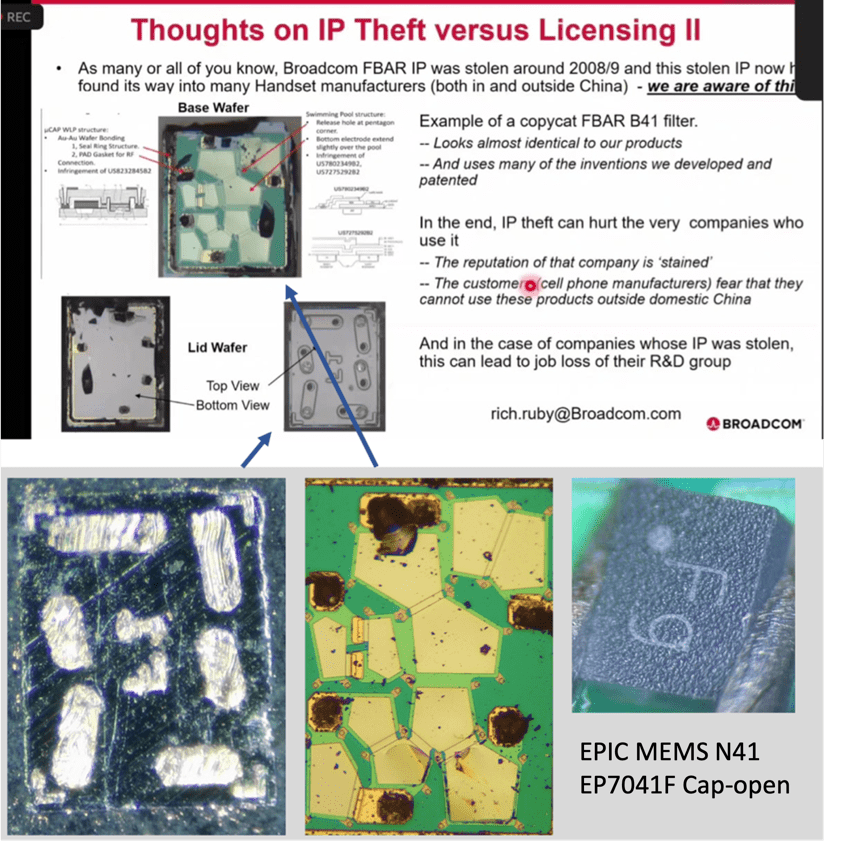 Solid evidence of the IP infringement was unveiled from multiple research labs. Dr. Ruby clarified that the reputation of brands who use filter chips originated from stolen IP will be stained and rejected from the global market.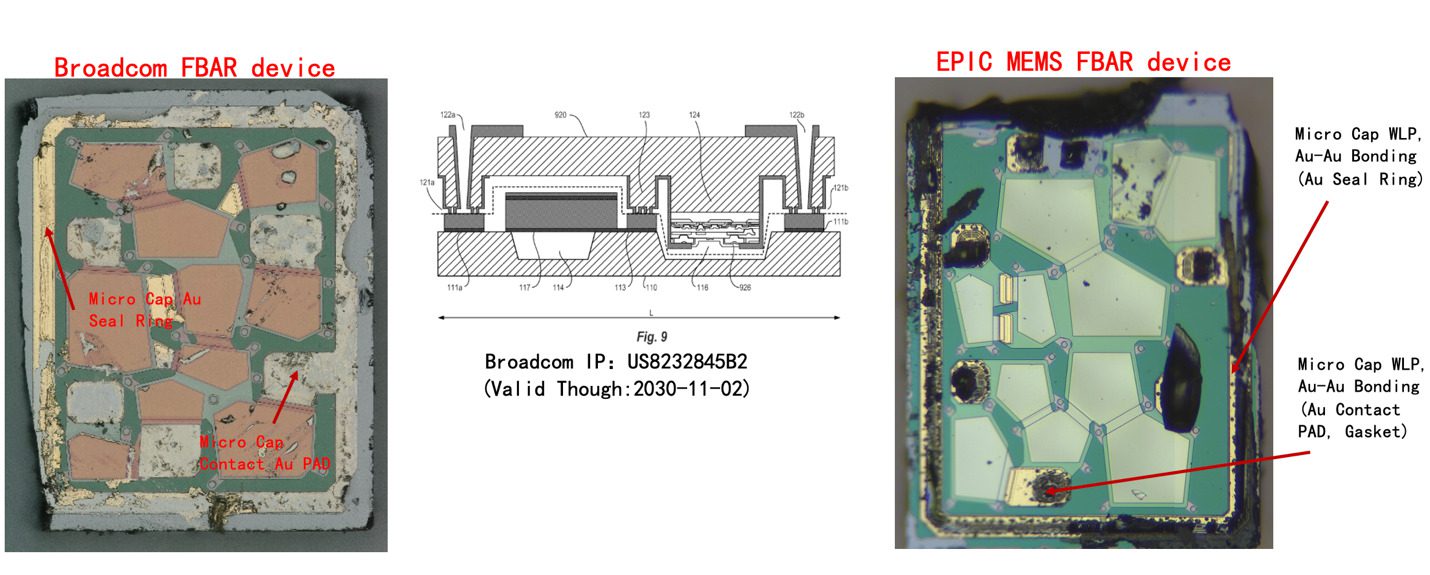 Mobile phones, pad computers and other devices using EPIC MEMS filter chips infringed Broadcom patents is at risk of facing lawsuit and might lead to market withdrawals.
However, based on recent public capital raising materials from EPIC MEMS, the problematic filter chip has been claimed to get delivered to Samsung and to the market.
Beyond everyone's expectation, the copycat EPIC MEMS published an announcement in response to Dr. Ruby's panel, "we took initiative designed and developed the technology." Catch me if you can.