Bangalore, India, February 8th, 2023, ZEXPRWIRE, Entrepreneur Media is thrilled to announce the W3Summit 2023, taking place in Bangalore – Asia's thriving startup hub. The summit promises to be a game-changer for thought leaders, tech innovators, and business professionals. The one-of-a-kind premier event will welcome over 1,500 C-Level visitors for a Web 3.0-focused conference.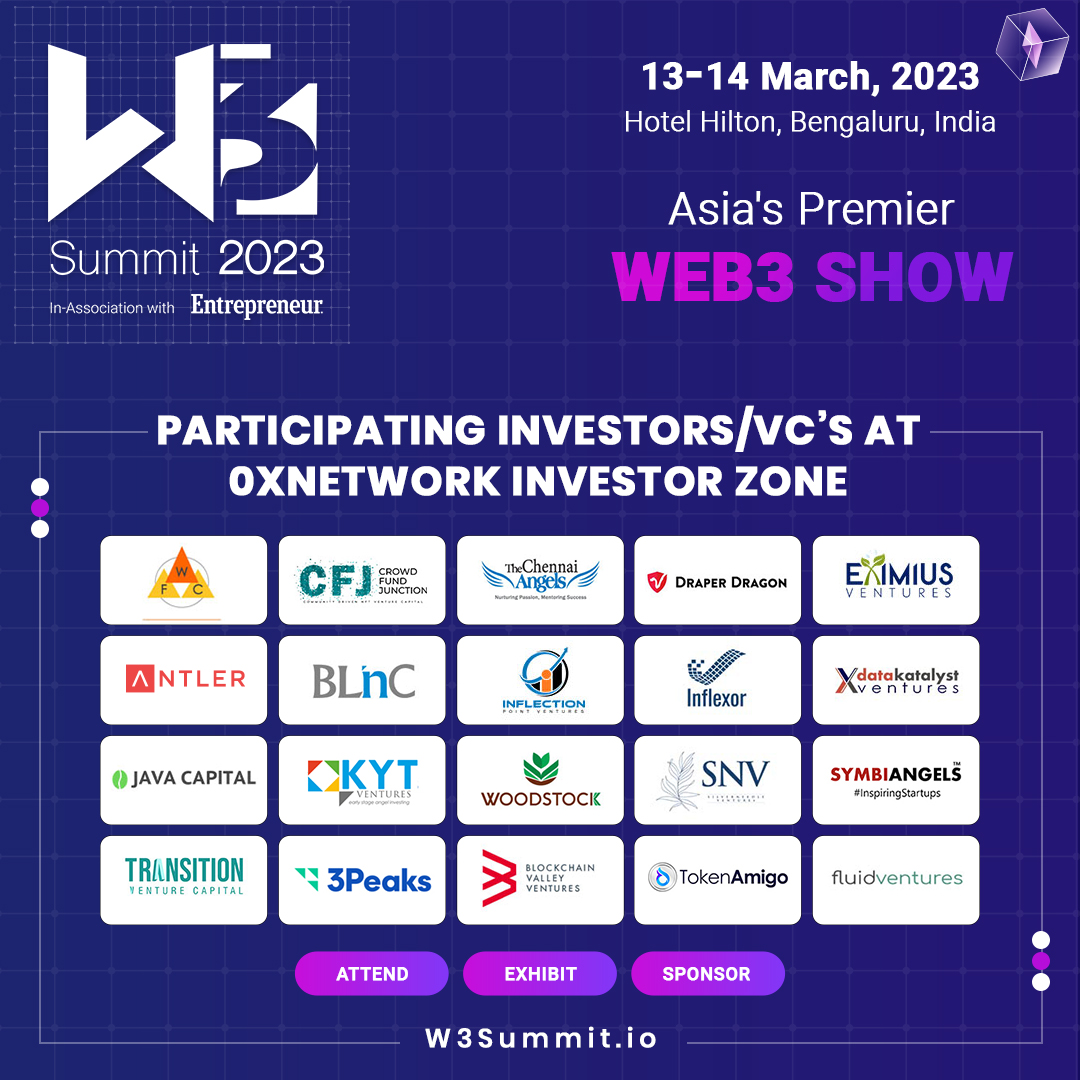 The Web3 Summit 2023 will explore the most cutting-edge topics in the field, such as blockchain developments, the future of cryptocurrencies, the NFT world,  artificial intelligence, augmented reality, and many more. It will take place from the 12th -14th March 2023 at the Hilton Hotel, Bangalore, India.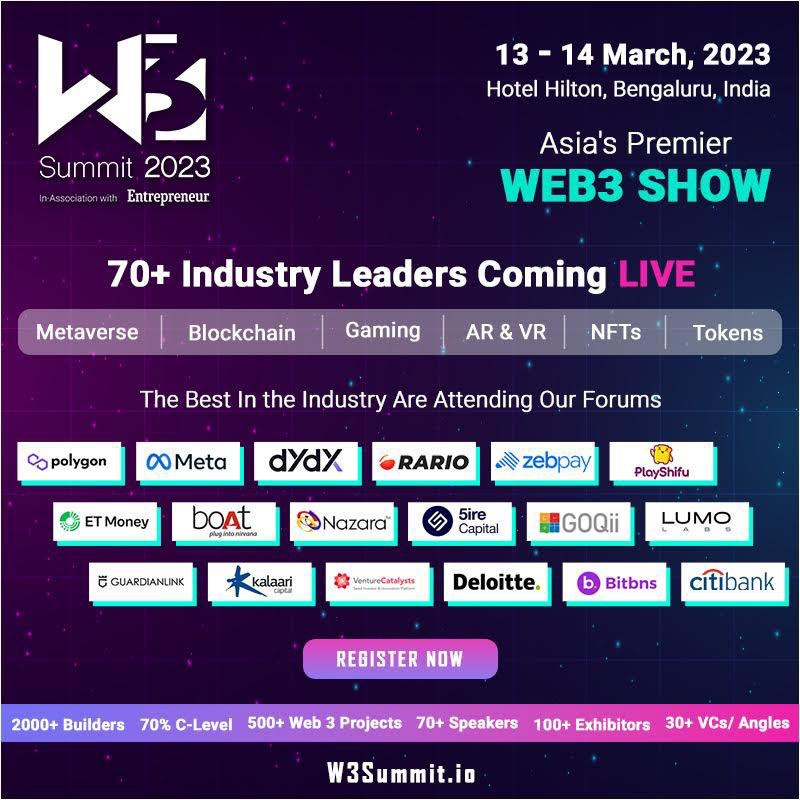 This exclusive event will feature leaders and uprising game-changers from the web3 ecosystem. It would have the following engagement points like blockathon for devs, web 3 university for brand managers, Virtual Zone and NFT Gallery and a dedicated investor zone with startup pitchfest and 50+ category global industry awards with 30+ participating VCs/Investors from the ecosystem.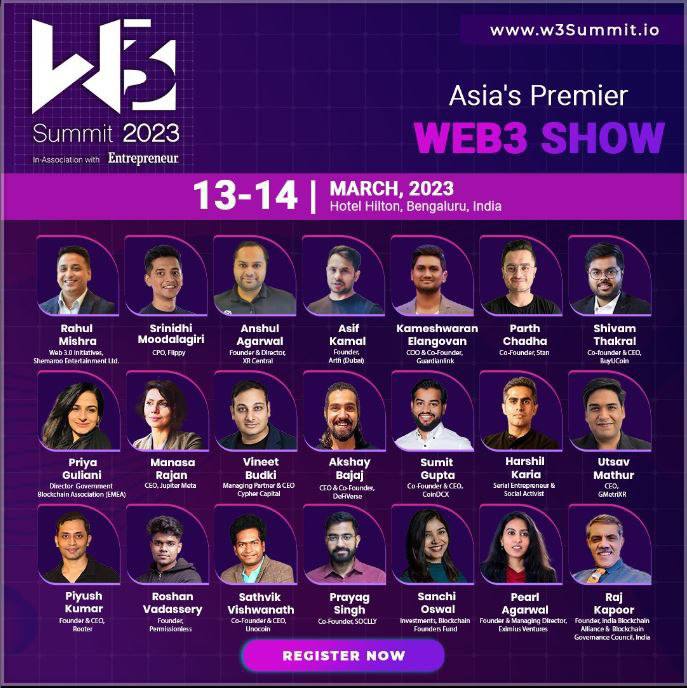 The star-studded speaker lineup includes top industry leaders from across the globe. Attendees can expect engaging lectures, panel discussions, and interactive workshops from the likes of Vineet Budki, managing partner & CEO of Cypher Capital, Akshay Aggarawal, Venture Partner of  Draper Dragon Fund, Sumit Gupta, Co-founder & CEO of CoinDCX, Sathvik Vishwanath, Co-founder & CEO of Unocoin, Kameshwaran Elangovan, COO & co-founder of GuardianLink, Dr. Trivikraman Thamp, Co-Founder & CEO of Games 24×7, Piyush Kumar, CEO & co-founder of Rooter, just to name a few. 
Regular tickets for in-person attendees, as well as virtual tickets, are available now at the official Web3 Summit website. Don't miss the opportunity to engage with the Web3 elite and expand your business at Asia's premier Web3 show.  

You can contact at 8982222356 (Utkarsh) to speak/exhibit/sponsor/nominate at the summit.
or mail queries to ugarg@entrepreneurindia.com
About Entrepreneurs Media:
Entrepreneur is America's #1 Business Media with the largest community of Entrepreneurs across the globe, a reach in 140 countries, over 1000,000 copies distributed monthly, and 10 million unique global visitors every month on [entrepreneur.com]. Entrepreneur's India and APAC HQ is in Delhi. 
WAGMI with W3Summit

There is a new web/internet which is radically changing how we invest, interact, live and work. Besides upending the way people manage their finances, Web 3.0 is also stimulating brands and entrepreneurs to innovate for both the physical and virtual worlds.
Entrepreneur Media has always bridged the value exchange between global entrepreneurs, innovators and disruptors. At W3Summit 2023, the thinkers, the disruptors, the change-makers will give us a peek into tomorrow, today and crystal gaze us into the universe 'we are programmed to receive'. Join us to explore Web 3.0's future potential as we see the confluence of the technologies that will power Web 3.0 experiences. W3Summit will be an action-packed industry engagement with an opportunity for game-changers in the ecosystem to set the narrative and collaborate with the best of the best.
The WEB3 Ecosystem Coming LIVE

The most exclusive Web3 event this year will welcome 1,500+ C-Level visitors in Bangalore, Asia's startup hub! We invite thought leaders, top CEOs, board members, celebrities, UHNWIs, government officials, Venture Funds, and blockchain representatives to establish fruitful relationships, expand business, and streamline operations at all levels!
Reach your business objectives while engaging in elite networking and establishing priceless relationships with the Web3 elite!
PR Partner – 
ZEXPRWIRE
info@zexprwire.com