Enterprise Service Management (better known by its acronym, ESM) is an approach that seeks to apply the best practices of Service Management to all the departments of an organization, and not only those that specialize in information technology.
Today, an increasing number of companies are embracing this methodology to enhance their performance using ESM standards.
Integrating this framework allows organizations to standardize their Service Management practices, gain visibility into their resources, and maximize the capabilities in their work environments.
But how can you implement an ESM approach? And what's the edge? Keep reading to find out!
ESM vs. ITSM: Main differences
While there are many similarities between ESM and ITSM (Information Technology Service Management), they are two different concepts with their own particularities.
ITSM

focuses on the management of information technology services. Its main objective is to ensure the efficient and effective delivery of IT services, such as technical support, Incident Management, and IT Asset Management. It seeks to improve IT processes and services through operational efficiency.
ESM

has a more comprehensive approach;  it extends ITSM principles  to other departments and functions that are not strictly IT areas. Through this framework, organizations can apply the best practices of Service Management to the entire organization. In particular, it aims to improve interdepartmental collaboration, optimize internal management, and enhance customer experience.
What are the features to consider when choosing an ESM tool?
To effectively implement ESM, companies need a robust service desk platform, a backbone that allows them to channel, receive, process, and resolve requests and incidents as a basis for managing and delivering services across multiple business areas. 
Some essential features that ESM software must have for a successful implementation include:
Service Catalog Management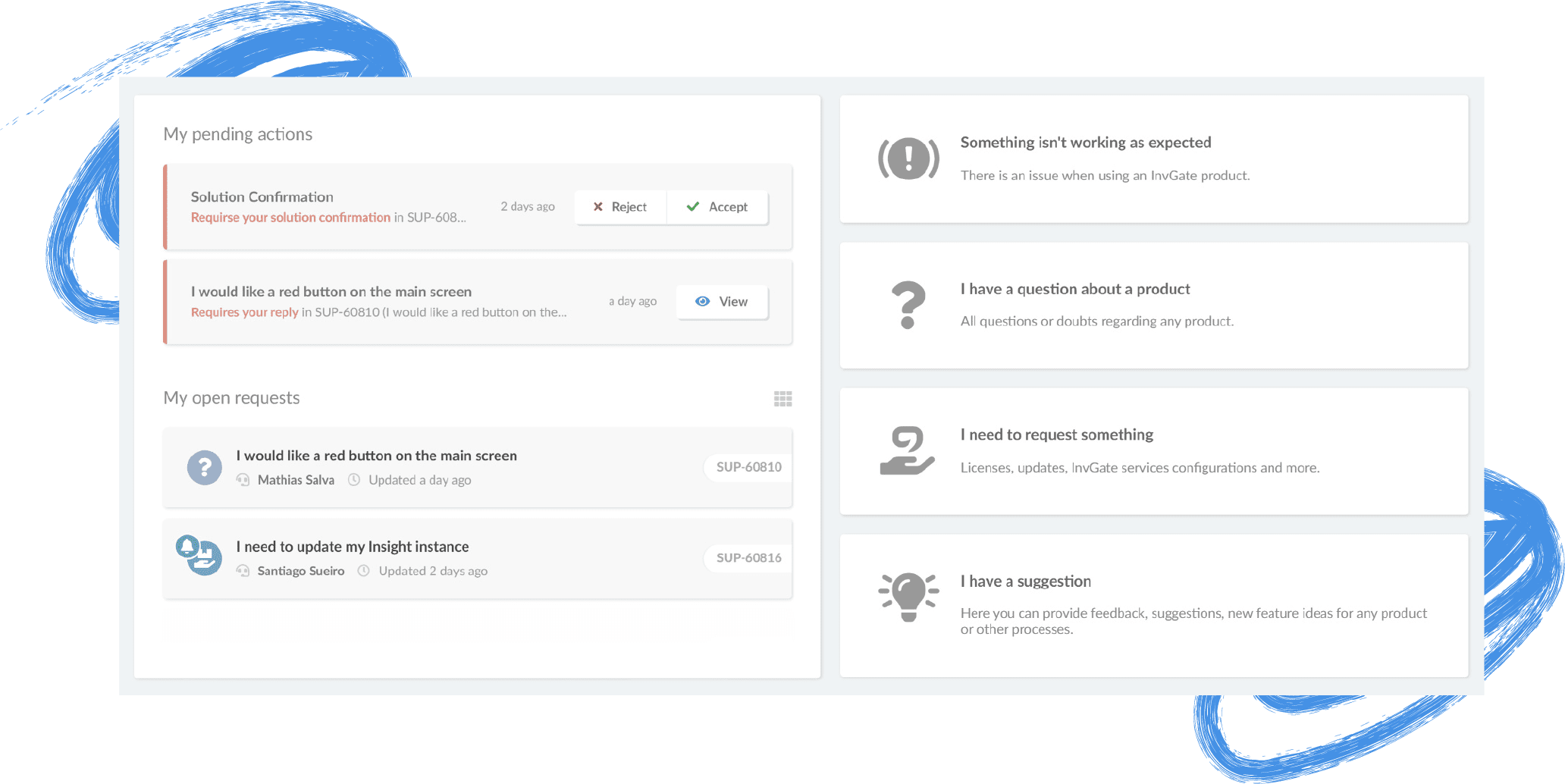 The tool must have a Service Catalog operating as a comprehensive database where the services offered by each business area are clearly presented and defined. This should allow users to easily customize, explore and request services.
Incident and Problem Management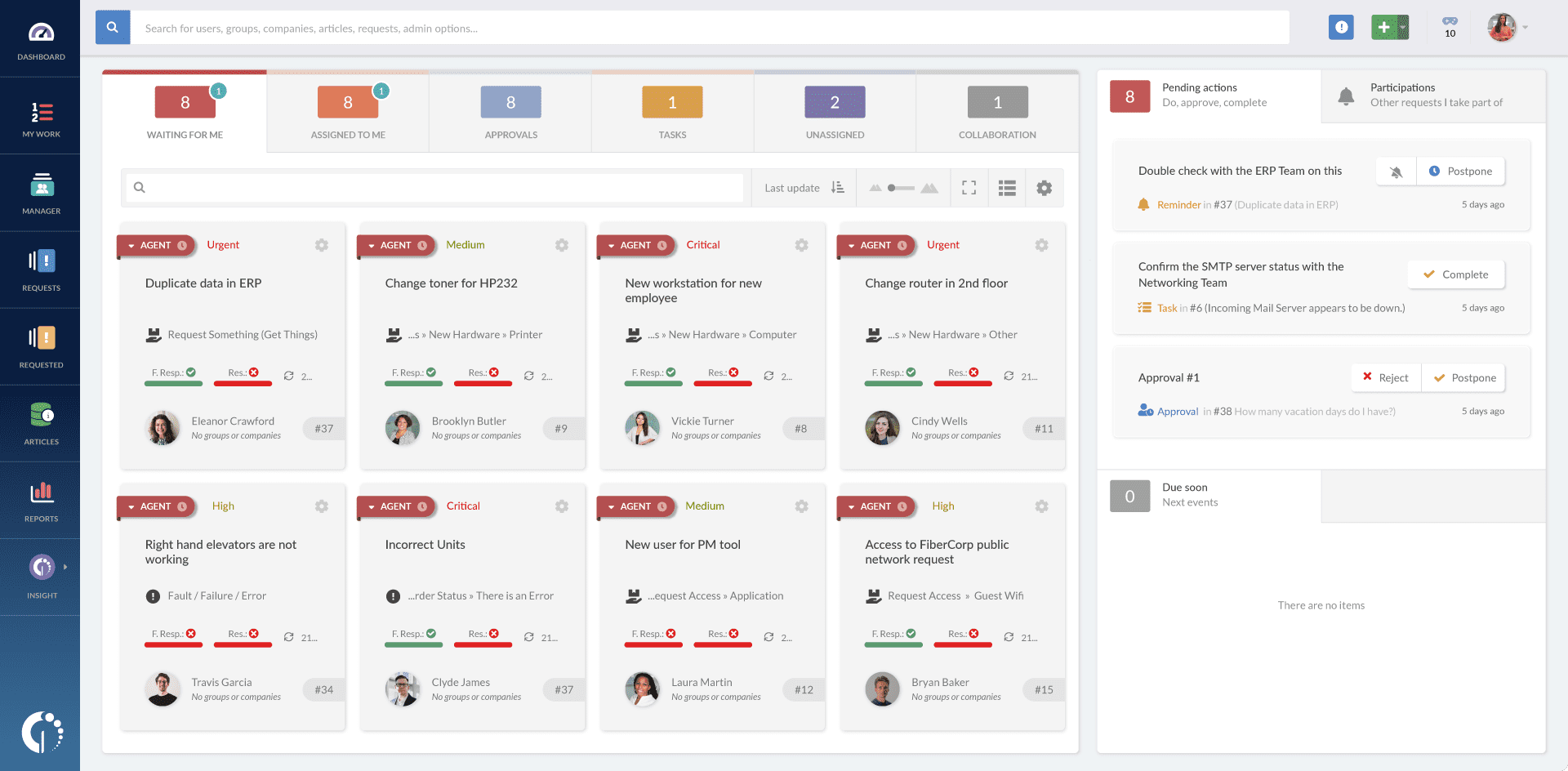 Another fundamental function is the ability to record, track, and resolve incidents that occur in the different areas of the business. A robust ticketing system must allow users to keep record and have a complete traceability of incidents and possible problems that may occur. A tool with these features streamlines the resolution process and minimizes interruptions.
Automation features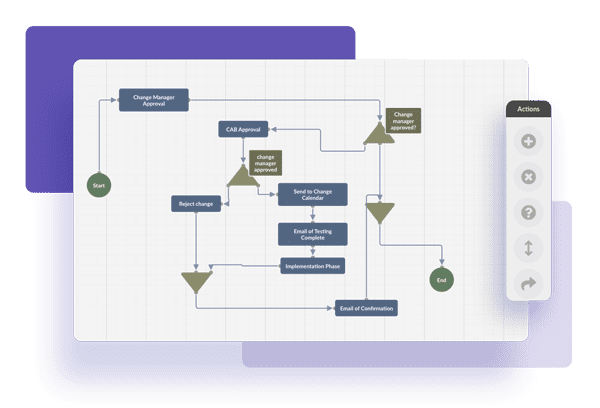 The solution should allow you to automate and accelerate request handling to contribute to efficiency and user experience. For instance, when users submit their requirements, repetitive procedures that used to be done manually and demanded much more time – such as new employee onboarding, equipment ordering, or system access – can be automated. 
Intuitive interface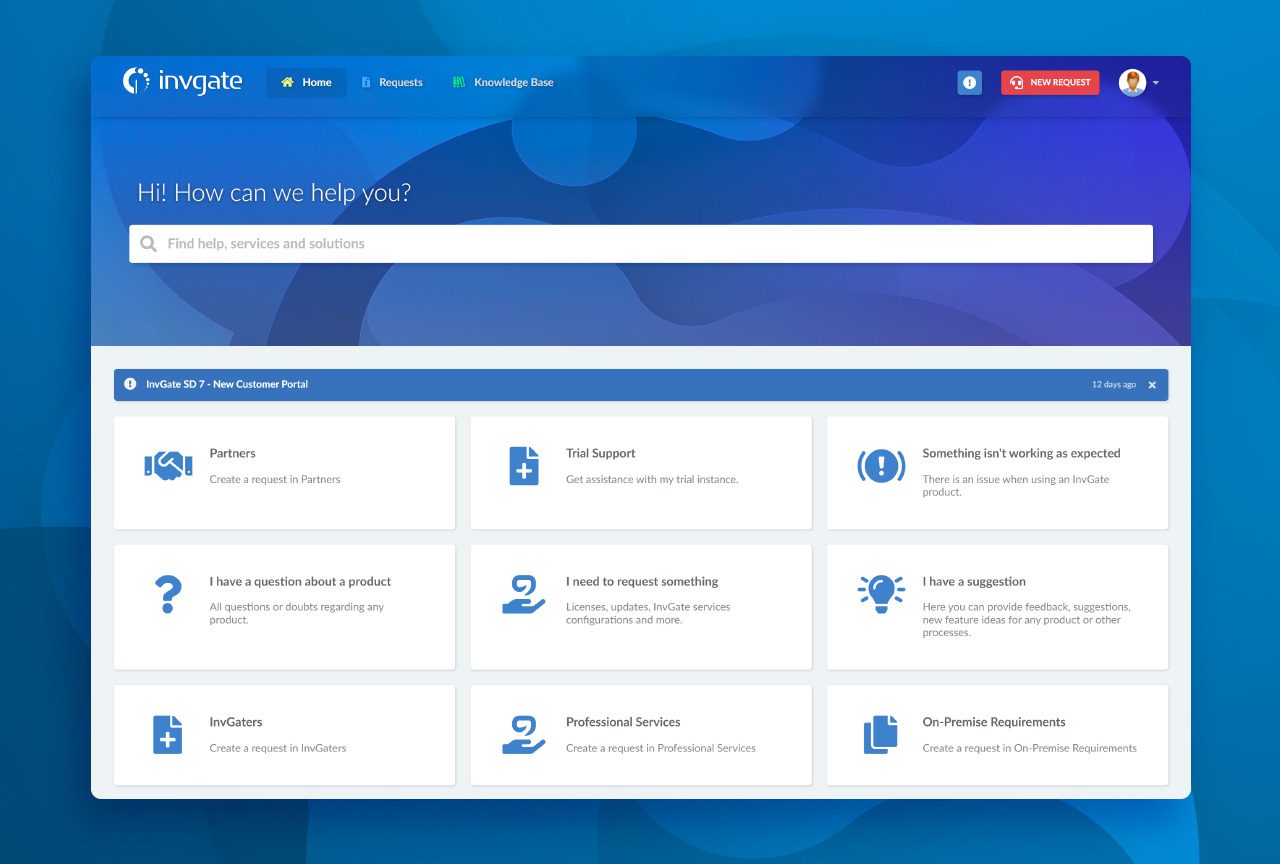 In addition, an intuitive interface allows users to have greater autonomy and to be able to navigate consistently in the tool. This is particularly important when implementing ESM, as team members from many departments (and with different levels of tech knowledge) will be making use of the tool on a daily basis.
Change Management
A robust Change Management module ensures that modifications are properly evaluated, approved, and implemented, decreasing potential disruptions or unauthorized changes.

Knowledge base and self-service portal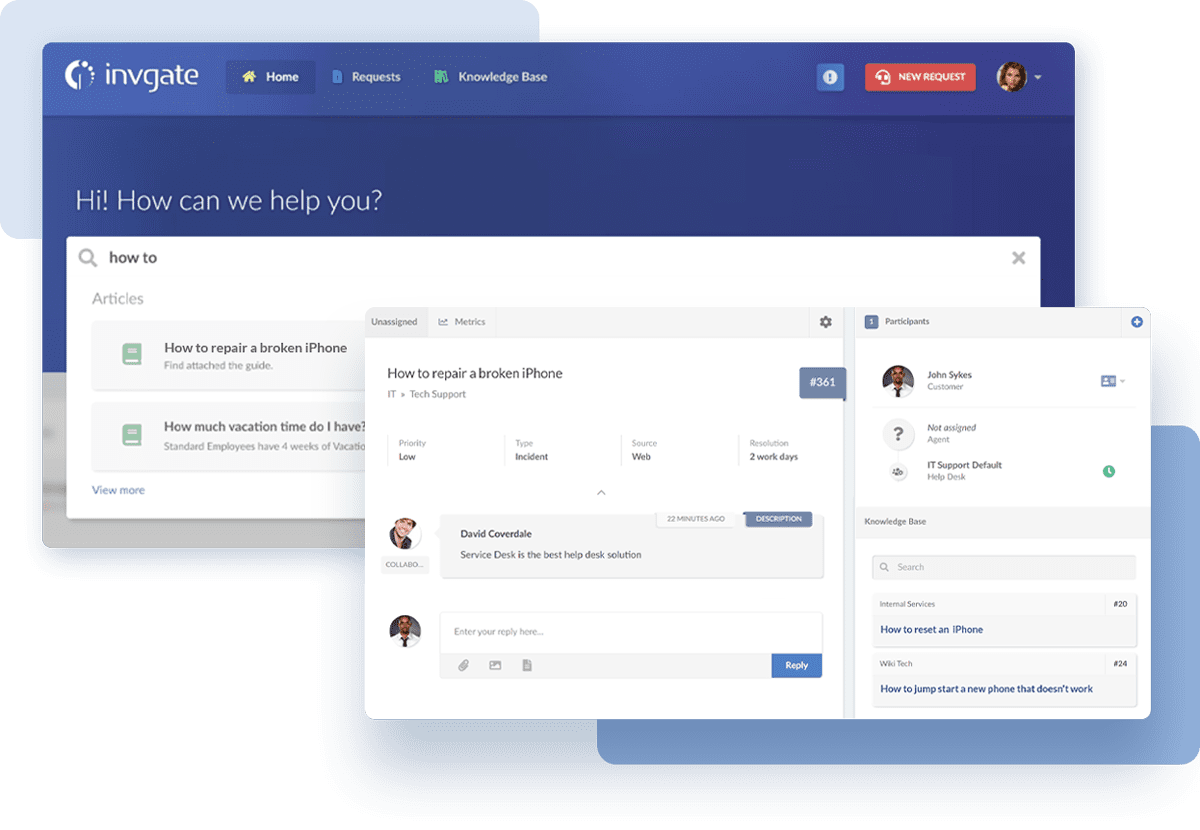 A centralized knowledge base that integrates best practices, solutions, and guidelines for various business functional areas. This acts as a knowledge hub with accessible resources for all departments and users to solve issues and  user-friendly navigation throughout the entire organization. 
Integration capabilities
The ability to integrate with other essential communication channels to ensure a smooth flow of information and seamless processes across areas is another key consideration for ESM software.
Being able to connect the service desk to your organization's current communication channels is essential for the tool's adoption since you're letting end-users submit requests through the ones they're most familiar with. 
By integrating them, you'll be centralizing everything into one platform, improving data consistency, and overall operational efficiency.
Reporting capabilities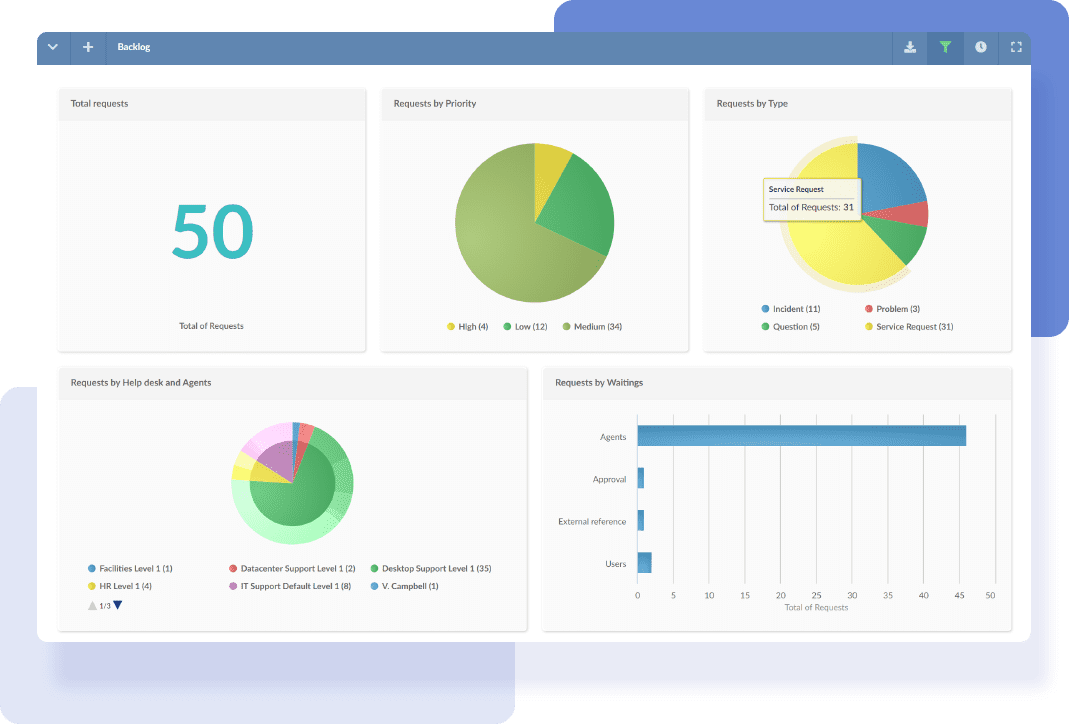 Another crucial feature when it comes to ESM is analytics. Consider this: you're implementing a new approach transversal to your whole company. Thus, you should be able to measure its success, and spot areas of improvement.
Since you'll have most of your company processes centralized into one service desk, it makes sense that the tool of your choice provides you with robust reporting capabilities to analyze all that data.
Customization and scalability
An ESM software tool should also allow you to simply customize various aspects, such as fields, forms, workflows, and service catalogs. 
One factor to consider is that it should be possible to modify and configure these elements to reflect the terminology, processes, and service offerings of your business, ensuring an experience that maximizes the value of each of the areas.
As an organization grows and evolves, having software that responds quickly to increased user demand, expanding service requirements and changing business dynamics becomes essential. 
It can be a great ally for small and large companies looking to save time and take full advantage of a tool's capabilities to meet new needs that may arise without compromising performance or involving additional resources.
What are the benefits of Enterprise Service Management?
As companies expand, the volume of internal requirements increases. This has increased the interest in having a centralized solution that simplifies workflow and unifies task tracking, providing a much more agile form of collaboration for all departments.
Some advantages of adopting ESM include:
Increased competitive advantage.
Simplified communication through automation.
Fostered collaboration between departments.
Optimized request loading times for internal and external users. 
Enriched employees' user experience through a unified service platform that will provide them with greater organization.
Improved Governance, Risk Management, and Compliance practices.
Standardized and streamlined processes. 
Basically, automating tasks positively impacts the way people work. Adopting an ESM tool provides a competitive differentiator by accelerating and integrating procedures that used to be much more complex.
HR, Finance, and Operations departments are among the main areas that benefit from adopting ESM because of the autonomy and ease of use that can be found within these types of solutions.
Resources to drive growth in ESM
Digital transformation is growing by leaps and bounds, and one of the challenges faced by entrepreneurs, business owners, and students in such a competitive market is the lack of access to resources and information to specialize in ESM. 
At a time when professional training is essential, a valuable resource for this is the course offered on Udemy on Enterprise Service Management. The training is aimed at professionals and beginners from all over the world. 
The proposal includes valuable content and the necessary tools for you to develop the technical competencies needed to optimize organizational performance through best practices in Enterprise Service Management.
In addition, the course comes with the eBook "Introduction to Enterprise Service Management,'' released by InvGate, a company that specializes in SaaS solutions. It is designed to introduce you to ESM, as it invites beginners and professionals to delve into fundamental concepts, ideas, best practices, and trends.
With the participation of industry specialists and available in Amazon, this book explores how adopting these practices can ensure multiple benefits to business functions. From compliance with the highest standards in the solutions, a more agile communication and a reduction of potential risks.
Enterprise Service Management is vital in the era of digitization because it helps to easily adapt to accelerated change. With the right technology, it is possible to leverage the full potential of ESM: centralize support, automate workflows, and gain quality data insights.