Quality control is extremely important in the pharmaceutical industry because it is essential for medical drugs to possess stability, efficacy, safety, and purity. It is the responsibility of drug manufacturing companies to ensure all these attributes before the product's launch. An automatic inspection machine plays an important role when it comes to this.
The pharmaceutical industry produces millions of capsules/tablets every week, all of which must be carefully inspected before being packed. Tools like automatic inspection machines make the inspection process faster, more convenient, and hassle-free. 
Importance of Automatic Inspection Machines in Pharmaceutical Inspection
Automatic inspection machines offer many advantages over their manual/human counterparts when it comes to quality control, cost-saving, boosting production, and other key aspects. The following aspects highlight the importance of using an automatic inspection machine:
Automatic inspection machines are highly accurate and precise. They yield greater quality inspection and detect a wide range of defects, hence leading to fewer opportunities for defects to escape detection.
Boost Efficiency and Productivity
By identifying and isolating defects quickly and more effectively, an inspection machine helps address manufacturing problems quickly and leads to greater production efficiency.
Manual inspections are time-consuming and they also require you to add extra labor to effectively handle the inspection demand. Automatic inspection machines save time as well as human costs as they can operate almost independently of human operators.
Automatic inspection machines are an excellent way to control quality in pharmaceutical production. Their fast processing speed and high accuracy streamline the production process and quality control.
An inspection machine increases the quality assurance of pharmaceutical products. Verifying the integrity of the drug components, it minimizes the risks associated with impure products and offers patients greater guarantees regarding the safety of the medications they use.
Product Recommendation
Overall, inspection equipment is an integral part of the pharmaceutical production process for quality control, safety assurance, cost-saving, and more. A dependable automatic inspection machine that offers reliable and accurate performance is a valuable investment. Pharmapack LFIM-72 Continuous Inspection Machine from Guangzhou-based manufacturer Pharmapack offers all of the above-listed benefits. Here are some of its key characteristics: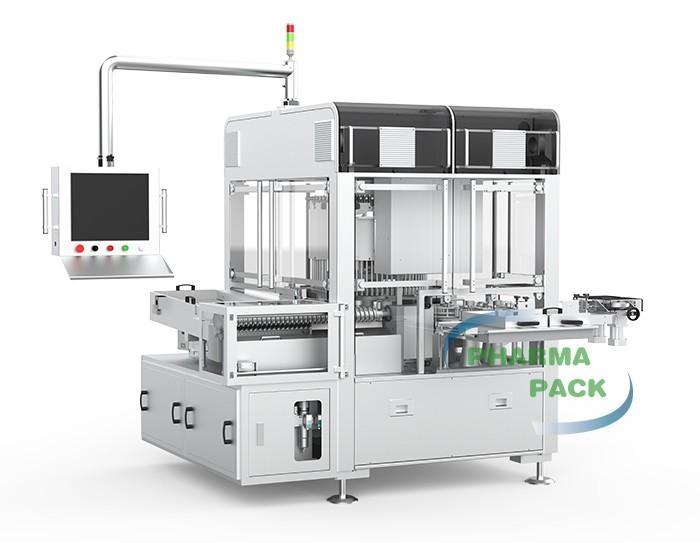 Accurate and precise inspection thanks to intelligent computer system

High-speed processing (800 vials/min)

Supports many types of inspections, e.g. liquid level, impurity, foreign matter, crack in the bottle body, etc.

Designed for inspecting oral liquid bottles and ampoules

Error-free operation and easy to maintain

Certified product and high durability thanks to aluminum and stainless-steel build

Micro-computer control and a digital touch screen to promote ease of use

Applicable to the label on bottles of all different sizes
Conclusion
Pharmaceutical manufacturing is a highly regulated and controlled environment. To ensure quality control and efficiency of production, virtually all phases of the process are automated these days. For the inspection phase, using an automated inspection machine is essential because of its high accuracy, performance, and superior overall results as compared to manual inspection.
A reliable automatic inspection machine quickly detects defects, saves human cost, ensures quality control, boosts production efficiency, and more. Pharmapack supplies a wide range of inspection machines that offer all these advantages and more.

Founded in 2002, Pharmapack has been manufacturing and supplying innovative inspection machine solutions for pharmaceutical production. These state-of-the-art automatic inspection machines are based on the most comprehensive and the latest concepts to allow businesses to enhance their production efforts. Passion for innovation, constant investments in research and development, deep knowledge of the industry, and a full range of after-sale support services represent Pharmapack's strengths. Visit the company's website to browse its complete range of automatic inspection products and solutions.