In today's modern kitchens, functionality, style, and convenience are paramount. Aqualise Luxury Kitchen Faucets with magnetic docking arms bring a new level of sophistication and practicality to your culinary space. With their sleek designs, durable construction, and innovative features, these faucets are designed to elevate your kitchen experience. Their range of luxury kitchen faucets with magnetic docking arms not only adds a touch of elegance to your kitchen but also provides convenient functionality that simplifies your daily tasks. Let's delve into the features and benefits of Aqualise Luxury Kitchen Faucets with Magnetic Docking Arms.
What is a magnetic docking arm?
A magnetic docking arm is a feature on some kitchen faucets that allows the spray head to magnetically attach to the faucet when not in use. This is a great feature for two reasons. First, it keeps the spray head out of the way when you're not using it, which helps to prevent messes. Second, it makes it easy to remove the spray head for cleaning.
1- Aqualise Luxury Kitchen Faucets Found Exclusively in Kitchen Showrooms: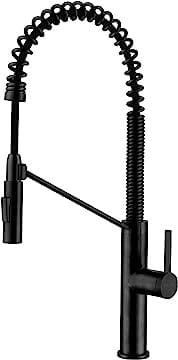 Looking for a statement piece for your kitchen? Finely-crafted Aqualise kitchen faucets combine leading-edge design with exceptional functionality to elevate any culinary space. These showrooms are the perfect destination for homeowners and designers who are looking to create a high-end and functional kitchen space.
2- Unparalleled Convenience and Easy Installation:
Aqualise Luxury Kitchen Faucets are designed with the utmost convenience in mind. Their magnetic docking arm allows for effortless attachment and detachment of the faucet head. Say goodbye to the hassle of manual adjustments or worries about the head falling out of place. The magnetic docking arm, crafted with high-quality magnets and sturdy construction, ensures secure and stable docking. Installation is a breeze as well, with options for single-hole and three-hole mounting, making it compatible with various sink configurations. With Aqualise Luxury Kitchen Faucets, you can transform your kitchen without the need for complicated installations.
3- Aesthetic Appeal and Versatile Designs:
Your kitchen deserves a touch of elegance, and Aqualise Luxury Kitchen Faucets deliver just that. With a wide range of designs and finishes available, you can find the perfect faucet to complement your kitchen decor. Whether you prefer a modern and minimalist look or a more traditional and sophisticated style, Aqualise has got you covered. Each faucet is meticulously crafted with premium materials, ensuring both durability and a visually stunning aesthetic. The sleek lines, flawless finishes, and attention to detail make these faucets a true centerpiece in any kitchen. Upgrade your space with Aqualise Luxury Kitchen Faucets and elevate the overall ambiance of your culinary haven.
4- Effortless Functionality and Enhanced User Experience: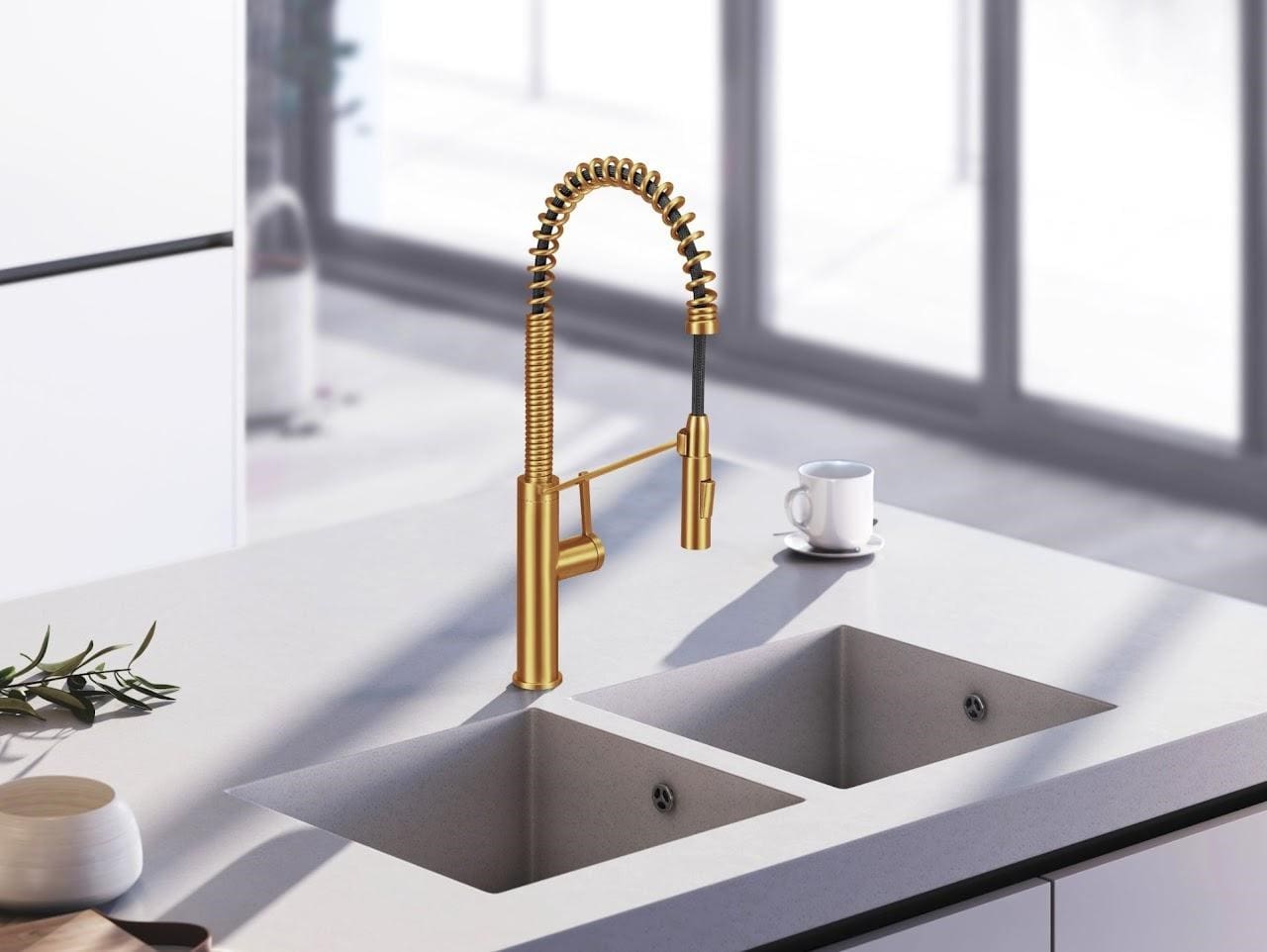 The magnetic docking arm of Aqualise Luxury Kitchen Faucets provides a seamless and hassle-free user experience. The secure attachment ensures that the faucet head remains in place, preventing any drooping or sagging. This feature is particularly useful when multitasking in the kitchen, as you can easily detach and reattach the faucet head with a simple click. Transitioning between different tasks becomes smooth and efficient, allowing you to focus on what truly matters – creating culinary masterpieces. Additionally, the 360-degree swivel spout provides maximum flexibility and convenience, allowing you to reach every corner of your sink effortlessly. Adjustable water flow and temperature control enable precise control over your water usage, catering to your specific needs while conserving water. Aqualise Luxury Kitchen Faucets with magnetic docking arms are designed to make your daily kitchen activities a breeze.
5- Innovation and Sustainability:
Aqualise Luxury Kitchen Faucets are at the forefront of innovation in the industry. With options like touchless sensors or pull-down spray heads, these faucets offer cutting-edge technology that simplifies your kitchen tasks. The touchless feature allows for hands-free operation, perfect for when your hands are full or dirty. The pull-down spray head extends your reach and facilitates easy cleaning of dishes, pots, and pans. Furthermore, Aqualise is committed to sustainability. Many of their faucets are equipped with eco-friendly features such as flow restrictors and aerators, ensuring water conservation without compromising performance. By choosing Aqualise Luxury Kitchen Faucets, you contribute to a greener and more sustainable future.
Why You Use Our Aqualise Brand:
We are a new brand that offers high-quality kitchen faucets at a fraction of the cost of big-name brands. Our cost is low from other big brands and quality is better from them.  We also manage shipping and handling through Amazon, so customers can buy our faucets worry-free and see the quality before installing them. We are confident that our faucets are of the highest quality, and we offer a full 30-day money-back guarantee. This means that customers can buy our faucets and try them out for 30 days. If they are not satisfied for any reason, they can return the faucet for a full refund.
1- cUPC CERTIFIED FAUCETS:
Our faucets are certified by cUPC, which is the gold standard for plumbing fixtures in the United States. This means that our faucets meet or exceed all of the stringent requirements set forth by the American National Standards Institute (ANSI).
cUPC certification is a rigorous process that ensures that our faucets are safe, durable, and high-quality. In order to achieve cUPC certification, our faucets must be tested for a variety of factors, including:
Material composition
Manufacturing tolerances
Performance under pressure
Resistance to corrosion
Only faucets that meet or exceed all of these requirements are granted cUPC certification. This means that our faucets are not the cheap quality that you might find at a big-box store. They are made with high-quality materials and are built to last. We are proud to offer cUPC-certified faucets to our customers. We believe that these faucets are the best value on the market, and we are confident that you will be satisfied with your purchase.
We believe that our faucets are the best value on the market, and we are committed to providing our customers with the best possible experience. If you are looking for a high-quality kitchen faucet at a great price, we encourage you to check out our products on the Aqualise website.