In today's kitchens, efficiency and versatility have become the cornerstones of successful meal preparation. Hence, as families gear up for holiday feasts and gatherings, having a tool that streamlines and elevates cooking is more vital than ever. Enter Typhur's latest innovation: the Dome Air Fryer. 
A seamless blend of technology and practicality, the Dome isn't just an appliance – it's a revolution in home cooking. Designed to simplify, amplify, and diversify, this air fryer promises to be the kitchen companion every home chef has been waiting for. So, if culinary excellence and ease are on your wishlist, read on to uncover the wonders of the Typhur Dome.
What is an Air Fryer?
An air fryer is a modern kitchen appliance that cooks by circulating hot air around food. It operates much like a convection oven but in a compact, countertop-friendly size. The key advantage of an air fryer is its ability to produce a crispy layer on foods similar to traditional deep frying, but without submerging the food in oil. This results in dishes that are healthier with significantly less fat content.
Generally, such devices come with a cooking chamber and a removable basket. Foods are placed in the basket, and the rapid air circulation cooks the food evenly from all angles. Whether it's french fries, chicken wings, or even baked goods, an air fryer can achieve the desired texture and doneness with minimal oil, making it a favorite among health-conscious individuals and those looking to reduce their calorie intake without compromising on taste.
Why is the Typhur Dome Different?
At a glance, air fryers may seem similar, but Typhur Dome stands apart in the crowded market of kitchen appliances, and here's why.
Unique Domed Design
Taking a cue from traditional wood-fired pizza ovens, the Typhur Dome's distinct shape isn't just for aesthetics. It's designed to replicate the consistent hot air flow found in those ovens, providing an even cooking environment that ensures every meal is perfectly prepared.
Enhanced Cooking Technology
Yet, the Dome is more than just an air fryer. Its cyclonic technology evenly distributes heat, slashing cooking time by 30%. This means no more waiting around for the preheat light or juggling the basket mid-cooking. Plus, the ability to instantly notify users when their dish is ready ensures meals are served at their most flavorful peak.
Capacity and Versatility
With a super-sized 5.6-quart capacity, the Typhur Dome can handle the culinary needs of larger gatherings with ease. Whether you're cooking 32 chicken wings for a game day or a 12″ pizza for movie night, it has you covered. But it's not just about size. Beyond its primary function, the Dome offers a wide array of cooking modes, from dehydration and toasting to baking and roasting.
Smart and User-Friendly Features
Typhur Dome brings the air fryer into the digital age with precision controls, adjustable fan speeds for tender results, and seamless app integration. Staying connected to your culinary endeavors has never been easier. Plus, its range of 105 to 450 degrees Fahrenheit allows for a broader spectrum of cooking techniques.
Hassle-Free Maintenance
The self-clean mode and dishwasher-friendly components ensure the Typhur Dome is as easy to clean as it is to cook with. And with its whisper-quiet operation, you can have conversations, watch shows, or simply relax without the constant hum of appliances in the background.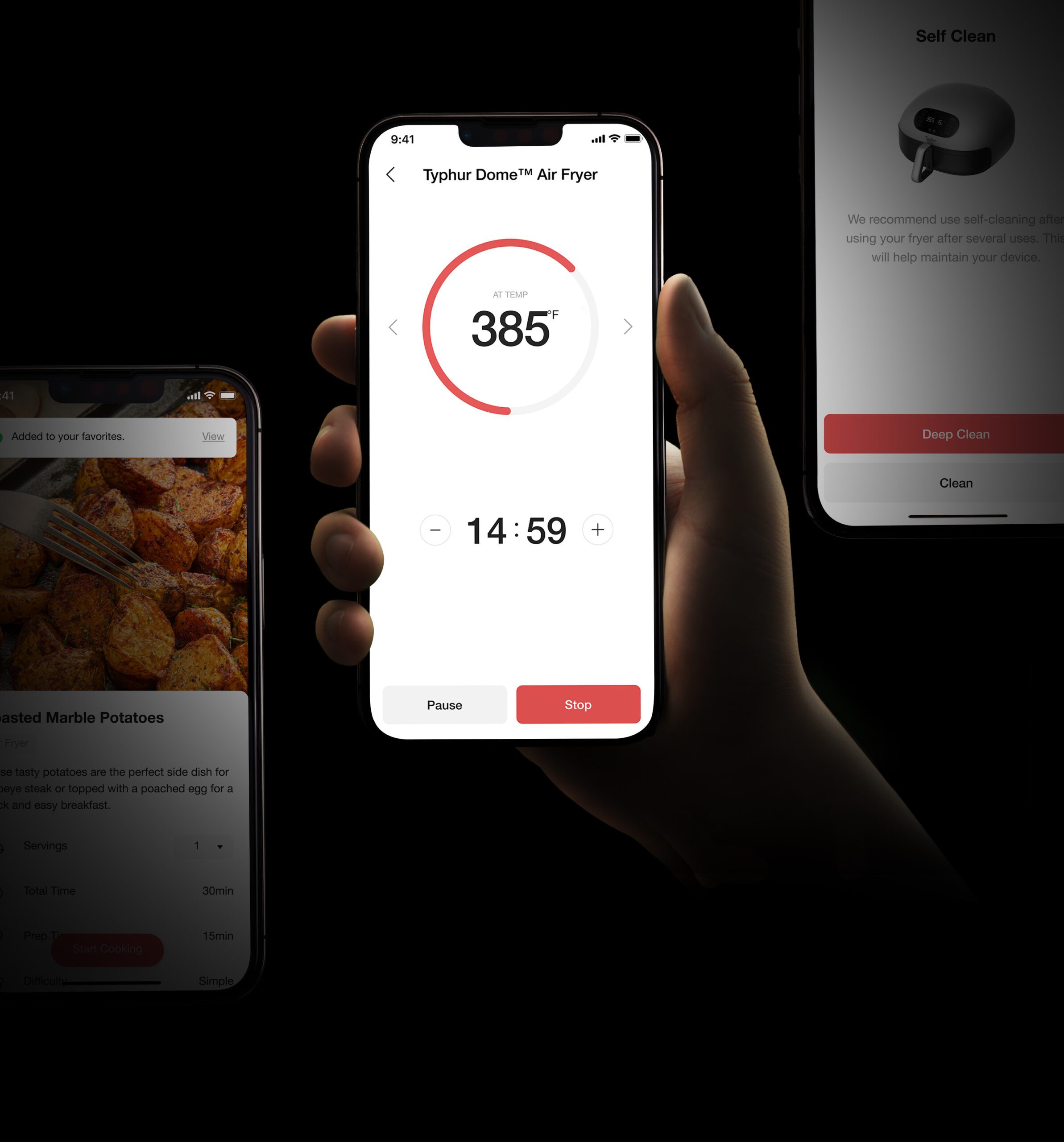 Prioritizing Health in Cooking
People are becoming more health-conscious, especially when it comes to the negative impacts of oily, deep-fried foods. Air fryers, like the Typhur Dome, provide a solution. They use minimal oil, relying on hot air to cook food. With the Dome, you get the familiar crunch of fried food but with notably fewer fats and calories. Yet, it doesn't stop there; here are a few other reasons the Typhur is a must-have for every kitchen: 
A Revolutionized Cooking Experience
With its integrated app, users can explore a diverse range of recipes tailored for the Dome. Each recipe comes with step-by-step instructions, making it ideal for both seasoned chefs and beginners. As you venture into this culinary journey, discover dishes you never imagined could be created in an air fryer. From crispy appetizers to decadent desserts, the possibilities are endless.
Fitting Perfectly with Any Style
Many kitchens are packed with gadgets, making space a premium. The Typhur Dome isn't just another appliance; its design is modern and sleek, fitting right into contemporary settings. Moreover, its multiple functions can potentially replace other devices, giving you more counter space.
An Energy-Efficient Cooking Solution
Regular ovens and stovetops can be energy-intensive. The Typhur Dome's quick cooking process, on the other hand, uses less energy. This means you're not only saving on your electricity bills but also reducing your carbon footprint, making it a thoughtful choice for those looking to be more eco-friendly.
A Flourishing Community
Early feedback from users has been overwhelmingly positive, leading to the creation of online communities where Typhur Dome enthusiasts share their favorite recipes, tips, and experiences. This thriving community is a testament to the product's appeal and effectiveness.
Safety in the Spotlight
Every aspect of the Typhur Dome has been meticulously designed with safety in mind. From its sturdy build to features that ensure it operates safely even under intensive use, the Dome provides peace of mind every time it's in use.
About Typhur Inc.
When it comes to cutting-edge kitchen solutions, Typhur Inc. stands at the forefront. With a clear goal to reduce the hours spent in the kitchen, they've carved a niche in designing top-tier, user-friendly appliances. Their approach combines the newest in technology with the simplicity every home chef seeks. Beyond just manufacturing, Typhur Inc. is genuinely devoted to enhancing the cooking journey, ensuring every meal preparation is as joyous as the meal itself. 
Discover the Culinary Revolution with the Typhur Dome
Ultimately, the Typhur Dome isn't just another appliance; it's a game-changer. With its advanced technology, versatile cooking options, and user-friendly design, it transforms your kitchen experience. So, say farewell to traditional cooking hassles and welcome a world of delicious, healthy meals with ease. It's time to elevate your cooking, simplify your life, and join the culinary revolution with the Typhur Dome today. For more information, visit https://www.typhur.com/