The Li-Ion pouch battery market is basically driven by the fact that Li-Ion pouch batteries offer high density solutions and are also lightweight. Their usage in electric vehicles is already creating ripples in the electronics vertical. Also, registration of the electric vehicles (EVs) has witnessed phenomenal increase in the last few years. The price of Li-Ion battery is also expected to decrease with more production. These factors are there to catalyze the Li-Ion battery market going forward.
Apart from smartphones, digital cameras and power tools use Li-Ion pouch batteries.
At the same time, demand for the other types of batteries like sodium nickel chloride, flow batteries, Lithium-sir, and lead-acid batteries are likely to restrain the Li-Ion pouch battery market in the upcoming period. Another restraining factor is decreasing price of solar photovoltaic cells.
How is the Li-Ion Pouch Battery Market dispensed?
The Li-Ion pouch battery market, by chemistry, spans Lithium Cobalt Oxide, Lithium Manganese Oxide, Lithium Nickel Manganese Cobalt Oxide, Lithium Iron Phosphate, and Lithium Titanate. Capacity-wise, it's 1-3 Ah Li-Ion pouch batteries, 5-10 Ah Li-Ion pouch batteries, 10-15 Ah Li-Ion pouch batteries, 16-30 Ah Li-Ion pouch batteries, 40-50 Ah Li-Ion pouch batteries, and 50-100 Ah Li-Ion pouch batteries. By thickness, it's 6 mm Li-Ion pouch batteries, 7 mm Li-Ion pouch batteries, 8 mm Li-Ion batteries, 9 mm Li-Ion batteries, 10 mm Li-Ion batteries, 11 mm Li-Ion batteries, and 12 mm Li-Ion batteries. By rated voltage, it's 6V, 12V, 24V, 48V, 60-72V, and 96V. End-user-wise, it's electric vehicles, cell phones, battery-powered off-road vehicles, robotics, energy storage systems, portable electronic devices, utility meters, and medical measurements and portable devices.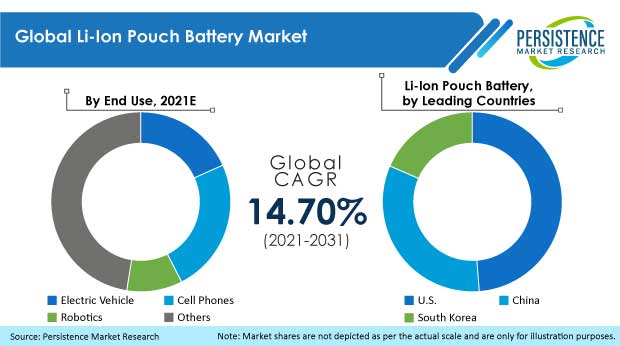 How about Region-wise?
North America and Europe are at the matured stage of Li-Ion Pouch Market and the scenario is expected to be the same in the forecast period. However, in the near future, it would be the Asia-Pacific making greater strides in the Li-Ion pouch battery market. This could be credited to the growing demand for smartphones and tablets across China, Thailand, Japan, and India. LATAM and MEA are also expected to pick up pace in this regard going forward.
Competitive Landscape
The key players in the Li-Ion Pouch Battery market include Panasonic Industrial Corporation, Toshiba Corporation, GEE Power, FDK Corporation, SK Innovation Co., Ltd., Bestgo B Vertical partners West, LLC, EPEC, LLC, YOK Energy, Servovision Co. Ltd., Fruedenberg Group, DNK Power Company Ltd., Energy Innovation Group Ltd., Shenzhen Ace Battery Co. Ltd., EVE Energy Co. Ltd., Amperex Technology Ltd., FluxPower Battery Co., Ltd., A123 Systems LLC, and Enertech International, Inc.
Coming to developments, FDK Corporation, in February 2021, did announce plans for extending the assembly line for the high power cylindrical-type primary lithium-ion batteries, so as to increase production capacity by close to 25%. SK Innovation, in April 2021, entered into collaboration with Hyundai Motors and Kia for jointly developing electric vehicle batteries with mass installation and production. The project is expected to start in the year 2024.
GAIN COMPLETE ACCESS TO THE REPORT – https://www.persistencemarketresearch.com/checkout/32488
Around the same time, Flux Power Holding came up with its next gen M24 Li-Ion battery pack, which could be effectively used in distribution centers and warehouses. M24 claims to deliver 420 A, 244 V, and could last for close to 3,500 cycles. Leclanche SA, in October 2020, got elected by none other than Shiptec and Siemens Energy for supplying battery storage systems for futuristic hybrid boats of CGN on Lake Geneva (Switzerland).